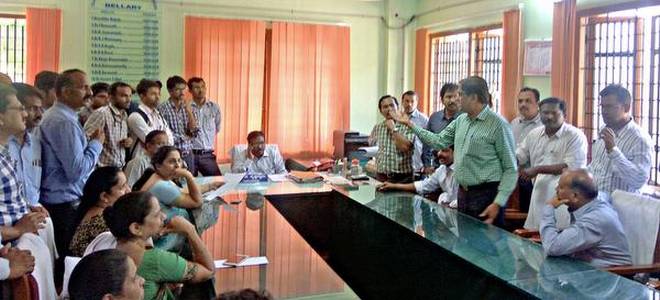 Even as the central govt. mulls drafting a law for safety of doctors and health professionals at the work place, violence against doctors in Indian hospitals continue.
A recent incident
One of the recent incidents took place in Karnataka, in the Vijayanagar Institute of Medical Sciences(VIMS) to be precise. On Monday, doctors of the hospital-including the resident medical officer and the medical superintendent were reportedly manhandled by a group of people. The incident happened in the aftermath of the death of a woman and her newborn after delivery.
As is usually the case in such instances, the group was made mostly of the patients' relatives. They accused the doctors of negligence.
It's said that the pregnant lady was brought to the hospital on the evening of Sunday. After preliminary assessment, the doctors sent the woman back, asking for her to come in if she developed labour pain.
The woman, as well as those who accompanied her went to their relative's place. The same night, she developed labour pain but also an accompanying uneasiness, following which she was rushed to the hospital. Unfortunately, during the delivery, the woman gave birth to a stillborn baby. A couple of hours later, the woman too died.
The woman's patients staged a dharna in front of the hospital on Monday morning, along with the bodies. They sought action against the doctors on duty, claiming negligence. It's also reported that when the medical superintendent and the resident medical officer later came to look into the issue, they were also manhandled.
The situation was brought under control by the security guards and the limited number of police who were around at the time. The doctors and the students of the institution have asked the authorities to view the incident seriously and have the guilty arrested.
In view of such incidents, the hospital authorities have said that they would install CCTV cameras on the hospital premises.
Not the only such attack
Googling the doctors who are attacked by patient's kin in hospitals is an exercise that's bound to make you depressed. Even a cursory glance on the results list shows an alarming frequency of such incidents, with reported attacks almost every month. And that's just the ones which get published in the major English media sites.
The central government has said it's mulling a law to curb such attacks. It was said in January. Maybe, the pace of mulling needs to be heightened. And most probably, aside from such laws, we would also need strong security measures in hospitals if doctors are to practice their profession safely.

Image credits: thehindu.com