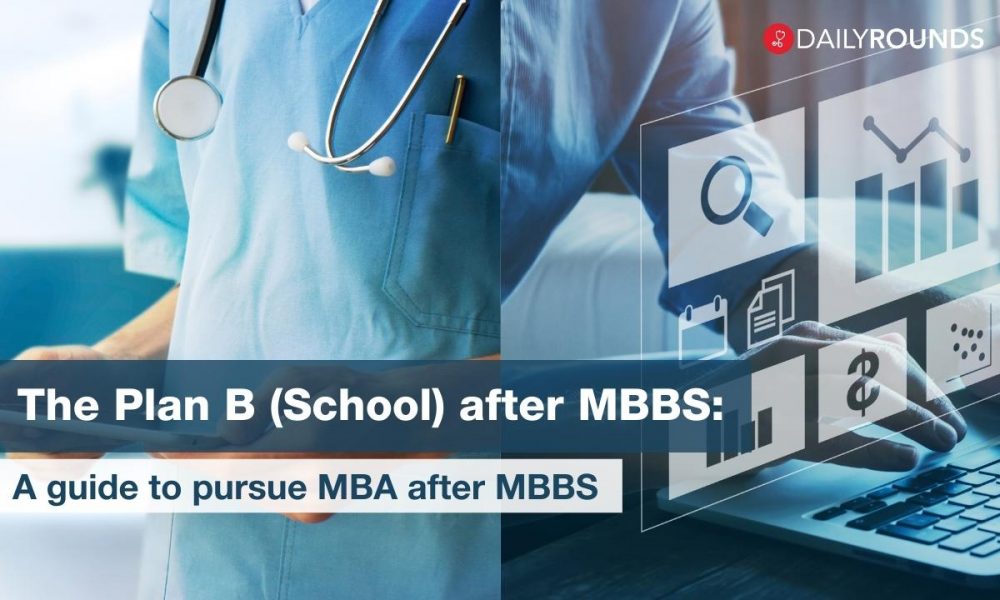 With changing trends in the healthcare sector, the scope of work for a doctor is ever expanding from the patient wards to the metaverse. By taking advantage of the changes, doctors around the globe are broadening their expertise. Getting an MBA after completing an MBBS is certainly one of them.
In turn, the number of MBBS graduates enrolling in ISB, IIMs & other top tier business schools in India are increasing year by year. Data from Google Trends shows that the search queries for "MBA after MBBS" have risen by almost 20% in the past 12 months in India, and it has grown in popularity in the last five years.
According to a recent report from Graduate Management Admission Council (GMAC), which administers the GMAT exam, 76% of doctors pursued an MBA in order to return to the healthcare industry itself as more refined professionals.
Are these young medical students flocking to managerial careers for a reason? Where do they stand, compared to their peers who are practicing medicine? And what is their course of action after earning two seemingly dissimilar degrees? Let's take a closer look at it.
Why an MBA after MBBS?
According to a NITI Aayog report from 2021, the healthcare sector in India is growing at a compound annual growth rate (CAGR) of 22% and creating over 500,000 new jobs every year. Recently, the industry has seen a rise in the number of healthcare startups that build scalable products and solutions that address gaps in the market. Many of these startups were founded by medical professionals. DailyRounds/Marrow is no exception.
A lot of expansion has also taken place in the telemedicine and home healthcare markets in recent years, which are expected to reach a market size of USD 10.6 billion by 2025. The industry shift has certainly opened up a variety of job opportunities for doctors across the country. An additional MBA degree along with the medical expertise can place you on top of the industry pyramid. It can help doctors better understand the healthcare policy and how it affects them.
Apart from all this, there is a clear disparity between the number of medical PG seats available in the country (42,182 as of 2021) and the number of doctors appearing for NEET-PG (1.82 lakhs in 2022). One day, hopefully, we will have equal numbers of PG seats as MBBS seats. Until then everyone who completes their MBBS degree wouldn't be able to pursue their higher studies in the field of medicine. Hence, when thinking of alternative career options, MBA is clearly a contender.
As practicing doctors, we are not alien to long hectic working hours even without a break. From doing multiple rounds in patient wards to attending those emergency duties, the workload could easily go beyond the call of duty. However, adding an MBA to your portfolio can place you in managerial or administrative roles in the healthcare industry. As a career, this is more likely to have organised working hours and duties.
Which one to choose?
A medical graduate can choose from a wide range of specialisations for the MBA programme. There are specialisations that are specific to the healthcare sector if someone wishes to pursue a career in the same field. Also, there are multiple other programmes to choose from.
Here are some MBA specialisations that are specially crafted for healthcare professionals:
MBA in Healthcare Management
MBA in Healthcare and Hospital Management
MBA in Hospital Administration
MBA in Healthcare Administration
Apart from all this, B-Schools across the world are offering PGDM courses and short term management courses specifically for healthcare professionals. The MPM-Cx programme by DailyRounds along with IIM Ahmedabad is one such part-time management course (online+on-campus) exclusively designed for MBBS doctors.
Which model suits you best?
As said, doctors planning to pursue an MBA can choose from various course models offered by a variety of institutes based on the knowledge and expertise they wish to bring to the table. Below is a list of some of them.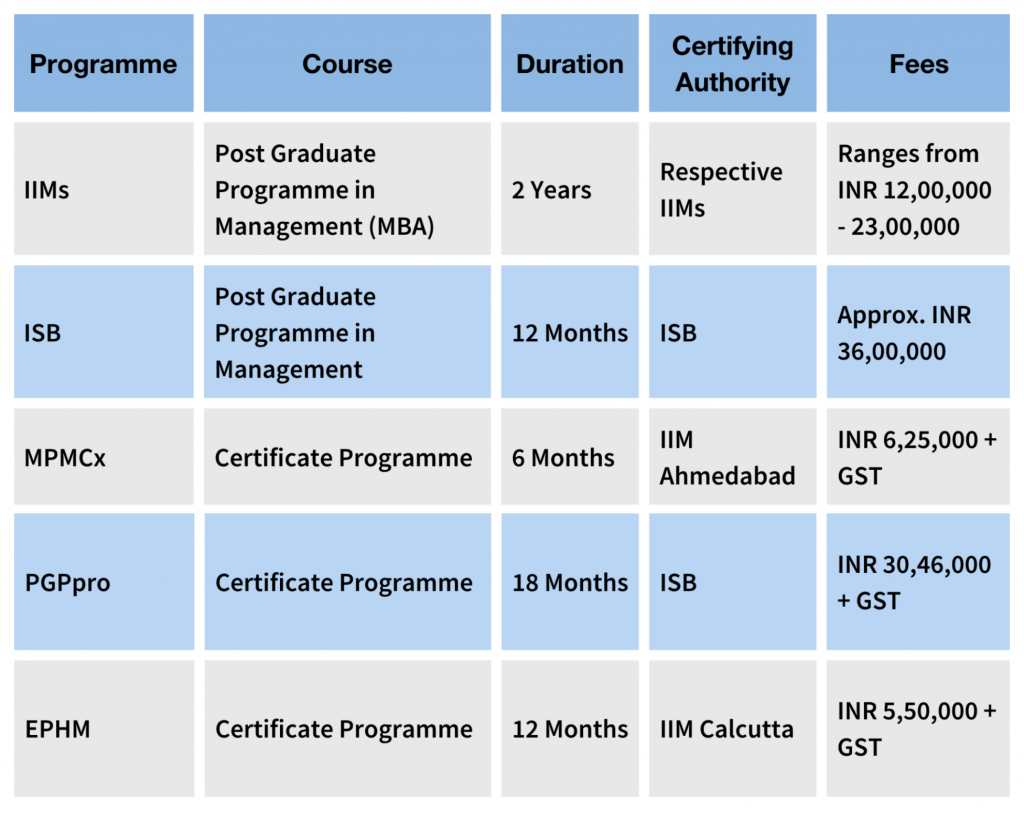 How to enroll for an MBA?
Indian and international business schools recognise several management tests that can assist clinicians in acquiring a management degree. Listed below are the eligibility requirements, syllabus, and other information about some of the common entrance exams to B-Schools.
Career option for doctors after MBA
An MBA degree provides doctors with the ability to apply their clinical knowledge in newer managerial roles, to delve into business strategies, operations, administration and many other opportunities. Below are some career options that doctors can explore after an MBA.
1) Hospital healthcare sector
Hospital Administration: Hospital administrators are responsible for overseeing and organising health services and the daily activities of a hospital. The job usually involves liaising among governing boards, medical staff and department managers, coordinating services as per hospital regulations, overseeing implementation of programs and policies for patient services, quality assurance and more.
Medical/Health Information Managers: This role requires managing and analysing all the data generated in a hospital or clinic. They compile data related to patients, like their medical history, prescriptions, etc., and ensure that the hospital adheres to quality standards.
Business Analyst: In hospitals and clinics, business analysts can work on identifying improvement and problem areas to optimise the facility's performance and boost its profit. This is typically done by analysing the facility's data management, financial activities, and services. They also help in making decisions on client acquisitions, mergers, and more.
Medical Affairs: Responsible for overseeing the day-to-day operations of the hospital or clinic by working with all the teams, departments, and leaders within and the external parties involved. People in this position are also usually members of the senior executive team of the organisation. They also ensure that the hospital is in compliance with all applicable laws through audits and training. They provide input on the development of essential documents and actively seek new business opportunities and clients.
Executive Director: An Executive Director of a hospital is usually responsible for administrative management and the overall operation of the hospital. They recommend long-range plans that support the hospital's general objectives, recommend hospital policy positions concerning legislation, government administrative policies, and other policy matters; they also ensure compliance with the regulations of accrediting bodies by monitoring the hospital's service and initiating changes as required.
2) Pharmaceutical sector
Innovation and R&D: In a pharmaceutical company, R&D and innovation-based roles involve strategising and signing off on new developments; spearheading research from end-to-end; and determining each new drug's therapeutic suitability. The role also requires developing, strategising, and planning new interventions that will drive innovation for the company both in the short-term and the long-term.
Marketing & Communications: Pharmaceutical marketing involves creating strategies, planning campaigns, developing the brand's messaging and positioning, defining the target customers, and planning a budget that includes details on sales and specific marketing campaigns. A marketing role is usually broad and spans over several different channels.
Business Development and Strategy: Business development roles in pharmaceutical companies revolve around liaising between external partners and internal stakeholders and overseeing product development, production, regulation, material management, import and exports, and marketing. The role also involves identifying target markets, determining opportunities, evaluating competition and more.
Product management: Launching new lines of products, brand establishment and brand building, improving existing products based on competition or market feedback, and strategy for pipeline products and execution are some of the many things that a product manager in a pharmaceutical company would have to oversee. The role could also include developing a market penetration strategy along with in-depth market research and competitor analysis.
Finance roles: Roles such as Chief Financial Officer (CFO), Financial Analyst, and others supervise the finance unit for the organisation. They typically handle budgets, figure out key spending criteria, cut costs where needed, and negotiate new contracts with vendors and clients.
3) Consulting
Healthcare strategy consulting: Healthcare consulting is multifaceted and could vary across organisations. However, the key responsibilities could include increasing efficiency by organising processes within the facility. They also strategise the expansion of services and handle mergers and acquisitions after weighing out their effects on the healthcare firm.
Healthcare IT consulting: This role requires doctors to have an understanding of data interpretation and some IT processes. Healthcare IT consultants usually acquire AI, ML, and IoT data and use it to interpret actionable insights to help hospitals or healthcare facilities improve their services and iron out any roadblocks. The role could also reform healthcare services for healthcare facilities by shifting away from service-based healthcare to value-based healthcare.
Healthcare operations consulting: These roles typically include administrative duties such as managing, organising, and keeping an inventory of medical equipment and supplies; handling the healthcare facility's policies and ensuring compliance; optimising the level of healthcare without going over the facility's budget, among other responsibilities.
4) Entrepreneurial role
After an MBA, doctors can identify gaps within the healthcare industry and build services and solutions that would help bridge the gap. Doctors can develop and spearhead the beginning of new and innovative changes by conducting market research, understanding the need for services that can enhance the offerings of the healthcare industry, and transforming the norm within the sector.
Career opportunities for doctors with an MBA are endless, and with the growth of the global and Indian health tech startup ecosystems and advancements in medical and pharmaceutical technology and device industries, the options will only increase in the future.
How it helps?
"Like medicine, leadership is best taught through observation, experience, and practice,' says Robert Huckman, Professor of Business Administration at Harvard Business School.
The case study method for MBA used at Harvard, the University of Virginia, and Stanford University is very similar to the way physicians learn through residency programs, where they deal with specific clinical dilemmas. In fact, management and leadership training should be incorporated into that process, so that as medical students learn how to diagnose and treat patients, they also learn about supply management, operations design, and communication" states Huckman
Having an MBA after MBBS can certainly help guide doctors in a direction that may help them diversify academically and professionally. Regardless of the path they take in their career, doctors can dive into every role with a wealth of experience and knowledge.
My mentor told me that if at all I fail, I can always go back to medicine, and although it was comforting to know that I had that option, I'm glad I didn't have to do that. After finishing my MBA, I worked as a group product manager, general manager of medical affairs, project lead, and a lot more. My roles have changed throughout the years, but my love for medicine, to this day, remains the same," says Dr. Subir, Associate Director-Global Medical Affairs, Takeda Pharmaceuticals.
Whether doctors decide to do an MBA right after MBBS or practice as clinicians before enrolling in an MBA, it is never too late or early to make career changes. Outcomes aside, there is always scope to learn, explore and thrive.