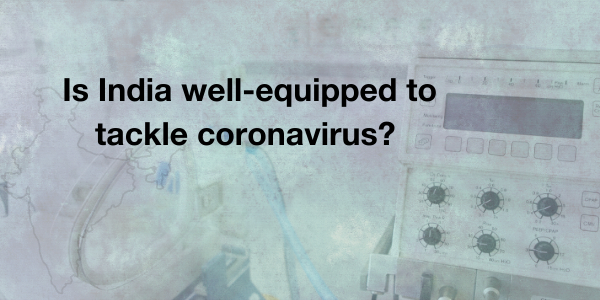 The world-wide coronavirus deaths are reaching 15,000. It has now turned into a nightmare for the people and the governments all around the world. The situation in India is also not different. As the confirmed cases of coronavirus in India stands at 415, the country has so much to worry about.

Lack of Ventilators
With a sudden surge of coronavirus cases in India, the biggest challenge that may arise will be the shortage of ventilators.
In 5% of corona cases, doctors send patients with acute breathing problems to intensive care units (ICU). The coronavirus attacks people's lungs. This compromises their ability to breathe as they develop pneumonia in some cases. Ventilators are crucial to keeping these patients alive. They are likely to die if they don't get the device.
Ventilators are mainly imported and assembled in India or partially produced here. Experts suggest that India does not have a single indigenously manufactured ventilator, the reason being the companies that produce ventilators importing some or many of their components. One of the key issues here is that the global supply of ventilators and spares have depleted.
"Nobody has enough ventilators, no one will be able to cope. We have 100 people on ventilators at any given time. Even cancelling elective surgeries in hospitals to free up ICU beds will not be enough because there is a huge shortfall," said Dr Yatin Mehta, chairman of critical care at Medanta.
According to Dr Dhruva Chaudhry, the president of the Indian Society of Critical Care, dealing with a surge will be a challenge. So, he recommends the strategy to delay spikes in numbers so that fewer people get infected, which will lower the number of people needing critical care all at once. Here is where social distancing works. Even if we manage to buy more ventilators, Training medical staff to use ventilators and ensuring there are enough skilled operators to run them 24×7 is a bigger challenge than procuring machines, according to some experts.
How the private health sector has geared up to tackle the situation?
The private sector has emerged as a strong force in India's healthcare service delivery. Private hospitals have stopped doing non-essential operations, hence they have plenty of beds available in case of emergency. Private hospitals have started vacating beds by discharging stable patients. Other patients requiring intensive care are being shifted to a wing to free up an entire building exclusively for Covid-19 cases. But, private hospitals are out of reach for most people in rural areas. But, how is the rural toll taken up by the government?
According to the health infrastructure data published in the National Health Profile 2019, government hospitals would run out of beds in rural India even if 0.03 per cent of the rural population is hit by the virus.
73 per cent of the country's government hospitals are located in rural areas. Though the number gives a positive picture, the reality is different. Of the total 7.1 lakh hospital beds in the government hospitals, 2.6 lakh were in rural areas and 4.5 lakh in urban areas, which means only 36 per cent of the government hospital beds are available for the rural population. The same goes for the number of doctors. More than 70% of India's population lives in rural areas. "Rural areas with a weak primary health care infrastructure people are not going to come forward because they're not convinced that coming forward will mean much', says Dr Ashish Jha, director of the Harvard Global Health Institute. So, the rural population doesn't have much choice but to stay vulnerable to such a pandemic!

Social distancing is important
In this situation, the only thing we can do is to make sure that we fight hard so that we can curb the number of deaths. But fighting coronavirus needs social distancing rather than anything else. We might be locked in for weeks, but the results will be worth the wait. If we do nothing, everybody will be infected. It's impossible to prevent the coronavirus now, but we can reduce the peak of infections.
For that, the first thing we've to do is heavy social distancing and get this thing under control. Once after it's done, the governments can release the measures, so that people can gradually get back their freedoms. With effective social distancing, we can lower the number of cases.
The diagnostics would keep going up for a couple of weeks, but then they would start going down. With fewer cases, the fatality rate starts dropping too. And the collateral damage is also reduced and fewer people would die from non-coronavirus-related causes.
This 'Suppression' according to an article published in Medium, would get us,
Fewer total cases of Coronavirus
Immediate relief for the healthcare system and the humans who run it
Reduction in the fatality rate
Reduction in collateral damage
The ability for infected, isolated and quarantined healthcare workers to get better and back to work.
If people are massively tested, they can be identified even before they have symptoms. If quarantined, they can't spread anything. If people are educated about personal distance, mask-wearing, washing hands or disinfecting spaces, they spread less virus throughout the entire period. But this depends upon the level of discipline, execution, and how much the population follows the rules.

What India's doing
Karnataka state will be the first state in the country with 2500 beds available with ICU beds available.
States like Maharashtra and Punjab have implemented section 144 to control the spread of infection.
All integrated check posts (ICPs) at all airports, seaports, land ports, rail ports, and river ports are closed down.
The government has decided on complete lockdown in 75 districts.
The number of government-run National Institute of Virology (NIV) labs have been ramped up from one to 111
Government suspends domestic passenger flights
Indian Railways cancelled all the trains till month-end
So this is the time to fight! Fight against the coronavirus until we have a vaccine. Let's lockdown and enjoy our 'own' time, controlling the virus spread. Together, we can.
Source: First Post, India Today, Tribune India, The Print, Livemint, CNBC, BBC, Quartz India, TOI.