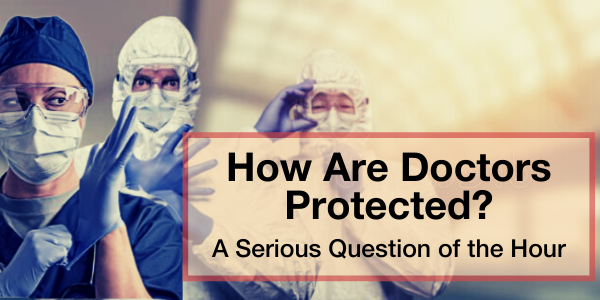 "How can a soldier win a war without guns, the same is the situation here, The government has made corona centres, but doctors are forced to work without personal protective equipment (PPE), please look into this matter," tweeted a doctor yesterday.
The threat of coronavirus pandemic has finally put all Indians, except the health workers under a curfew. While the virus continues to cast its shadow over the people, health workers struggle with a slow-rising horror of working without proper gear – Shortage of personal protective equipment, or PPE. PPE's are full-body suits needed to ensure that medical professionals do not themselves end up contracting the virus as they seek to treat patients. As the number of Covid-19 cases continues to rise in the country, the doctors, who are meant to be our life providers, are struggling to keep themselves safe.

A worry for the Health Workers

If the number of cases reach the estimated numbers, thousands would require hospitalisation and the doctors need to be well prepared.
If the doctors get infected, the consequences would be worse than we could even think. The doctors, nurses and other staff would themselves have to either be treated or go into isolation, thereby putting an even bigger burden on an already overwhelmed health care system.
According to a report published in Times of India "healthcare personnel in India face a dire situation in dealing with the Covid-19 pandemic with a shortage of quality personal protective equipment looming as Indian manufacturers say they don't know what to produce in the absence of health ministry specifications for them".
Not only that but also the doctors are 'scared' and 'concerned' because they do not have protective equipment such as masks and gloves while treating patients of coronavirus.

Reusability of PPE

What's the centre doing?

The health ministry has reportedly decided to arrange:
7.25 lakh body overalls,
60 lakh N95 masks
One crore three-ply masks*
*orders have been placed

Issues faced:
Public sector company HLL Lifecare Ltd, the government's sole procurement agency for PPE kits for use by healthcare professionals, seems to be struggling to match the supply-demand gap in wake of the rising demand.

There are about 100 local manufacturers of PPE kits, which includes face masks, gloves, coveralls, fluid protection gowns, hood caps, eye protection wear, etc, but very few have the inventory to scale up at short notice.
According to the PPE manufacturers, "unless there is better clarity on the likely demand and the standard specifications, the industry will not be able to procure raw materials and be prepared for a quick response."
They also add that the government needs to do two things to ensure supply of quality products at a reasonable price.
Uniform quality specifications across state government and public sector procurement tenders for the same products to build on the scale
A realistic demand projection or early signalling of the number of personal protection equipment (PPE) kits that may be needed at short notice.
Meanwhile, it has also been said that the government has roped in three local manufacturers who can produce around 20,000 pieces of PPE per week expecting a shortage of disposable body coveralls.

Help from the startups

To curb this situation, several startups are also coming out with ideas to help doctors with masks and other needed products.
Helping Hospitals, who describes itself as an initiative to support our frontline warriors in the war against Covid-19 is one among such startups. The initiative is trying to help the frontline health workers by coordinating the medical supplies across India and streamlining the operations and logistics.
Another Delhi based startup Nanoclean Global Private Ltd is stepping up the production of its proprietary masks designed to protect against contagious viruses.
Ethereal Machines, a startup based in Bangalore is trying to build something that can act as visors like in helmets and can save the front-line medical staff from infectious droplets.
According to media reports, Mahindra has decided to start manufacturing ventilators to meet the shortage.
How are the doctors responding to this situation?

He also added that all the PPE must be discarded after the six-hour shift and each worker would be required to sanitise themselves.
Not only him but also the doctors and health workers in the country have taken this to the social media to register their concern on the shortage of PPE.
"I don't want your claps. I want your genuine and wholehearted effort in ensuring my wellbeing. I want personal protective equipment," tweeted a government doctor.
"We don't need a 4 months salary in advance. Rather take away my 1 months salary but provide us with proper PPE," tweeted another doctor.
The situation is the same in other countries as well. The health workers all over the world are begging the authorities to help them serve better!
Source: News 18, Business Today, Telegraph India, Twitter, Economic Times
We all know that the pandemic of COVID19 has been hovering like a dark cloud on all of us. As physicians, we are the frontline army battling this out each and every day. We want to take a moment to tell all of you brave soldiers without fancy guns that YOU ROCK! We want to know how have you been addressing this dark hour. How have you been managing your OPDs and clinics? Are you been taken care of? Please take this 5 min survey so that we can know better about your experience and management advice. https://forms.gle/NacH3mBismNQvDnQ7