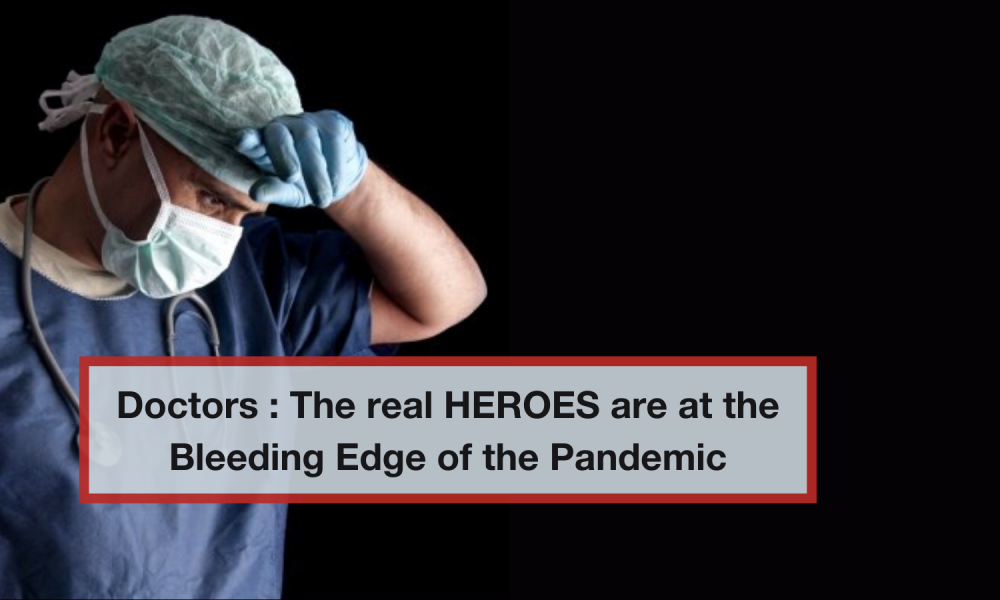 "If you do one good deed your reward usually is to be set to do another and harder and better one."- C.S. Lewis
While the entire nation is under the dark cloud of the coronavirus pandemic, healthcare professionals at all levels work with a redoubled commitment to stem the spread of the virus.
Leaving family and loved ones behind, for the fear of infecting them, our brave warriors in white coats wage an often lonely and tiresome war.
Between the never-ending run from ward to ward and managing the patients, lies a human version of doctors, who, like us, have all the emotions and anxieties. The only difference is that they're suppressing their fears about being infected and their families' wellbeing to fulfil their duties. But in a nation where the healthcare sector reflects a story of chronic neglect, it's obvious that we want to know how the doctors are addressing the situation amidst their overworking schedule.
DailyRounds has conducted a survey to understand the current situation and standpoint of doctors and other healthcare workers around the country and the results clearly reflected their thoughtsthe current situation and standpoint of doctors and other healthcare workers around the country and the results clearly reflected their thoughts!

What's it like working in a pandemic environment?
Indian healthcare data often reflected a story of neglect.
In a situation like this, where we don't have much time and knowledge about the virus and the disease, support from the public is also needed. In a country like India, shortage of doctors is already a big problem. In smaller towns, doctors are doing 36-hour duty because they are short-staffed. During a pandemic like COVID-19, many doctors are also taking turns in the duty to make sure that not everyone gets sick at the same time in anticipation that the department should have enough doctors to manage further cases.
We've covered an article on the shortage of ventilators earlier. The response from a doctor proves the situation to be true. The doctor says "If they are coming with flu-like symptoms it's easy to control but the shortness of breath requires urgent hospitalization and might need to move patients to ventilators very soon."
Another doctor who works in Trauma Care has opined that the "Shortage of PPE(Personal Protective Instrument) and masks are the main difficulties that they face in this environment where anyone can be a COVID patient or a carrier".

What concerns the doctors?
In these times, the public look up to doctors like apron-laden Messiahs. However, at the end of the day, they too are human and they too fear for their safety and the safety of everyone around them. One of the main difficulties that the doctors faced, according to the survey, was the extra panic-stricken patients and their relatives.

A General Practitioner from Kolkata said that "some patients were even non-compliant to quarantine. Many times they dont even give the true history of travel or contact with a COVID patient fearing the quarantine and isolation. This puts them all in the risk of getting infected and also going to quarantine at this time of shortage of adequate healthcare staff to manage the crisis".

Dr Ashok Das, Odisha's Sambalpur's assistant divisional medical officer lost his 80-year-old mother on March 17. Das, being the nodal officer of the district on Covid-19, carried on with his duty of spreading awareness about the disease even after his mother's death. He returned home only in the evening and performed the final rites of his mother.
A General Physician from Iran said that they are encountering a bad situation due to people not taking the pandemic seriously. Hospitals are overcrowded so unfortunately, young patients and young health care workers die every day. This means the situation is not better in other countries too.

One of the doctors expressed his fear for his family getting infected through him!
For this reason, most of the doctors treating COVID-19 patients are staying away from their family. But the complete isolation from family along with a stressful working environment, at times like these, takes a toll on the mental health of the doctors and their families.
It has been said that many doctors are taking prophylactic antimalarial medicines in the fear of contracting the disease though, its an off label usage. (Click to know more.)
In this situation where we have a shortage of PPE's and diagnostic tools, healthcare workers are more vulnerable to get infected. Till now, though work has started on vaccine and drug discovery, there are no specific recommended vaccines/drugs to treat coronavirus. This makes everyone, especially doctors, who work on the frontline susceptible to the virus.

While the main problem that the Indian doctors faced earlier was extra working hours and violence against them, now it is the stigma. The health workers are trying hard to save the public, but the public seems to stigmatise them. A doctor shared his experience about his owner trying to throw him out of his rented room since he was treating COVID 19 patients.

Doctors have some suggestions for the community
Unpredictable scenarios, such as the COVID-19 pandemic with high transmission and mortality rates, require consistent solutions. Though the government has announced lockdown to decrease the spread of the virus, obeying all those measures is the duty of the public.
According to the survey responses, some people still refuse to follow the preventive measures.
"I am facing patients with the issue of lack of food as their daily living occupation is affected. Very sad to see that. Still, people are not wearing masks. Sanitizers are out of stock," opined a PG student of a Kolkata medical college.

While some doctors have suggestions, others have requests to the authorities. One of the main suggestions among those was sufficient provision and use of proper PPE and following WHO guidelines. "Help provide PPE for healthcare workers so they can care for the patients fearlessly and prevent the spread," a doctor from Lahore requests, while another physician requests authorities to supply funds to formulate any vaccine if possible.
See what a medical intern has to say. "Well, social media is doing the job of giving awareness about COVID 19, but people who tend to fear are fearing too much (to the extent where they start following malpractices or visiting quacks) and some people are not at all feared about the corona. It feels like our community contains people with two opposite poles of mindset!" The doctors' also advise the public not to panic and not to take this too lightly as well.
A positive and welcoming news from government was the insurance cover of 50 lakh for 90 days to a total of around 22.12 lakh public healthcare providers, including community health workers, who may have to be in direct contact and care of COVID 19 patients and who may be at a risk of being impacted by this.

Doctors are doing their part. Are we? Let's support them by following the rules and staying cautious. Because, this is not the time to panic, but to act together as responsible citizens. Let's obey our superheroes and win the battle together against coronavirus.