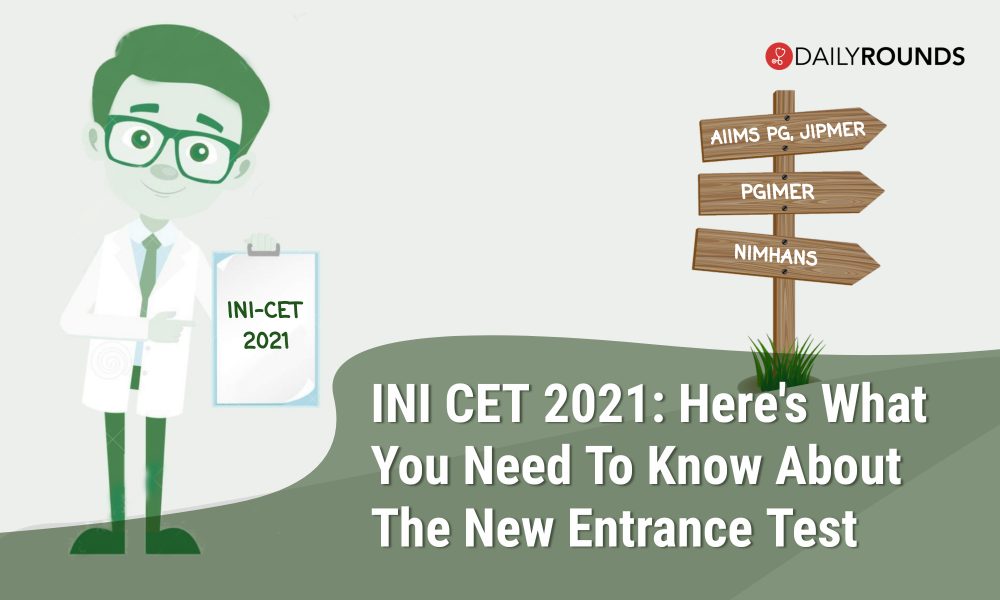 The Post Graduate medical education system in the country is all set for yet another makeover as the entrance examination for the selection of candidates to Institutes of National Importance (INI) for medical education i.e AIIMS New Delhi along with all new AIIMS, PGIMER, JIPMER, and NIMHANS has been placed under the same roof.
The Institute of National Importance Combined Entrance Test (INI CET) will now replace the AIIMS PG, JIPMER PG, PGIMER, and NIMHANS entrance tests. INI CET 2021 exam is conducted for admission to Masters of Surgery (MS) and Doctor of Medicine (MD), Doctorate of Medicine (DM), Masters of Chirurgie (MCh), and Masters of Dental Surgery (MDS) in 8 AIIMS, JIPMER Puducherry, PGIMER Chandigarh, and NIMHANS Bengaluru. With effect from 2021, all these institutes will admit PG students based on marks obtained in INI CET only. The examination will be conducted twice in a year through online mode.
All these institutes are tasked to develop patterns of teaching in postgraduate medical education and to demonstrate a high standard of medical education in India and to bring together in one place, educational facilities of the highest order, for the training of personnel in all important branches of health activity. Currently, these institutions conduct separate entrance exams for their courses. Considering the commonality of purpose, an initiative has been undertaken to conduct a combined INI – PG Entrance Examination for admission to PG Courses in these institutions.
It is expected that such a common exam would be convenient for the students as they would be able to apply for a large combination of seats in these institutions simultaneously in one place. It would also allow the preparation of a single common merit list, offering a student the best possible choice as per his/her merit. This would prevent loss of time, effort, and money in applying and joining at multiple places and also prevent wastage of seats by students moving from one institution to another. Let's look into further details of the whole new entrance examination.
| | |
| --- | --- |
| Name of the examination | Institute of National Importance combined Entrance Test (INI CET) |
| Competent Authority | AIIMS, New Delhi |
| Frequency of the examination | Biannual |
| Mode of the examination | Online |
| Type of Exam | Objective Type |
| Courses offered | MD, MS, DM, M.Ch, MDS |
| Number of test cities | 129 |
| Date of Examination | 20-Nov-2020 |
Participating Institutes & Courses
INI-CET will be conducted for the post-graduate MD, MS, DM (6 YRS.), M.Ch. (6 YRS.) & M.D.S. courses at AIIMS, New Delhi, JIPMER Puducherry, NIMHANS Bengaluru & PGIMER Chandigarh, and seven other AIIMS (Bhopal, Bhubaneswar, Jodhpur, Nagpur, Patna, Raipur & Rishikesh).
INI-CET 2021 Eligibility Criteria:
Before applying for INI-CET 2021 January session, aspirants need to fulfill the eligibility criteria.
A. For Indian National and OCI (Overseas Citizen of India)
A candidate must possess an MBBS degree for admission to MD/MS/DM-6yrs/MCH-6yrs and BDS degree for admission to MDS courses from a University recognized by the National Medical Commission/Medical Council of India as notified by Govt. of India and Dental Council of India respectively and must have completed the required period of 12 months compulsory rotating Internship/Practical training by the dates as mentioned in part-b of the information brochure of respective Institute, which will be released shortly. The Indian national who has obtained eligibility degree in India must have obtained a minimum of the following marks:
 For candidate belonging to SC/ST Categories 50% marks in aggregate
For all other categories including OBC/EWS category 55% marks in aggregate
For persons with Benchmark Disabilities (PWBD) the minimum aggregate marks needed is 50%
For Indian national candidates who have graduated from foreign universities, marks obtained in the FMGE (Foreign Medical Graduate Examination) shall be considered in lieu of aggregate marks. However, the eligibility criteria of minimum marks remain the same.
B. For Foreign National Candidates:
The eligibility of Foreign national applicants with respect to the minimum marks in aggregate in all the MBBS/BDS professional examinations will be 55% aggregate or equivalent. However, candidates are required to obtain a certificate of grading system from the applicable university/institution to determine the value of grading in percentage.
INI-CET 2021 Application Process: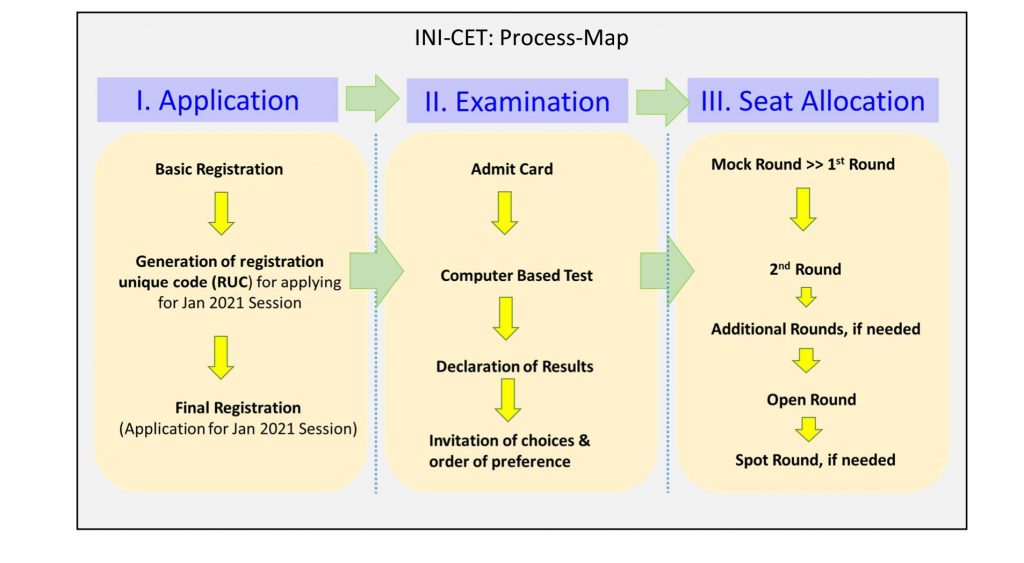 The application form of INI CET 2021 has been released on September 29, 2020, at www.aiimsexam.org website. The application process consists of three sequential stages:
Generation of Registration Unique Code (RUC) for application
Below are the steps to complete the INI CET 2021 registration process.
Stage 1: Basic Registration:
Basic registration is a one-time process to be done by applicants for appearing in postgraduate courses. It consists of the initial registering of the applicant with the IT system for the generation of Registration ID and Password. The applicant is then required to complete the basic registration with necessary personal information and uploading of images. 
However, the applicants whose basic registration has been earlier accepted for previous postgraduate examinations conducted by AIIMS, New Delhi, are NOT required to register again. They can directly proceed for Stage 2 after logging in at the Basic Information Zone using their Registration ID and Password.
Stage 2: Generation of Registration Unique Code (RUC):
An accepted Basic Registration is a pre-requisite for the generation of code. A code is required to be generated to indicate the applicant's desire to apply for INI-CET, Jan 2021. The code is specific to each instance of examination and is required to be generated afresh for INI-CET, Jan 2021. If the applicant has previously generated code for earlier examinations, the same cannot be used for INI-CET.
Stage 3: Final Registration:
After the code is generated for INI-CET, the applicant is required to proceed for applying for the exam at the Final Registration page. A valid registration ID, password, and Code (RUC) are required to be able to log in for completion of the application form. 
Click here for Final Registration (Last Date: 26.10.2020 5.00 PM)
Application Fee:
The application fee is to be paid at the time of application for the INI-CET, Jan 2021 (Final Registration) in online mode. The application fees for General/OBC/Foreign National applicants will be Rs. 2000 and that for SC/ST/EWS applicants will be Rs. 1500. However, persons with Benchmark Disabilities are exempted from payment of fees.
Mode and Scheme of Examination:
The examination for INI-CET, Jan 2021 will be conducted in a computer-based test (CBT) mode. The duration of the examination is 3 hours (180 minutes) consisting of 200 objective type questions of varying types (including Single Correct Choice and Multiple Correct Choice questions). The percentile scores in INI-CET will be used to determine eligibility for admission to postgraduate seats in all participating INIs. The minimum percentile cut-off required for applicants will be as follows:
For Unreserved (UR) seats including Overseas Citizens of India (OCI) and Sponsored/Deputed/Foreign Nationals will be 50th percentile.
For OBC, SC, ST, PwBD, and Bhutanese Nationals (PGI-Chandigarh only) seats will be 45th percentile.
The detailed scheme of question paper, method marking, and determination of percentile score shall be uploaded shortly in the aiimsexams.org website.
INI CET 2021 Seat Matrix:
The seat allocation for the available postgraduate seats in participating INIs shall be done through online mode only. The seat allocation shall be conducted for at least Two Rounds followed by Open Round. Additional Rounds of seat allocation may be done before the Open Round if needed. The detailed time schedules for the same will be announced in due course of time.
For the 1st and 2nd Round of seat allocation, candidates equal to 8 times the number of available PG seats in each category will be called for Seat Allocation from the list of eligible candidates for admission. The seat allocation shall be done in order of merit, choices made by the candidate, and as per the reservation policies of individual INIs with regards to Institutional Preference, Community reservations, etc.
Important Dates: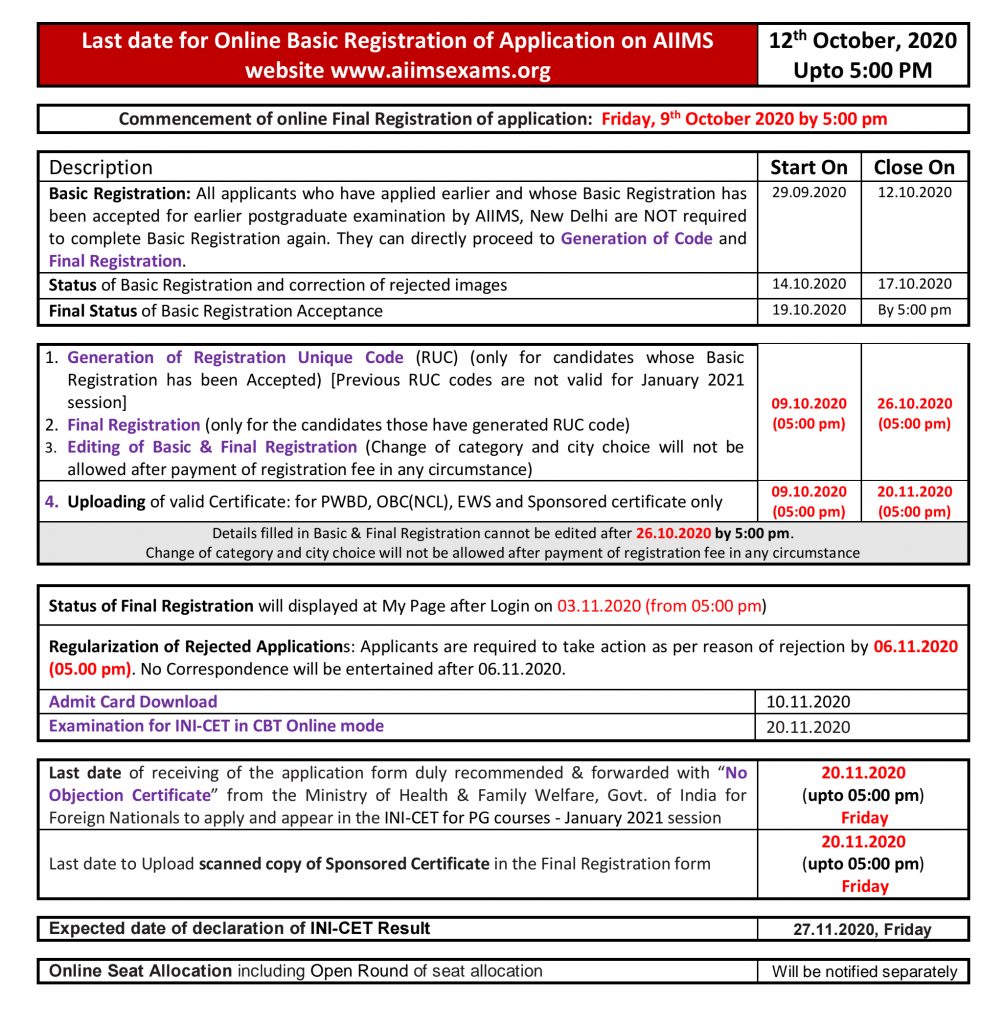 Candidates are required to regularly visit the www.aiimsexams.org website for general information and other updates. For the resolution of queries, the applicants can communicate with the examination section, AIIMS, New Delhi through email (aiims.inicet@gmail.com) or toll-free number (1800117898). In addition to this, a grievance portal will be activated in due course of time.
Tags
AIIMS PG
,
aiims pg entrance
,
AIIMS PG Exam
,
INI CET
,
INI CET 2020
,
INI CET 2021
,
INI CET 2021 prospectus
,
INI CET Application
,
Ini cet application details
,
INI CET application process
,
INI CET dates
,
INI CET eligibility
,
INI CET entrance exam
,
INI CET exam centre
,
INI CET exam date
,
INI CET exam fees
,
INI CET exam process
,
INI CET Exam Scheme
,
INI CET full details
,
INI CET Mode
,
Ini cet notification
,
INI CET Prospectus B
,
INI CET questions
,
INI CET Registration details
,
INI CET syllabus
,
INI CET total seats
,
INI Common entrance Test
,
INI Entrance Test
,
INI exam
,
INI Exams
,
INI Full form
,
INICET
,
INICET 2020
,
INICET 2021
,
INICET EXAM
,
INICET login
,
INICET prospectus
,
INICET registration
,
Institute of national importance exam
,
JIPMER PG
,
NIMHANS PG
,
PGIMER PG