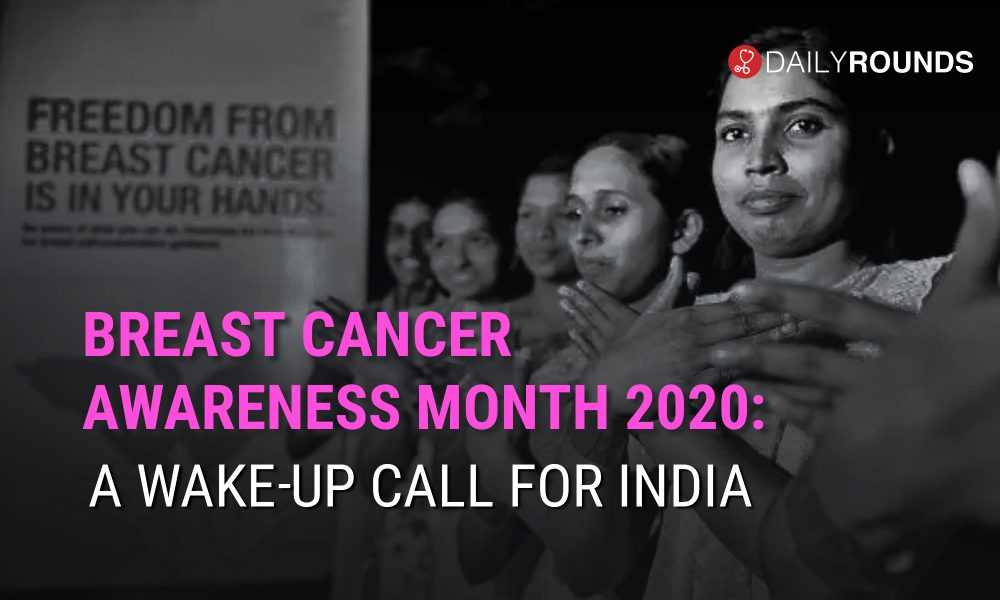 For months, the coronavirus put many areas of breast cancer on pause but October is when we get to really shout about it as the whole world observes the thirty-one days as breast cancer awareness month. This global health campaign helps to increase attention and support for the awareness, early detection, and treatment as well as palliative care of this disease. Let's look into the details and relevance of the 'pink month'
According to the World Health Organisation (WHO), there are about 1.38 million new cases and 458 000 deaths from breast cancer each year. No wonder that breast cancer is by far the most common cancer in women worldwide, both in developed and developing countries. In low- and middle-income countries the incidence has been rising up steadily in the last years due to an increase in life expectancy, increased urbanization, and adoption of western lifestyles.
Currently, there is no sufficient knowledge on the causes of breast cancer, therefore, early detection of the disease remains the cornerstone of breast cancer control. When breast cancer is detected early, and if adequate diagnosis and treatment are available, there is a good chance that breast cancer can be cured. If detected late, however, curative treatment is often no longer an option. In such cases, palliative care to relieve the suffering of patients and their families is the only option in front.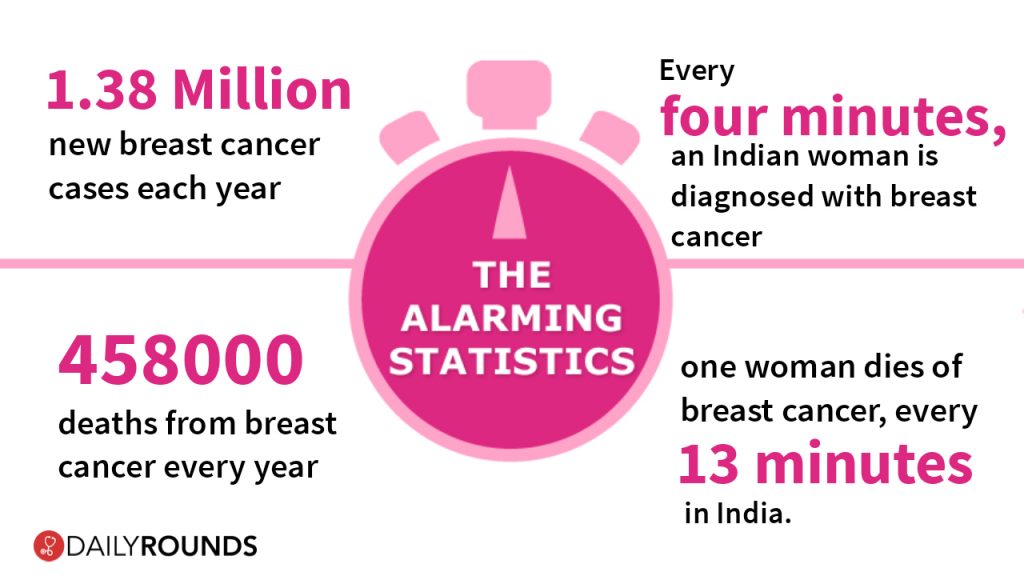 According to statistics, the majority of deaths due to breast cancer occur in low- and middle-income countries, where most women with breast cancer are diagnosed in late stages mainly due to lack of awareness on early detection and barriers to health services. The situation is no different in India, in fact, it's even worse!
Breast cancer accounts for 14% of cancers in Indian women. One woman gets diagnosed with breast cancer every 4 minutes in India, and one woman dies of breast cancer every 13 minutes, making it the most prevalent cancer among women. A 2018 report of breast cancer statistics recorded 1,62,468 new registered cases and 87,090 reported deaths in the country.
Women in India are generally diagnosed at a later, more advanced stage with poor prognosis. About one in twenty-eight Indian women are expected to develop breast cancer during their lifetime. It is more (1 in 22) for urban women when compared to the rural group (1in 60). By 2030, breast cancer is expected to cause most deaths among women in India than any other malady. The unusual rate of breast cancer in younger age groups is extremely troubling. Additionally, India has the highest rate of the most aggressive breast cancer in the world, triple-negative breast cancer.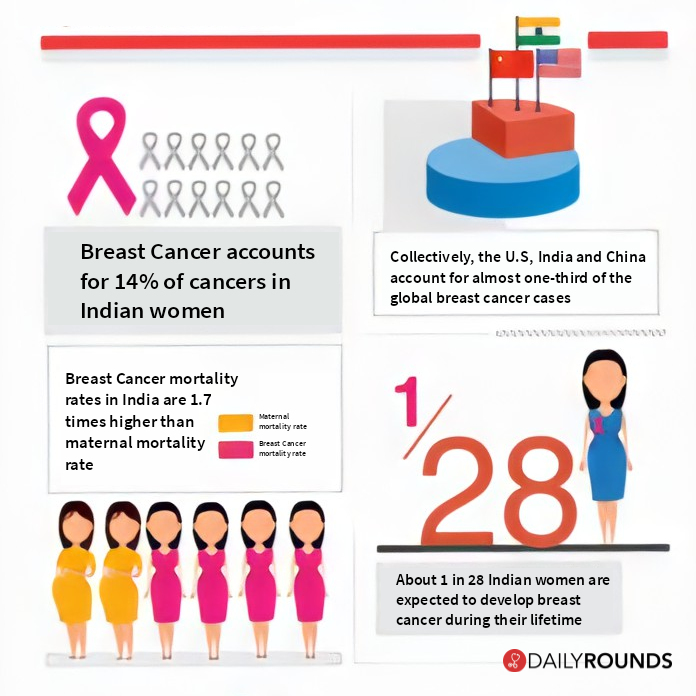 Cancer survival becomes more difficult in higher stages of its growth, and more than 50% of Indian women suffer from stage 3 and 4 of breast cancer. Almost 50 percent of breast cancer patients first visit the doctor when they are in stage 3, and 15-20% of patients visit when they are in phase 4. Post cancer survival for women with breast cancer was reported 60% for Indian women, as compared to 80% in the U.S. 
The very reason for a low breast cancer survival rate of Indian women accounts for its lack of awareness and poor early screening and diagnosis rates. Breast cancer is a treatable illness, and chances of survival are greater if it's identified in time. According to the World Cancer Report 2020, the most efficient intervention for breast cancer control is early detection and rapid treatment. 
The simplest reason why women do not seek care early is that they do not feel any pain in the breast lump. Clinical breast examination (CBE) by a doctor should be done about every three years for women in their 20s and 30s and every year for women aged 40 and over. After that, an ultrasound scan should be made a part of an annual health check-up. In addition to this, those women who have a family history of breast cancer should have frequent mammograms. Regular Breast Self-Examinations are also fundamental to detecting any differences in the breast's appearance or feeling a lump.
Various research about breast cancer awareness conducted in India has found that social, cultural, and religious aspects play a huge role in slowing down the diagnosis. Even today, the majority of the Indian women don't have access to proper health services, are hesitant to consult male doctors, overlook their health due to household commitments, and are over-dependent on other family members to seek medical help, all of which leads to a delay in diagnosis. In addition to this, a short supply of radiologists in the country has certainly made the matters worse. India only has approximately one radiologist per 1,00,000 people.
Effects Of The Pandemic
The anxiety that comes with cancer is one of the worst and the COVID-19 crisis has now worsened the situation further. Comprehensive modeling research on the impact of the COVID-19 pandemic on surgeries projected that 59·7% of cancer surgeries were deferred in India during the initial 12 weeks of disruption.
Since end-March, when the nationwide lockdown was enforced, nearly 80 percent of breast cancer patients decided to stay back at home by ignoring early symptoms, instead of coming to hospitals for screening. Patients already under treatment too suffered due to the lockdown, and while many of them are now turning up for follow-ups, the time lost and lack of treatment has led to the spreading of cancer and move to advanced stages.
Some of the measures suggested by international guidelines on how to treat breast cancer patients during the COVID-19 pandemic are:
Stringent screening of all patients and hospital staff for COVID-19 symptoms, exposure, and travel history
Suitable modifications to ensure negative pressure in operation theatres
Evidence-based use of chemotherapy weighing the benefit to the patient against the risk posed by COVID-19. For hormone-positive patients, a prognostic test can be used to assess whether chemotherapy can be safely avoided
If chemotherapy is required, reduced dosing schedules or conversion to oral chemotherapy as far as possible
If radiation is required, hypofractionated schedules are used as far as possible for shortened durations. For example, early breast cancer patients can get one week versus the traditional three weeks
All follow up is done through teleconsultation to limit hospital visits and reduce exposure to COVID-19
During the COVID-19 times, special preparations are needed to increase the efforts for early diagnosis by creating mass awareness about breast self-examination and also the available treatment options, especially breast conservation procedures, and oncoplastic mammoplasty, and other reconstructive procedures so that patients don't hesitate to come forward. The earlier the cancer is detected, the more options open to the patient and the less money the patient has to spend. They can also avoid so many aggressive treatments like mastectomy and chemotherapy.
Patients should not let their fear come in the way of good health because a delay in breast cancer diagnosis can be very 'costly' indeed. The quicker people seek medical advice the faster the return to wellness!
Follow and connect with us on Twitter | Facebook | Instagram


Tags
BCAM 2020
,
breast cancer
,
Breast cancer awareness
,
Breast cancer awareness month
,
Breast cancer awareness month 2020
,
Breast cancer care
,
Breast cancer COVID-19
,
Breast cancer details
,
Breast cancer in India
,
Breast cancer India
,
Breast cancer indian
,
Breast cancer month
,
Breast cancer month 2020
,
Breast cancer month october
,
Breast cancer numbers
,
Breast cancer statistics
,
Breast cancer Treatment
,
October awareness month
,
October is pink
,
Pink month