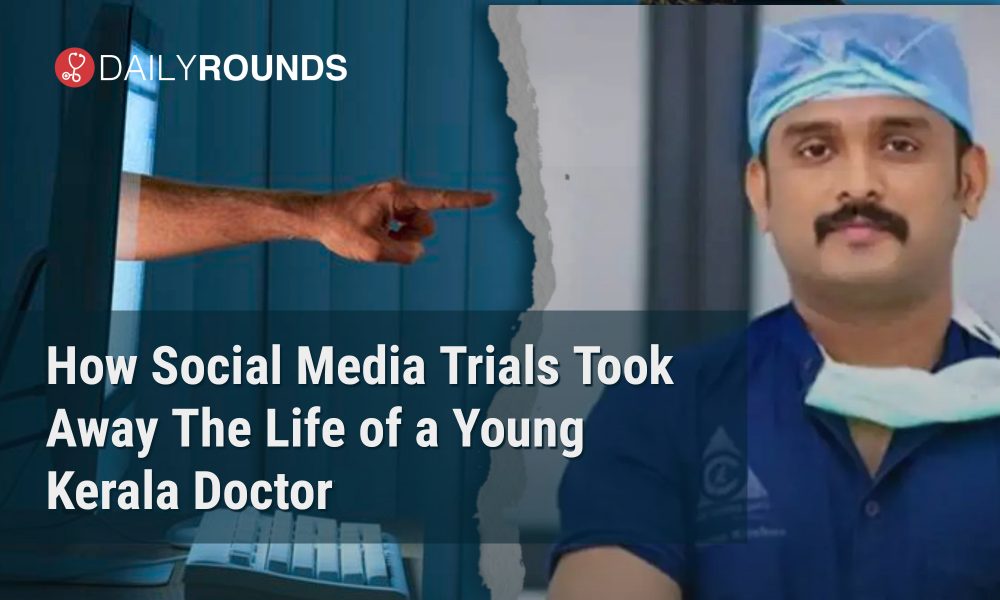 Yet another doctor has lost his life! This time, not because of coronavirus but surely because of a social virus that's lethal than the former!
The death of Dr. Anoop Krishna, a young successful orthopaedic surgeon based in Kollam, Kerala, has left the entire medical community shaken. According to the police, 35-year-old Anoop died by suicide and wrote 'sorry' on a wall in his house. They are probing whether the doctor took the step as he had received a lot of flak recently on social media for a surgery at his hospital in which a seven-year-old child had died. Doctors in Kerala have come out in support of Anoop, condemning such 'trial by media' without understanding facts. So let's look at the factual side of things which led to the death of a successful young doctor.
Dr. Anoop took up the surgery of the seven-year-old child who had a birth defect, seeing the family's desperation after several other hospitals had refused to treat the child who had a heart problem and also realising that the surgery will not be so effective once she grew up. He even agreed to conduct the surgery at a low cost owing to the financial background of the family.
However, the child suffered a rare difficulty from anesthesia during the surgery and developed a cardiac arrest. Despite all the attempts to save her including taking her to the nearest Kollam Medical College hospital, the child passed away. According to expert doctors, the child actually developed ventricular fibrillation resulting in erratic heartbeats and eventual death.
What happened to the little girl was indeed tragic but that doesn't remotely point out to an assumption that the mistake would have been the doctor's. As soon as the death of the child there comes a bunch of social media warriors to do a trial. They wrote a verdict that the doctor was guilty and even wrote that the doctor killed the child for a little money!
The relatives of the child also blamed the doctor for her death and they staged a protest in front of the hospital along with the locals. They also filed a case of medical negligence with the nearest police station. Following this, Dr. Anoop had reportedly gone through a lot of mental stress and went to his home in Kollam where he took his life, leaving behind his wife and a little son.
Many doctors have pointed out that Dr. Anoop has done several successful surgeries so far in his medical career, and sometimes things may not go as planned. Every surgery is a complicated procedure and the results are never ever under the complete control of the surgeon who performs the surgery. However, the public often refuses to understand this. In this case, instead of stones and sticks, they used their social media walls to harass, shame, and threaten Dr. Anoop accusing him of even killing the child.
These actions, especially by a local news channel among others drove a successful and ethical medical practitioner to a tragic end. This is not an isolated case, most of the time, when there is a death after a surgical procedure, the blame by the medically illiterate society goes directly on the doctors which at times leads to physical assaults and mob violence on them. In all these situations people shouldn't be allowed to take law in their own hands, instead any grievance should be addressed through court and FIR and not by harassing the doctors by any manner of means.
Dr. Sulphi Noohu, vice-president of the Indian Medical Association – Thiruvananthapuram chapter – condemned the attack on his fellow doctor calling Anoop 'a martyr of social media trial'. He said that the aim of these social media trials was the publicity they'd gain through the circulation of such negative news.
"Kerala lost a good doctor, Anoop's family lost a loving individual, his little child lost a father, and wife a loving husband, his buddies lost a zestful friend. Those who did his trial on social media lost nothing," Dr. Sulphi wrote, adding that action should be taken against those who he alleges are indirectly responsible for Anoop's death. Cyber laws should be rewritten, he said. "While people should have the freedom to express thoughts, it should never be used to tarnish the personal image", he further added. Following the tragic incident, the IMA also observed October 2nd as 'black day' and the medical community around the country deeply condemned the mishap.
"Negligence and complications are two terms with different meanings. During treatment, complications cannot be avoided. In almost all kinds of surgeries where there's anesthesia, there are complications. We can only be careful in avoiding such complications. If they happen, we can only provide the correct treatment. Deaths can happen due to complications. Here, without confirming whether it was negligence or complications, cries of murder are raised. I register my anger and disappointment. This suicide is an injury to the heart of every health worker and the silence of the society to it," wrote Dr. Jinesh PS, a Kerala based doctor on Facebook, in response to the incident.
There are few things that the society should always remember, doctors are not gods, they are also humans, aided by the facilities they have, the knowledge they earned and the advancement of science engaging in a profession. They don't have a "magic" medicine that can cure everyone. So before rushing to your social media walls for abusing and harassing someone, think twice and try to understand the cause and context. Because your fallacious social media posts can even kill someone!
A detailed investigation should immediately be conducted on the allocations of harassment and abetment to suicide. Every single person who harassed the doctor leading to his suicide should be brought before justice and punished accordingly. It is a necessary step to keep intact the morale of numerous doctors out there sacrificing themselves in these desperate times to save the world from the deadly pandemic.
Follow and connect with us on Twitter | Facebook | Instagram