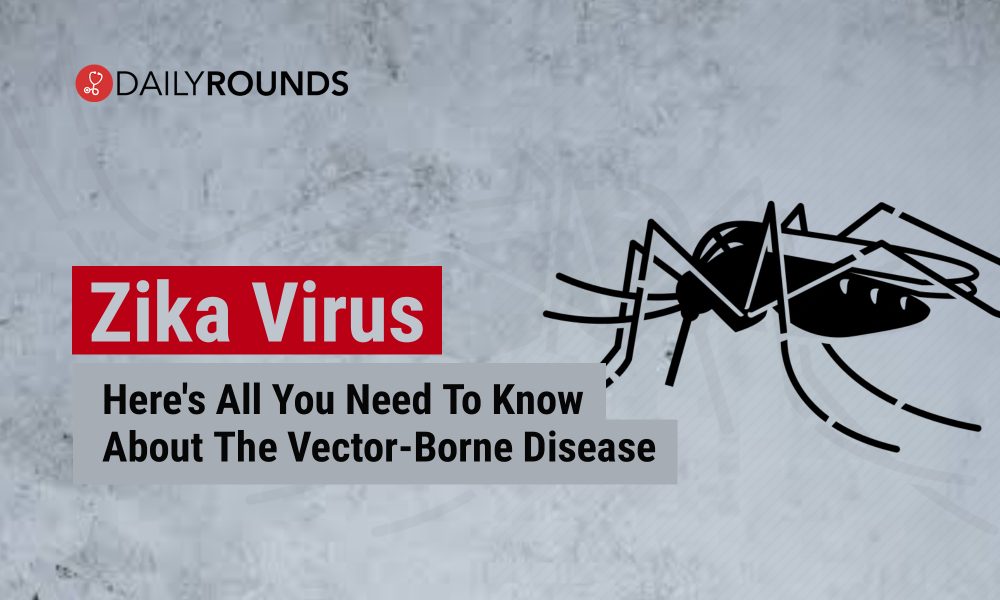 At a time when the state is grappling with a heavy caseload of Covid-19 cases, Kerala is faced with yet another challenge in the form of a vector-borne contagion – the Zika virus. The first case of Zika virus was detected in Kerala last week and since then, 27 more have been added to the tally. Following the outbreak, Tamil Nadu and Karnataka, which share their borders with Kerala, have increased surveillance in border districts.
Kerala reported its first case of the Zika virus on July 8, when a pregnant woman tested positive. The next day, a state-wide alert was issued in all 14 districts following the detection of Zika virus infections. A six-member central team of experts had also been dispatched to the state to monitor the situation as well as to support the state government in the management of cases.
What is Zika virus?
Zika virus is a single-stranded RNA virus of the Flaviviridae family, genus Flavivirus. The virus, first identified in Uganda in 1947, is transmitted by Aedes mosquitoes, the same type of mosquito that carries dengue fever, yellow fever, and chikungunya virus. Outbreaks of Zika virus disease have been recorded in Africa, the Americas, Asia and the Pacific. From the 1960s to 1980s, rare sporadic cases of human infections were found across Africa and Asia, typically accompanied by mild illness.
How does it spread?
According to the Centre for Disease Control (CDC), Zika virus is transmitted to humans primarily through the bite of an infected Aedes species mosquito. The mosquito vectors typically breed in domestic water-holding containers; they are aggressive daytime biters and feed both indoors and outdoors near dwellings. Nonhuman and human primates are likely the main reservoirs of the virus, and anthroponotic (human-to-vector-to-human) transmission occurs during outbreaks.
Apart from this, Perinatal, in utero, and possible sexual and transfusion transmission events have also been reported. Zika virus RNA has been identified in asymptomatic blood donors during an ongoing outbreak.
What are the signs & symptoms?
The majority of those infected with the Zika virus are asymptomatic. Characteristic clinical findings are acute onset of fever with maculopapular rash, arthralgia, or conjunctivitis. Other commonly reported symptoms include myalgia and headache. Clinical illness is usually mild with symptoms lasting for several days to a week. Severe disease requiring hospitalization is uncommon and case fatality is low.
What is the method of diagnosis?
According to the World Health Organization (WHO), infection with the Zika virus may be suspected based on symptoms of persons living in or visiting areas with Zika virus transmission and/or Aedes mosquito vectors. A diagnosis of Zika virus infection can only be confirmed by laboratory tests of blood or other body fluids, such as urine or semen.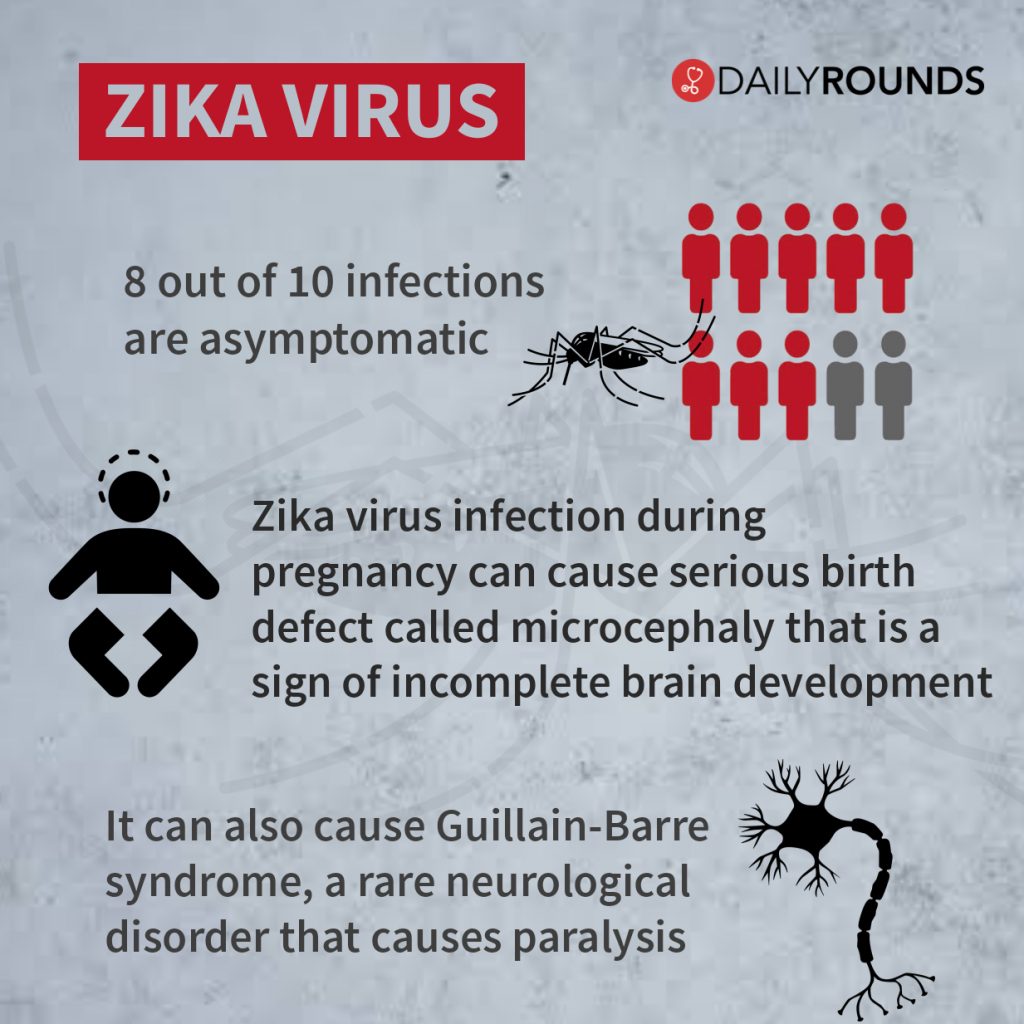 What are the complications?
Zika virus infection during pregnancy is a cause of microcephaly and other congenital abnormalities in the developing fetus and newborn. Zika infection in pregnancy also results in pregnancy complications such as fetal loss, stillbirth, and preterm birth.
There have also been cases of Guillain-Barré syndrome reported in patients following Zika virus infection. Due to concerns of microcephaly caused by maternal Zika virus infection, the CDC recommends evaluating the fetuses and infants of women infected with Zika virus during pregnancy for possible congenital infection and neurologic abnormalities.
Research is going on in different parts of the world to investigate the effects of Zika virus infection on pregnancy outcomes, strategies for prevention and control, and effects of infection on other neurological disorders in children and adults.
What are the treatment options?
No specific antiviral treatment is available for Zika virus disease. Treatment is generally supportive and can include rest, fluids, and the use of analgesics and antipyretics. Because of similar geographic distribution and symptoms, patients with suspected Zika virus infections also should be evaluated and managed for possible dengue or chikungunya virus infection.
The CDC recommends that Aspirin and other non-steroidal anti-inflammatory drugs (NSAIDs) should be avoided until dengue can be ruled out to reduce the risk of hemorrhage. People infected with Zika, chikungunya, or dengue virus should be protected from further mosquito exposure during the first few days of illness to prevent other mosquitoes from becoming infected and reduce the risk of local transmission. No vaccines are yet available for the prevention of the Zika virus. The development of a Zika vaccine remains an active area of research.
How to prevent Zika virus infection?
Protection against mosquito bites during the day and early evening is a key measure to prevent Zika virus infection. Special attention should be given to prevention of mosquito bites among pregnant women, women of reproductive age, and young children. Using barrier contraceptives to prevent transmission of the virus through sexual transmission can be adopted.
Follow and connect with us on Twitter | Facebook | Instagram
Tags
guillain barre syndrome
,
how to prevent zika
,
how to prevent zika infection
,
microcephaly
,
prevent zika
,
what is zika
,
what is zika virus
,
zika
,
zika guillain barre syndrome
,
zika infection
,
zika kerala
,
zika outbreak
,
zika outbreak in kerala
,
zika outbreak kerala
,
zika symptoms
,
zika treatment
,
zika virus
,
zika virus complications
,
zika virus disease
,
zika virus in india
,
zika virus in kerala
,
zika virus india
,
zika virus infection
,
zika virus kerala
,
zika virus signs
,
zika virus signs symptoms
,
zika virus symptoms