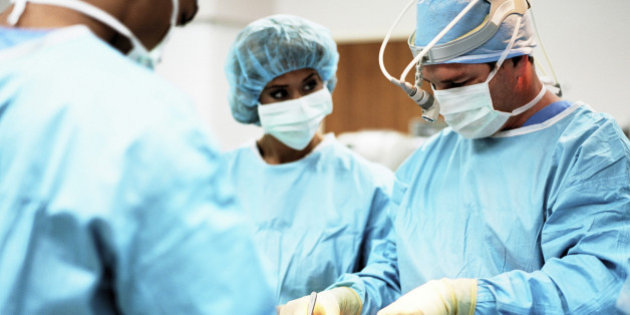 For the Indian medical graduates who return to India after completing the studies abroad, the life that follows is different from what we anticipate. Take the example of Kumar Yadav, who completed his MBBS from a Medical College in Nepal. He completed his studies in 2016 but hasn't visited his hometown in Bihar in two years. Why because his relatives had once made fun of him since despite having a medical degree, he couldn't practice as a doctor. Though he is a medical graduate, the graduates from that country can't practice in India unless they clear the Foreign Medical Graduates Exam (FMGE), a screening test conducted by the Medical Council of India twice a year. This is applicable to the graduates from other countries as well, like China, Ukraine, Russia, Bangladesh and the Philippines.

Another MBBS holder Chhattarpal Vasisth did his studies from Ukraine. He has now enrolled in a coaching institute in Delhi to crack the screening test. Hailing from a small village in Haryana's Bhiwani, he is the first one to be a doctor from the village. He says he couldn't get admissions to the government colleges." Private colleges charged over Rs 50 lakh. In Ukraine, it cost me less than Rs 20 lakh, including hostel fees," he adds.
Every year, more than 5000 students opt for degrees abroad because of the low cost and ease of admission and several other reasons. Among the countries abroad, China is the most popular destination. Then Russia, followed by Ukraine, Nepal, Kazakhstan and Bangladesh. The students after completing their medical degree have to deal with the fact that they are considered less meritorious than home-grown medical graduates.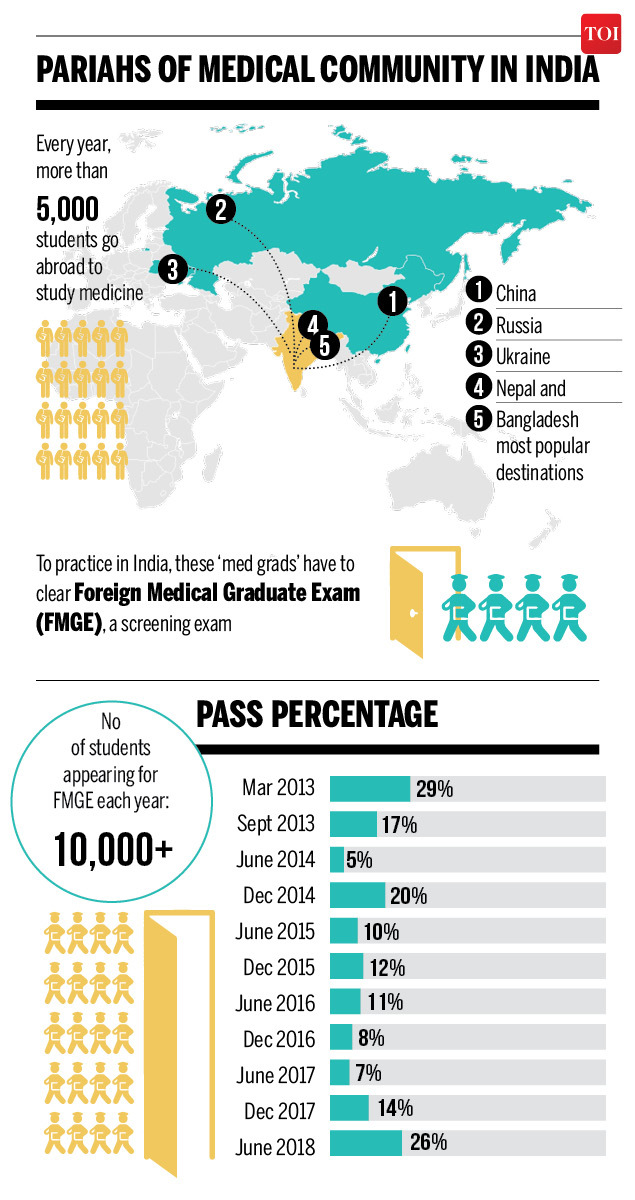 Dr Saurav Awasthi, an MBBS now employed at a government hospital in Delhi, said, "When I went to study in Ukraine, I assumed I would be more sought-after here on my return. Life was tough there. I lived on a tight budget and worked at a restaurant." "People thinks we don't have the merit to study medicine, but partied and came back with easy degrees. This is not true. Education standards there are better than most private medical colleges in India and some government ones," he adds. Now, he is a leading member of  All India Foreign Medical Graduates Association, which works for the rights of students like him. Foreign graduates point out that they have to face other things even after clearing the FMGE. They claim that they are paid lower salaries than domestic graduates and often they are deployed on the emergency, night shifts or as assistant doctors.
Dr Yatish Agarwal, an advisor to the National Board of Examination that conducts FMGE says, "A few years ago, following the protests of foreign graduates over low pass percentage in FMGE, we asked some final year students from Maulana Azad Medical College and Vardhman Mahavir Medical College to take the test without prior notice. Nearly 80% of them qualified. Only less than 20% of foreign graduates made it."
The Health Ministry has recently issued directions that any Indian candidate who wishes to pursue medical education from any foreign country have to pass the National Eligibility cum Entrance test from now on.
Source: https://timesofindia.indiatimes.com/india/mbbs-graduates-from-abroad-face-a-hard-road-to-licence/articleshow/66021214.cms