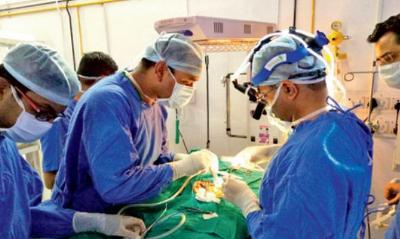 The baby weighed just 470 grams at birth. He was only the size of a palm, and was born prematurely after 28 weeks of pregnancy. The baby's eyes hadn't opened, neither were his lungs developed. His skin looked like parchment paper that was just too fragile and delicate to the touch. And he also had heart complications. He is said to be the world's tiniest baby.
After 15 days since birth, the baby underwent a heart surgery, becoming the tiniest miracle baby to undergo a PDA corrective operation.
The surgery has been hailed as a milestone in Indian medical history. It shows that tiny babies could be operated and salvaged in India as well, and not only in developed nations boasting advanced technologies. In this instance, the surgery took place in a hospital in Rajastan.
Baby born through IVF procedure
Post operation, the baby is fine and now weighs 600 grams. His parents were able to conceive only after many years of marriage using the IVF procedure. His mother delivered him by lower segment caesarian section.
But then the baby developed breathing difficulties and he was placed under expert care.
The doctors discovered that he suffered from a condition in which two key blood vessels of the heart- the aorta and the pulmonary artery were connected.
The baby was at first given medicines for this but he didn't respond to the medication. Therefore, heart surgery was resorted to. A team of experts at the Geetanjali Medical College & Hospital and Jeevanta hospital was behind the surgery.
"Operating on an infant, especially when he is so tiny, is very challenging and risky as the body parts are extremely premature. There were many risks involved like respiratory distress syndrome, brain/lungs internal bleeding, feeding intolerance, developmental problems, etc., and above all survival rate upto 55% only," said cardiovascular and thoracic surgeon Dr Sanjay Gandhi.
The baby's low weight meant that the doctors had to operate in NICU. Shifting the baby from one hospital to another and afterwards to an operating theatre was deemed too risky a move.
The surgery which lasted half an hour had the participation of surgeons, anaesthetists and nursing staff.
"The baby had very weak muscles, rib cage and almost all the body parts were very weak. It was like walking on a tight rope but we succeeded," said Dr Sunil Jangid, chief neonatologist and paediatric intensivist.
Special miniaturized surgical equipments were used for the procedure. The baby's still in ICU.
"We still haven't thought of a name for our son. It is no less than a miracle. He is so brave that he has survived so many odds with such low weight being a pre-term neonate. Our prayers are answered," said his parents.
Image credits: timesofindia.indiatimes.com