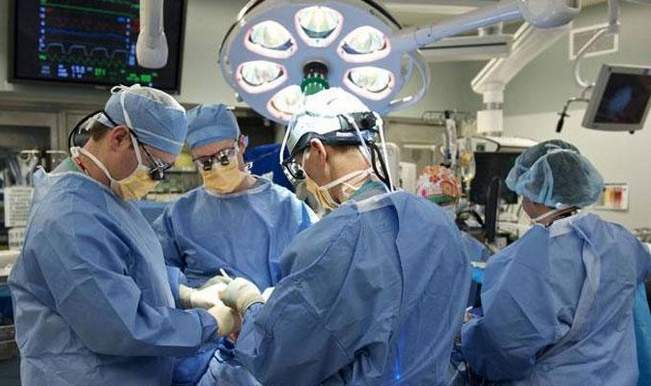 A study on the comparison of the costs of cardiac procedures in seven Asian countries shows that most procedures in India were costlier than many other countries, including South Korea, whose per capita income is five times higher than India. Based on the reports by Times Of India, the study found that India had the highest cost of angioplasty other than Singapore during the period of 2011 to 2014 before the prices of cardiac stents were capped by the pharmaceutical pricing regulator in 2017.
The study analyzed 50 hospitals across the major cities in India, most of them privately owned. The cost data was in the purchasing power parity (PPP) model, a theory that compares different countries' currencies through a 'basket of goods' approach. The study pointed out that the cost of heart procedures in India was cheaper than China and Thailand, but costlier than Vietnam and South Korea.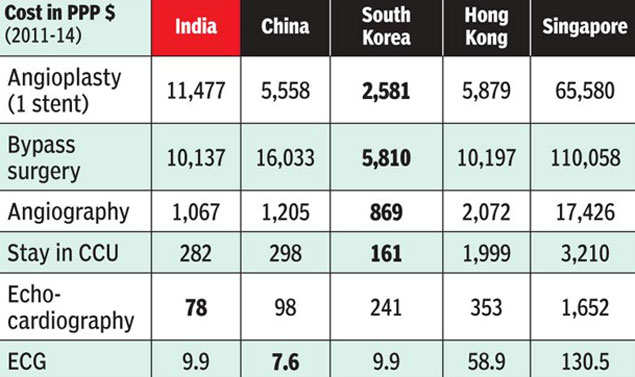 Both China and Thailand have per capita incomes two and a half times that of India. While Vietnam's per capita income is almost equal; to that of India's, South Korea's Per capita is 5.4 times that of India. Comparing the per capita incomes, apart from Vietnam, all other countries have more Per capita than India. Yet, the cost of most procedures in China is just 13-25% more than in India. Vietnam, where only 6% of health facilities are privately owned, had the cheapest rates for all procedures apart from the bypass, which was slightly cheaper in India and much more so in South Korea.
The study was published in the journal BMC Cardiovascular Disorders. The parameters which were considered for the study were, ECGs (electrocardiography), cardiac markers, echocardiography, angiography, angioplasty with one drug-eluting stent, angioplasty with a bare metal stent, heart bypass surgery (CABG) and one day's stay in a cardiac intensive care unit.
"The cost of stenting in India was found to be comparable to high-income countries in Asia but this would have come down a bit after the capping of stent prices. The study reflects the cost before the capping," explained Dr JP Sawhney who heads the cardiology department of Sir Ganga Ram Hospital and was the lead author of the study from India.
The cost of most procedures in Singapore was higher than other countries in the study, but its per capita GDP in 2017 was higher than most European countries and more than 13 times that of India. Even with PPP per capita income being one among the highest in the world, even Hong Kong had the cheaper stents than India.
Source: https://m.timesofindia.com/india/cardiac-procedures-costlier-here-than-in-richer-countries/amp_articleshow/65640534.cms
https://www.timesnownews.com/health/article/cardiac-procedures-more-expensive-in-india-than-in-south-korea-vietnam/279371
Graphical data: Times of India