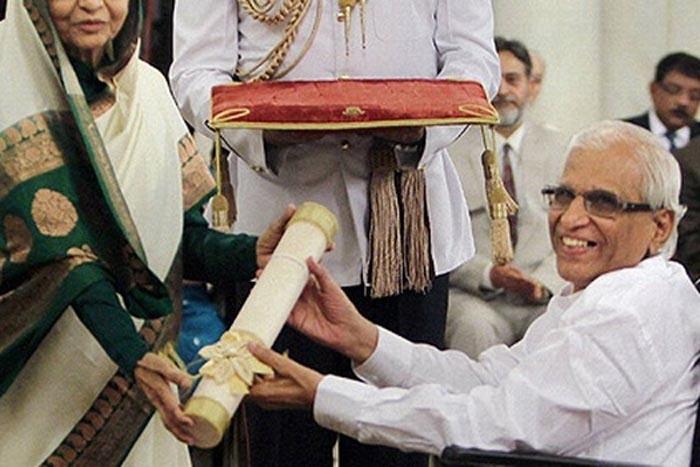 He works 14-15 hours a day. Daily, he attends at least 100 cancer patients, most of them across the country. But what makes him special is that this 71-year-old medical oncologist has 80 percent locomotor disability. While the Medical Council of India in its latest guidelines says that people with disabilities cannot pursue MBBS, Dr. Suresh Adwani is defeating his odds to pursue his passion. He is a living case for allowing disabled students to chase a career in medicine.
It was when he was eight that he suffered from polio. That made him wheel-chair bound for the rest of his life. He completed his studies from Mumbai's suburb of Ghatkopar. When he was 18, he appeared for the medical entrance examination. He recalls that even then there was discrimination and he got admission only after he presented his case to state government. "But the dean of Grant Medical College said I would get no special concessions. I agreed," he adds. After completing MBBS, he went on to pursue the Master's degree in general medicine from Grant Medical College. He worked for over 24 hours continuously during his residency. He says, at that time, all he needed was some help from friends when there were steps or places where the wheelchair could not go. He moved to London when he was 28 and worked there for 3 years. After returning from London, he worked at Tata Hospital for 25 years. Now, as a consultant at four hospitals, he works from 10 am till midnight. He was awarded the Padma Bhushan in 2012. Apart from that Dr. Advani was also awarded the Padma Shri and the Dr. B C Roy national award from MCI.
Commenting on the new guidelines by MCI, Dr. Advani says, "For a body like the MCI, the rules they make should be realistic. They should guide rather than obstruct. He adds that instead of making disabled students ineligible, the MCI must guide them on how they can pursue the medical education.
"If the government does not let a student try, how will they prove themselves? I do not support reservation, we don't need any. And I also don't support the idea of making disability, an eligibility criterion, he comments.
Following the Rights of Persons with Disabilities Act, 2016, which expanded the disability list from seven to 21, the MCI, on the directions of the Ministry of Health and Family Welfare, set up a medical counseling committee to frame guidelines for medical students with disabilities. The guidelines, released in June, mandate that students with certain disabilities like autism, a range of hearing disabilities and locomotor disability beyond 70 percent are ineligible to pursue medical education under disability quota. In Maharashtra, of the 110 students who were admitted under the five percent disability quota, eight were found to be ineligible. The students have approached the court, but the decision is pending.
"There is no need for a medical board. A person knows his potential. He must be allowed to challenge himself," says Advani. "I am also not in support of reservation for disabled. If they clear NEET, they must be treated as equals. "Everything is easy if you work for it," he adds.
Source: https://indianexpress.com/article/india/this-oncologist-has-some-advice-for-mci-on-disability-students-5289401/