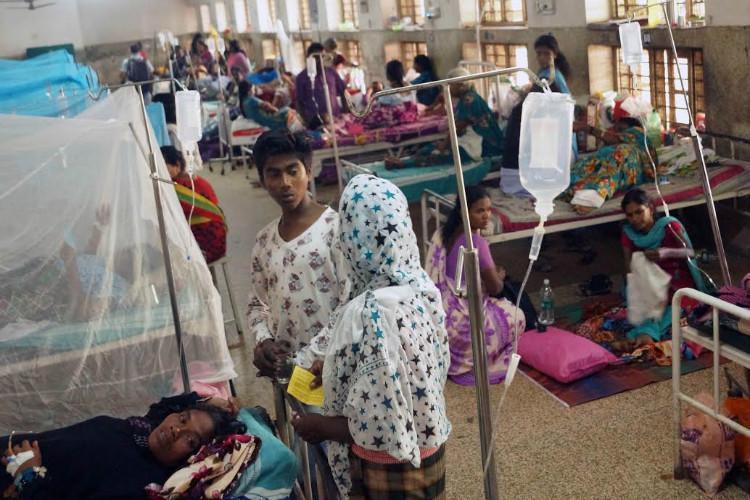 Following the devastating floods, Kerala is now battling with the outbreak of leptospirosis, or 'rat fever'. The flood-hit south Indian state of Kerala has declared a health alert after 11 people died of leptospirosis or rat fever in the last two days. Also, since August 15, 196 leptospirosis cases have been reported so far and 37 suspected deaths are awaiting laboratory confirmation. Of the thirteen districts that have been affected by the floods, five districts have reported the presence of the illness.
But, in spite of the rising leptospirosis cases, Kerala Health Minister KK Shailaja says that there is no need to panic, but we have to be extra vigilant for at least three weeks. She also adds that she had instructed health officials to engage with relief workers only after taking doxycycline tablets.
"All the hospitals are well equipped with penicillin as well. Guidelines have also been issued to private hospitals on how to treat patients with rat fever," Dr Saritha R, the director of health services in Kerala, said.
The health minister adds that so far 523 people had sought treatment for symptoms, which include high fever, chills, headache, bleeding, muscle pain and vomiting.
"Rats drown in flood water which contaminates it further, allows the leptospira bacteria to enter the human body through the skin," said Dr V Ravi, a professor of virology at India's National Institute of Mental Health and Neurosciences.
According to the National Centre for Disease Control, though the floods have led to a spike in the leptospirosis cases, the disease has been prevalent in Kerala, which has reported 788 confirmed cases and 36 deaths from January 1 to September 1 this year. Dr Rama Chaudhary, professor, department of microbiology, All India Institute of Medical Sciences said that "An increase in the number of leptospirosis cases is expected after flooding because sewer water with infected rodent urine transmits the disease to people. This happened during the Mumbai flooding too". Now, the state needs to keep a close watch, test people with fever, and give antibiotics when leptospirosis is suspected. Rodent control is also necessary, Dr Chaudhary added.
But unlike Mumbai, the disease is endemic to the region, which makes the chances of it spreading higher. In fact, the numbers are always higher than reported because the symptoms are generic and many people do not reach the health infrastructure for treatment," said another infectious disease expert.
Unlike rat fever, this year, only seven cases of dengue have been reported in the month of August. But, according to the experts, there is a chance for this numbers to be increased once the water recedes further. "Currently, vector-borne diseases are not very high, but there is a possibility of an increase as the water recedes and creates breeding grounds for mosquitoes," said Dr PK Sen, director of National Vector Borne Disease Control Programme.
Source: 1. https://www.bbc.com/news/world-asia-india-45404687
2. https://www.hindustantimes.com/india-news/nine-dead-due-to-rat-fever-after-kerala-floods-results-for-37-more-cases-awaited/story-OOHTAbIdsLvZ50NXxw4LPP.html