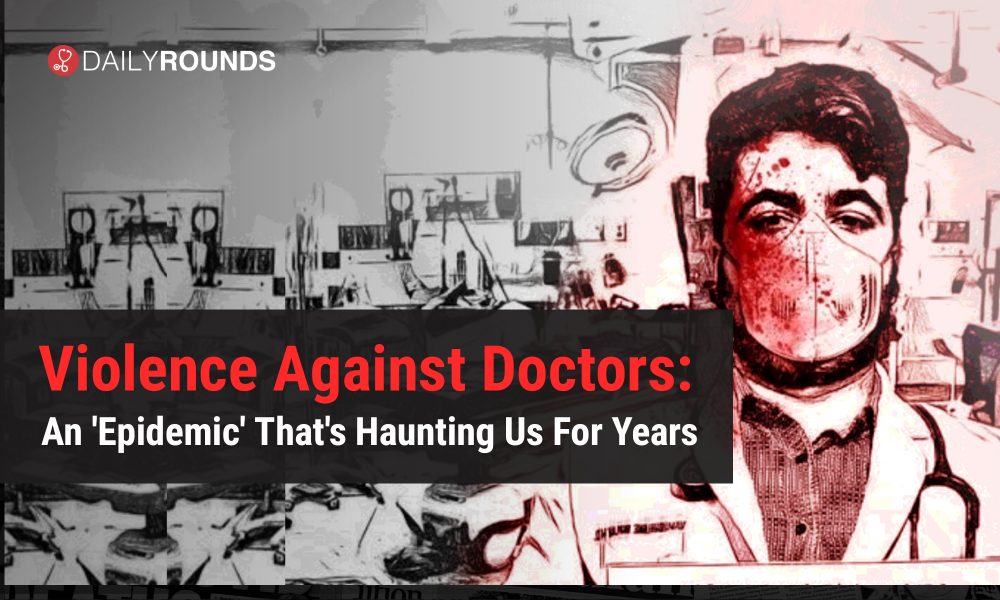 During the time of an unprecedented pandemic, while doctors are rendering exemplary service beyond their call of duty, attacks continue to rise on them with each passing day. The way doctors are being treated in the country that too in the middle of a pandemic is now becoming a cause of serious concern. In the last one week, incidents of doctors being attacked in 5 different states have come to light.
A team of healthcare workers was sent to spread awareness about Covid-19 in one of the villages in Maharashtra, but what happened after their arrival is gruesome and shocking. In another shocking incident, a young doctor from Assam was brutally beaten by a mob and relatives of a Covid-19 patient after the patient died. A similar case was reported from Karnataka, wherein a doctor was assaulted and beaten up by the patient's kin.
Of late, we have seen multiple such instances of violent attacks against doctors from across the country, and this surely is not a new development. We often hear about cases of doctors being threatened and abused by the patients' families, sometimes culminating in even loss of life. Statistics show that over 75% of doctors in India have faced some form of violence, and that out of this, 68.33% of the attacks were committed by bystanders.
While we strongly condemn this violence, the objective of this article is to dig deeper and understand the possible factors that lead to rising incidents of assault on frontline healthcare workers in the country.
'No magical powers to cure the disease'
When family members feel reluctant to come closer to Covid-19 patients fearing contraction of the infection, doctors hardly think twice to reach out to them and that too, round the clock. Donning PPE kits for not less than eight hours despite the humid weather, they treat coronavirus patients, putting their own lives at risk. Unfortunately, there is no safety for them as attacks continue to rise.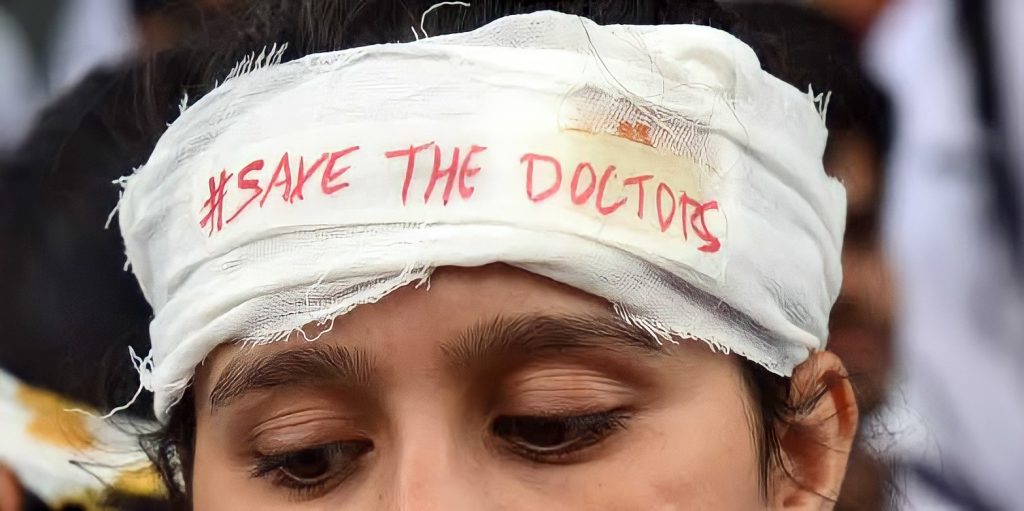 There are certain things that the general public tends to forget or doesn't realise. "Medicine is an ever-evolving field and doctors are not all-knowing gods". They don't have any magical or supernatural powers to cure diseases. There are normal human beings, who have over the years developed an extra skill set based on already tried-and-tested practices.
At times they may fail to save the patient despite putting in all their efforts and following the protocols. It's highly unfair to place the blame on them in these scenarios under the name of medical negligence. Most patients inherently want the best for their patients and use the best of their knowledge and judgement to try and cure them. It's high time to lay more trust in them.
People also need to realise that the healthcare ecosystem has many players other than doctors. There are multiple stakeholders such as the hospital administrations, the health department, the pharma companies, and so on. Often, the doctors will be asked to perform their duties without proper medical equipment and infrastructure. Even during the pandemic, we have seen doctors doing their level best to save the lives of their patients amidst the shortage of healthcare workforce, drugs, medical oxygen, and even personal protective equipment. And yet, it is the doctors who often have to bear the brunt of people's rage against the systems.
How will this affect the healthcare system?
The healthcare system in India has its drawbacks. The heavily understaffed and under-equipped hospitals put too much pressure on the healthcare workforce. The current doctor-to-patient ratio in India is 1:1456 against the World Health Organization (WHO) prescribed ratio of 1:1000. The increasing violence against doctors and the lack of safety at the workplace will only worsen the situation.
With rising incidents of violence, students will think hard about whether the benefits of joining medicine actually outweigh the risk factors and cost of education. This would only amplify the resource scarcity mentioned earlier. Also, every doctor comes across a point when they have to take a calculated risk to save the lives of their patients based on their best judgement. This measured risk-taking could actually save the patients' lives. But now, doctors might shy away from doing this, fearing the consequences that may follow if things don't go as expected.
Does the existing law provide 'safety'?
There have been several incidents of assault on front-line workers in India amid the Covid-19 crisis. In 2020 alone, India reported the highest number of such attacks on healthcare professionals in the world, with 128 out of the 412 incidents.
Though 23 states in India have implemented the Prevention of Violence Against Medicare Persons and Institutions Act, it has failed to act as a deterrent or prevent the rise in violence against doctors. Also, during the initial days of the pandemic, a newly amended Epidemic Disease Ordinance was introduced for making such acts of violence cognizable and non-bailable offenses and for compensation for injury to healthcare service personnel (HSP) or for causing loss/damage to the property in which HSP may have a direct interest in relation to the epidemic.
The proposed draft bill titled 'The Healthcare Service Personnel and Clinical Establishment' (Prohibition of violence and damage to property) Bill of 2019 was a solid solution to this condition. Sadly the bill is still pending before the parliament in red tapes. The bill includes provisions regarding violence against healthcare service professionals and damage to the property of clinical establishments across the country.
The draft Bill says, "Whoever commits violence or abets or incites the commission of violence against healthcare service personnel or abets or incites or causes damage or loss to any property of a clinical establishment, shall, upon conviction, be punished with imprisonment for a term which shall not be less than six months but which may extend to five years, and with fine, which shall not be less than Rs 50,000 but which may extend up to Rs 5 lakh."
The draft Bill also differentiates between injuries and causing grievous hurt to a healthcare professional. The Bill proposes that anybody causing grievous hurt (as defined under Section 320 of the Indian Penal Code) to a doctor or any other healthcare professional would be imprisoned for up to 10 years.
What should be done?
Taking stringent action against people resorting to violence, training staff to take necessary actions when such incidents occur, proper documentation of the treatment given to the patient, and most importantly, good communication between the doctor and the patient's relatives, etc. can be some measures to tackle the situation, but this surely is not a permanent solution.
The Indian Medical Association (IMA) has written to the Union Home Minister, requesting him to approve a comprehensive, uniform, and effective law against healthcare violence. Taking cognisance of incidents of doctors and other healthcare professionals being assaulted, the IMA on Monday also wrote to the Prime Minister, seeking his personal intervention in ensuring 'optimum milieu' for medical professionals so that they can work without any fear.
"In the midst of this pandemic, we are deeply hurt to see the increasing incidents of physical violence against the doctors and the health care professionals in this country," IMA said and cited the recent attack on one of its doctors in Assam along with assaults on women doctors and veteran practitioners across India. The association has also asked the Centre to declare hospitals as protective zones.
Earlier, as the videos and photographs of the brutal assault went viral on social media sites, netizens demanded strict and immediate action on the issue with several others condemning the assaults on doctors. In the initial days of the pandemic, the country lit diyas and showered petals to showcase its appreciation for doctors and healthcare workers. This symbolism might sound relevant. However, by itself, symbolism will not be enough. Beyond the displays of gratitude, the government and concerned authorities must take immediate actions to ensure that the saviours are safe so that the white coats don't turn 'red' anymore!
Lastly, here's a note to all the doctors out there:
We know that it has been a long hard run for you in the last couple of years. When the entire world crumbled down before the pandemic you stood up! You might have worked overtime in extra shifts, you might have come across pay cuts and delayed salaries, you might have suffered evictions from apartments, you might have endured threats from many patients' families, you might have really felt the heat…
Irrespective of all this, you are still out there, making sure that your patient gets better treatment. Now it's time to make sure that you get treated better!
Follow and connect with us on Twitter | Facebook | Instagram
Tags
attack doctors
,
attack on doctors
,
attack on doctors india
,
attack on healthcare workers
,
Doctor assault
,
doctor attacked
,
Doctor attacks
,
doctors attack
,
doctors beaten
,
doctors lives matter
,
doctors violence IMA
,
doctors violence laws
,
healthcare workers india
,
mob attack on doctors
,
stop attack on doctors
,
stop violence against doctors
,
stop violence against healthcare workers
,
Violence against doctors
,
violence against doctors in india
,
violence against doctors india
,
violence against healthcare workers
,
Violence doctors
,
violence on doctors