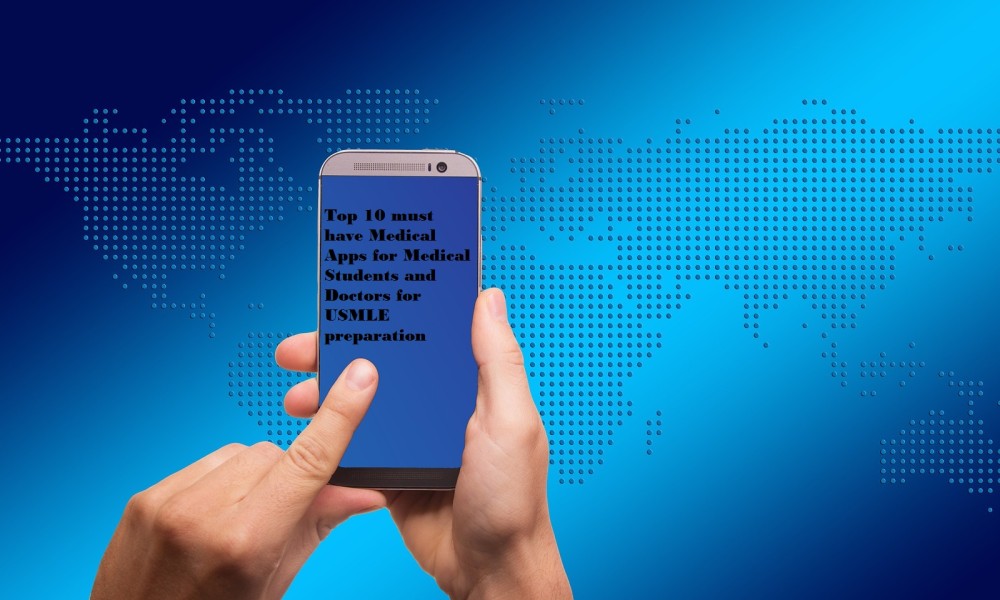 1. Daily Rounds for Doctors (1,00,000+ downloads; rated 4.6 on Google Play Store)
A one of a kind app for medical students by Neuroglia Health Private Limited., P.G aspirants and specialists in various fields. This resourceful tool with its user friendly interface allows you to experience real life based clinical scenarios on your device. It challenges you with MCQ questions as you solve each case. The app acclaimed to be the Best Medical Mobile app – GSF – NDTV 2015, also keeps you updated on the latest news in the field of medicine. It is a must have package that delivers new and relevant knowledge everyday.
With its Vivid features, It provides:
CLINICAL CASES for AIPGMEE, NEETPG, All India Medical PG Entrance Examinations,USMLE Step 2 CS, COMLEX, MRCP and as well as other board examinations.
Clinical case based learning provides a unique learning experience: several leading authorities validate the case based learning process.
Interesting, challenging and peer reviewed Clinical Cases and Image Challenges updated weekly. ECG  tutorials, X Ray Slides, Radiology cases every week.
Open & Completely Free – No subscriptions, No In-App purchases, No Advertisements.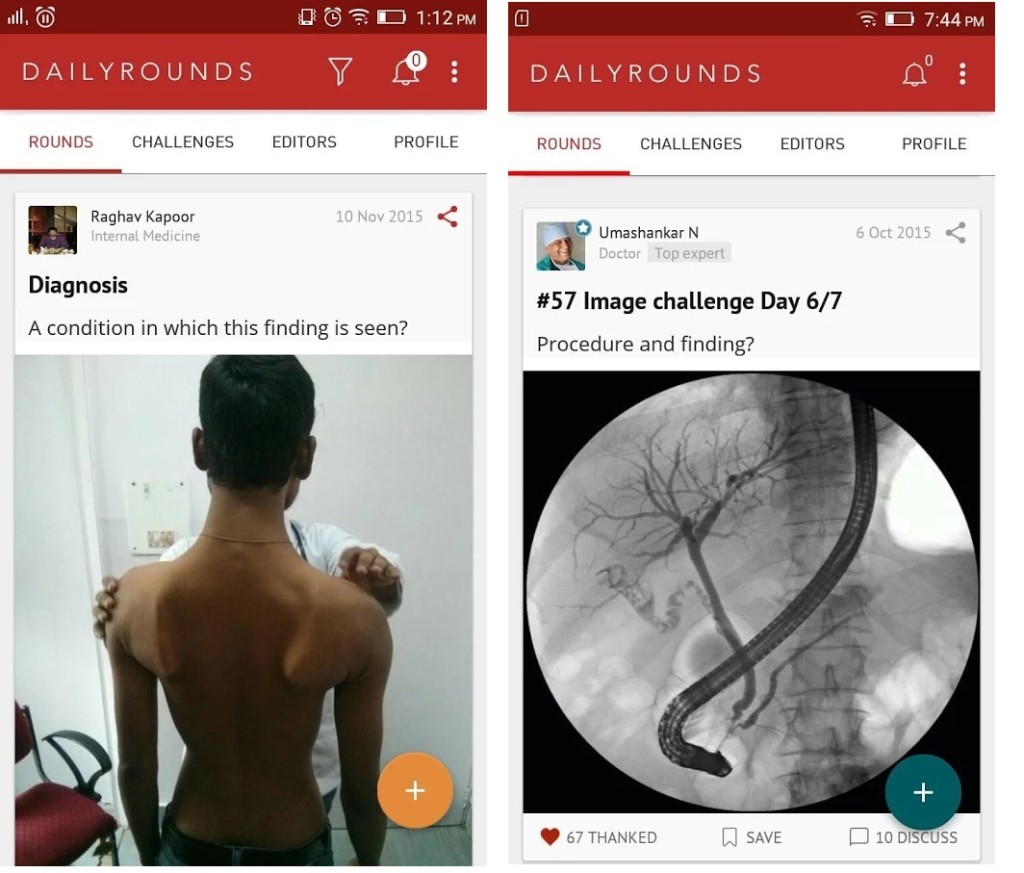 "Updates and Latest new in the field of medicine. Peer Reviewed with a strict editorial policy to make sure the content is updated and error free. An editorial and curation team of over 120 Doctors".

The cases are chosen by the Editorial team based on five criterias : (1) The case Presents a diagnostic, ethical or management challenge. (2) The case Highlights aspects of mechanisms of injury, pharmacology or histopathology that are deemed of particular educational value. (3) At Least 30% of cases are Common Clinical Scenarios (4) The case was managed based on latest evidence based guidelines (5) Comprehensively evaluated cases with no open or missing links
To download the Android app : https://play.google.com/store/apps/details?id=com.medengage.clinical&hl=en
To download the iOs app: https://itunes.apple.com/in/app/daily-rounds-clinical-cases/id1003799400?mt=8
Most comprehensive drug database app (like CIMS)
2.  Medscape (10,00,000+ downloads, rated 4.4 on Google Play store)
A leading medical resource from Webmd (medscape.com), used mostly by physicians, medical students, nurses and other healthcare professionals for clinical information. It is a high rated, fast growing app that offers a variety of features. It allows users to keep up with medical news and disease and condition information. It also includes medical calculators and medical education courses. It now has over a million users.
Most popular features available in Medscape:
Medical News: Latest news available across all specialties, covering FDA announcements, thought leader perspectives, conference news, important journal articles and interpretation by experts.
Drug Information and Tools: All drug dosing information in seconds, check drug interactions, access medical calculators.
Clinical presentation, workup, and treatment information for 4,400+ diseases and conditions. Authored and reviewed by expert physicians.
Continuing Medical Education Courses: Complete accredited CME/CE courses for professional development and to fulfill licensure requirements.
Offline Access can also be obtained for drugs, condition, and procedure reference, plus drug interaction checker can be accessed without an internet connection when you select the option to download our clinical reference database.
3. Epocrates (1,000,000+ downloads; rated 4.3 on Google Play store)
An app that that brings all drug related information to your fingertips. It allows users to review drug prescribing and safety information for thousands of brand, generic, and OTC drugs, check for potentially harmful drug-drug interactions up to 30 drugs at a time, select national and regional healthcare insurance formularies for drug coverage information, identify pills by imprint code and physical characteristics, perform dozens of calculations, such as BMI and GFR and also, access timely medical news and research information. More features are available on upgrading to an Epocrates Essentials subscription.
4. Prognosis: Your Diagnosis (500,000+ downloads, rated 4.6 on Google Play store)
An app with an engaging series of clinical case scenarios which assess the decision making skills of the player. Each one is accompanied by comprehensive and concise discussion of the diagnostic reasoning involved and key lessons applicable to day to day practice. An editorial panel of over 120 specialist physicians review case scenarios based on real life patients. It has bagged many accords including the No.1 medical app in USA, Best Health App at the World Summit Awards 2012, etc.
Prognosis: Your Diagnosis is also useful practice material for medical students and other healthcare professionals facing their academic and professional licensure exams. A new scenario is added weekly, ready to be downloaded onto our list of 150+ clinical cases.
User testimonials:
"Worth a download. In a very short time, learned a few new things already."
"A fun way to view cases. Great for medical students and also nurses – also great for long time MDs. This is just fun !"
"As an academic physician this is a great teaching tool!"
5. Skyscape Medical Library (50,000+ downloads, rated 4.3 on Google Play store)
A package of medical resources including drug information, medical calculators and clinical information on over 850 topics. It's features include Smart Link, Skyscape's proprietary cross-reference functionality; medical calculators; algorithms; interactive images; flowcharts; and frequent content updates. Moreover, more than 600 premium resources in 35 medical specialties can be purchased conveniently from this app.
INCLUDED FOR FREE
Skyscape Rx
Skyscape Clinical Calculator
Skyscape Clinical Consult
MedBeats
Skyscape has partnered with more than 50 respected publishers and content providers to offer a virtual "greatest hits" of the most trusted medical resources, regularly updated to ensure you have the most current information at your fingertips. Popular premium resources include:
5-Minute Clinical Consult (5MCC)
Diseases and Disorders: A Nursing Therapeutics Manual
Davis's Drug Guide for Nurses
Rosen and Barkin's 5 Minute Emergency Medicine Consult
Taber's Cyclopedic Medical Dictionary
Netter's Atlas of Human Anatomy
Fitzpatrick's Color Atlas and Synopsis of Clinical Dermatology
The Merck Manual of Diagnosis and Therapy
Diagnostic and Statistical Manual of Mental Disorders
Journal Watch
6. St John Ambulance First Aid (100,000+ downloads, rated 4.4 on Google Play store)
An app that gives the latest first aid advice and protocols for dealing with emergency situations with easy to follow illustrated guides and voiced instructions. It was developed in hope that no one should die because they needed first aid and didn't get it. Although the app doesn't replace the benefits of learning first aid, it will help you to know what to do to in those few crucial moments when basic knowledge of first aid can make the difference.
7. Diseases Dictionary Medical (500,000+ downloads; rated 4.3 on Google Play store)
An offline free medical dictionary app containing medical disorders & diseases with detailed definitions, symptoms, causes and treatment information. It is a handbook that acts as as a clinical adviser for self diagnosis and can also be used to look up symptoms, diseases and treatment.
Diseases dictionary FREE – Medical App Features:
Works Offline without internet.
Detailed description of all major medical conditions and diseases.
Information regarding treatment of diseases for all medical conditions and symptoms along with medication information, medication interaction and drug side effects.
Medical reference book and thesaurus covering all medical terminologies and abbreviations.
Prescription drug info along with pill description is provided in the treatment section.
Physicians desk reference and pharmaceuticals dictionary.
A handy free pocket guide for nurses for use as an emergency guide.
8. Drugs Dictionary (1,000,000+ downloads; rated 3.9 on Google Play store)
A pocket dictionary for drugs with a friendly interface. It stores all information about drugs; their uses, how to take, side effects, precautions, drug interactions, missed dose, storage.
9. PubMed Mobile (100,000+ downloads; rated 4.2 on Google Play store)
The app allows you to search the PubMed database comprising of more than 24 million citations for biomedical literature from MEDLINE, life science journals, and online books. Citations include links to full-text content from PubMed Central and publisher websites. It's an easy to use app that has keyword search with options, saves search query and citations, and emails citations. The pro version offers many more features.
10. Eponyms (50,000+ downloads; rated 4.3 on Google Play store)
A dictionary of medical eponyms that has a short description of more than 1700 common medical eponyms. It is simple, small, powerful and is a perfect tool to quickly look up the meaning of any eponym.
Other Important Apps
1. Calculate by QxMD (500,000+ downloads; rated 4.5 on Google Play store)
Developed by a collaboration of clinician experts from diverse backgrounds, it converts recent research publications into practical handheld tools that are useful in clinical practice and impact diagnosis, treatment or determining prognosis. With over 150 unique calculators and decision support tools, it automatically adapts to your self-described clinical practice. The unique 'Question Flow' technology gets fast answers. The app also offers detailed references with Pubmed integration and comprehensive and insightful results.
Reduce and predict perioperative complications
WHO Surgical Safety check-list
Predictive models for cardiac surgery and coronary angiography
Guide treatment
Determine cardiovascular risk and guide lipid treatment using the Framingham and Reynolds Risk Scores
Use the CHADS2 score to guide treatment in atrial fibrillation
Better understand the risk of bleeding from anticoagulation in atrial fibrillation
ACS using the TIMI risk score
Burns with rule of 9s and Parkland formula
Hypernatremia (calculate water deficit)
Determine Prognosis
Heart failure
Lymphoma
Myelodysplastic Syndrome
Myeloma
Glomerulonephritis
Hemodialysis
COPD
TIA
Pancreatitis
Dose
Chemotherapy based on Body Surface Area
Carboplatin based on AUC
tPA in acute stroke
Phenytoin in renal failure and hypoalbuminemia
Calculate
Ideal body weight, BMI and BSA
Due date and gestational age
Extensive formula used in echocardiogropathy and invasive hemodynamic monitoring
Kt/V in dialysis patients
eGFR with CKD-Epi, Cockcroft-Gault, and MDRD
A-a gradient
Classify
Angina (CCS)
Congestive heart failure (NYHA)
Manage
Head, neck, ankle and knee injuries
DVT and PE
Pulmonary nodules
Stage
Lung cancer
Renal cell carcinoma
Understand
TTKG (transtubular potassium gradient) in hypokalemia and hyperkalemia
Dermatomes
Diagnose
Heparin Induced Thrombocytopenia
Infective Endocarditis
ARDS
Autoimmune Hepatitis
And much more…
2. MedPage Today (100,000+ downloads; rated 4.4 on Google Play store)
Co-developed by MedPage Today and The University of Pennsylvania School of Medicine, Office of Continuing Medical Education, the app alerts clinicians on breaking medical news, with summaries and actionable information enabling them to better understand the implications. It also offers free CME/CE credits at your fingertips. It is one service that provides physicians with a clinical perspective on the breaking medical news that their patients are reading.
3. First Aid – American Red Cross (500,000+ downloads; rated 4.5 on Google Play store)
The official American Red Cross First Aid app aims to prepare users for emergencies. It provides information on first aid with videos, interactive quizzes and simple step-by-step advice.
One of "8 New Apps You Don't Want To Miss" (6/16/2012) – Mashable
One of "10 Great Apps for Android Tablets" (9/2012) – Mashable
First Aid By American Red Cross is a fix for what ails you." – Appolicious
One of the 50 Best Apps for Parents of 2012 – Babble.com
First Aid American Red Cross App Should be Installed on Every Phone – Android Police
One of "8 Ways Your Phone Doubles as a Wilderness Survival Tool" (7/2012) – Mashable
One of "10 apps that can save your life during a natural disaster" – ComplexTech
One of "10 Online Resources to Prepare for the Mayan Apocalypse" – Mashable
4. Drugs.com Medication Guide (500,000+ downloads; rated 4.2 on Google Play store)
An app that makes it easy to lookup drug information, identify pills, check interactions and set up your own personal medication records. It is fast with an A to Z list of drugs, pill identifier, interaction checker, question and answers and many more useful tools
5. ASCVD Risk Estimator (50,000+ downloads; rated 4.4 on Google Play store)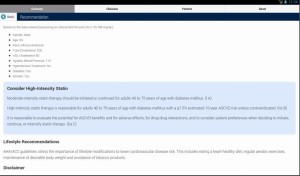 An app that helps healthcare providers and patients estimate 10-year and lifetime risks for atherosclerotic cardiovascular disease (ASCVD) using the Pooled Cohort Equations and lifetime risk prediction tools. It app is a companion tool to the 2013 ACC/AHA Guideline on the Assessment of Cardiovascular Risk and the 2013 ACC/AHA Guideline on the Treatment of Blood Cholesterol to Reduce Atherosclerotic Cardiovascular Risk in Adults.