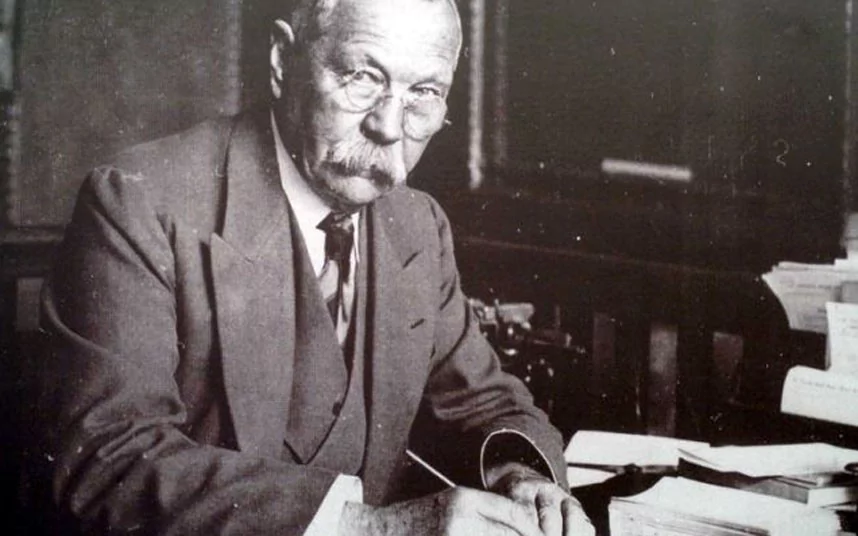 Arthur Conan Doyle is the alumnus of the Edinburgh Medical School- one of the world's oldest medical institutions. But of course, that's not exactly what he became famous for. Like fellow alumni- Alexander Fleming (discoverer of penicillin) and Joseph Lister(who initiated the practice of sterilizing instruments) Doyle was someone who became famous for something other than their profession.
And to Doyle's credit, none of them became as famous as his fictional creation- Sherlock Holmes.

A man of many parts
Conan Doyle had donned multiple hats in his life. He participated in multiple wars and was also a friend to the magician, Harry Houdini. A cricketer of some talent, he played or the MCC and even took the wicket of the legendary WC Fields. Once, he helped sprang a convict of Indian descent from prison by reopening his case. Doyle was also an avid supporter of spiritualism and was even interested in such unverified supernatural phenomena like fairies.
Given his unconventional beliefs, it may be surprising that he created one of the most logic-driven fictional characters of all time.
However, the pipe smoking detective wouldn't have been created if not for Doyle's failure in his medical practice.
Failure in medical practice led to literary success
After his general practice languished, he tried to do better by specializing. Following the idea that nearly all of humanity would wear spectacles once they aged, Doyle decided to learn ophthalmology in Vienna, so that he would be able to prescribe glasses. The idea didn't work out, to put it lightly.
For one thing, the medical reports which were in German didn't make much sense to him. Doyle returned to England in just three months. Though he started a shop as an eye specialist, not even a single patient turned up.
It was during the lull periods in his professional life that Doyle started writing short fiction. Some of his stories drew upon his medical experience. (If interested, you can check out these tales in the volume, The Case of Lady Sannox: Medical Mysteries and Other Adventures).
In fact, the failure with his first practice in Portsmouth is reflected in the short story, A False Start. In the story a young doctor fakes up his ledger and visiting book, rubbing the covers together and smearing them with ink so they don't look new anymore. He even has imaginary entries so that his very first patient wouldn't know that s/he is the first patient.
Doyle entered the profession of medicine at a peculiar time-when many challenges to surgery were conquered, like with pain management and sterile theatres. But medicine still hadn't progressed much beyond the art of herbalists and apothecaries. The doctors of the time, even though they knew what worked, hadn't a clue as to why things worked.
Aside from being a doctor, Doyle was also serious researcher who had an interest in toxicology. In fact, the very first published research paper of his concerned poisoning by Gelsemium semprervirens. The health concerns notwithstanding, Gelsemium is still used for controlling migraines and trigeminal neuraglia- among the most horrendous pains that a human may suffer.

Image credits: telegraph.co.uk