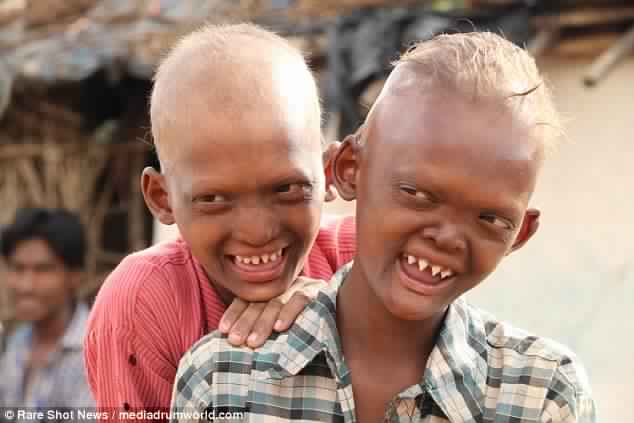 Like any other kids, brothers,  Ashfaq and Mushtaq Khan too wish to play, study and lead a normal life. But they are different from the others of their age. Not because of something they did, but because of their appearance. This pair of siblings from Rampur village in Vidisha district in Madhya Pradesh suffers from a rare genetic disease called Hypohidrotic ectodermal dysplasia (HED), which reduces the ability to sweat and causes missing teeth and thinned-out hair. For this reason, the boys are often spurned as "Ghost boys" by the schoolmates, which caused them hid behind the walls.
Life as the 'Outcasted'
Because of the rare genetic condition, both Ashfaq and Mushtaq have distinctly pointed teeth and scanty hair, which gives them a 'ghost' like appearance. The genetic disease had manifested and resulted in four pointy teeth in the boys' upper jaw, hair peppered with grey, flat noses, dark and cracked skin and thin, reedy voices. For this distinct appearance, they were mocked on a daily basis, assailed with stones and have even had dogs set on them because they were different.
"They couldn't get an Aadhar card because their palms are too cracked for getting a biometric scan," says their mother Abila Bi. Along with the boys,  people have ostracised their parents too for giving birth to them. People even advised them to kill the kid when Ashfaq was born. However, his parents were not willing to do such a heinous crime.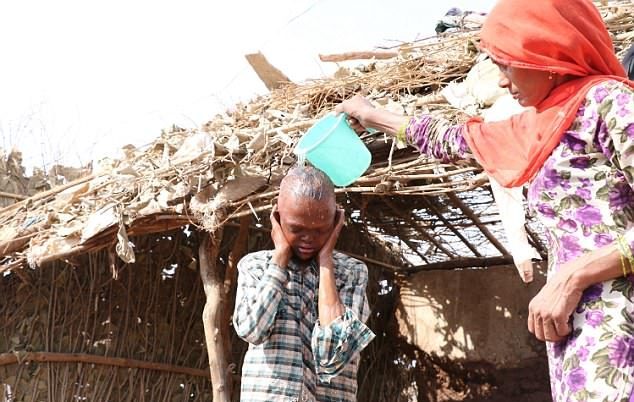 HED is one of around 150 types of ectodermal dysplasia that results in the abnormal development of the skin, hair, nails, teeth and sweat glands. The condition is life-threatening as affected children cannot sweat to regulate their body's temperature. Because of their condition, the children heat up very quickly, so they have water poured over their heads every half an hour to help cool down. The daily tormenting from the schoolmates has averted the siblings from continuing their studies in school. 'I and my brother are considered as a ghost in the school. Our classmates do not play with us, in fact, they call us names. We do not want to continue our study. We feel humiliated in school,' said Ashfaq.
Hard to Treat
Diagnosing the disease is hard since the village where they live doesn't have specialized medical facilities. But they somehow saved money for the bus fare and took the boys to Guna and Bhopal, where doctors couldn't diagnose the disease but made it clear to the villagers that they are not ghosts but suffer from an incurable disease. Their doctor, Dr.Mukesh says that since he is a general practitioner, he cannot diagnose the children in an appropriate way. He also advised the family to visit a specialist doctor otherwise the problem can worsen with time. But neither does their father, who works as a laborer have enough money to visit specialist doctors nor do they have any funds to pay for private treatment. Their mother, Abila, said: 'We are very poor, we do not even have basic amenities like a fridge, fan, and cooler. Children heat up very soon due to their disease, so they pour water over their heads every half an hour.' Also, their teeth need proper treatment. Dental treatment is often necessary for patients with some forms of ectodermal dysplasia, a large heterogeneous group of inherited disorders, including HED. Some children may even need dentures as early as three years of age. According to Paediatrician Dr. Gauri Pandit, this disease can't be cured. But their sufferings can be reduced to some extent. For this proper diagnosis is needed, which is expensive as the medical tests for the HED type itself cost between Rs 35,000 and Rs 100,000.
The acceptance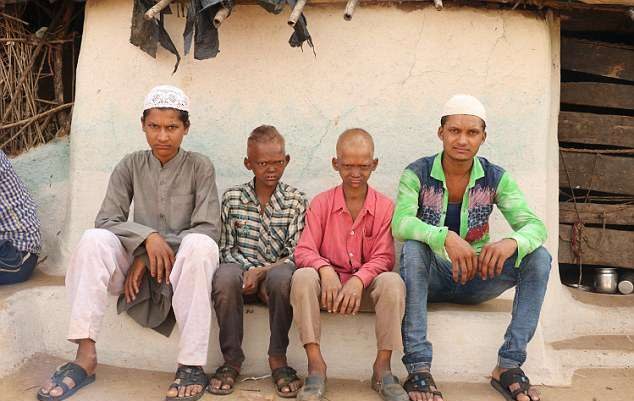 After the constant efforts of a local NGO, the villagers finally understood their condition. The NGO conducted seminars and campaigns in the village with the help of school teachers to make people aware of this rare disease.
Ravi Goyal, director of Shaktishali Mahila Sangathan Samiti, a charity which helps those marginalized in Indian communities, organized an awareness campaign to explain to the residents that the two boys were not suffering from a communicable disease. 'We organized two seminars for villagers with the help of school teachers. We explained to them about the disease and also that if the villagers helped the kids, they could live a normal life,' Ravi said. The organization is also helping children to get treated at Lucknow's Sanjay Gandhi Postgraduate Institute of Medical Sciences which could pave the way for diluting the discrimination.
Amidst all these hurdles, their parents are still expecting a miracle. They hope that someone will come forward to help them and the boys would be able to lead a 'normal' life.
Source: Dailymail.co.uk, Hindustan Times. Images: Google images