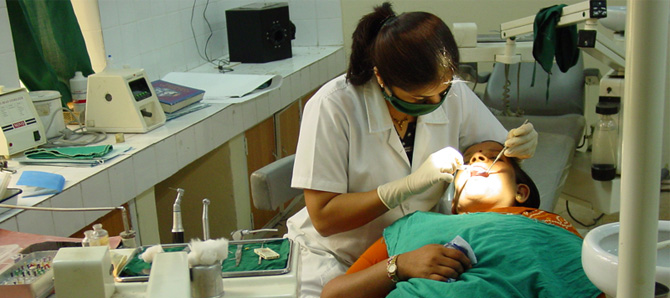 The Dental Council of India(DCI) can now hope for the best as the Medical Council of India has agreed to consider their proposal to introduce a bridge course for dentists that will allow them to practice as general physicians. According to DCI, this move will benefit both dental and general doctor professions. The senior officials of DCI said that they forwarded this proposal after being urged by a number of dentists and dental surgeons who are interested in pursuing a course that makes their qualification equivalent to MBBS doctors. "We have taken up the proposal to the Medical Council of India and are hoping for a positive outcome. If we get a green signal, we will design, along with MCI members, the course structure and detailed curriculum for the bridge course," Jayakar Shetty, vice-president of the DCI said. He also added that "Many dentists and dental surgeons want to practice as general physicians and on the other hand, there is an acute shortage of doctors in the country. So it will be a win-win situation for everyone. Also what BDS and MBBS students study in the first three years is same-so it makes sense to introduce such a course."
The chairman of the undergraduate committee at the MCI, Vedprakash Mishra, said "the proposal will be taken up by the governing body of the council and its merit will be "assessed".
Previously, National Medical Commission draft Bill, which was proposed to replace the MCI with a 25 member commission had a similar proposal of a short-term bridge course for the AYUSH doctors which would have allowed them to practice modern medicine. But later, due to the oppositions from doctors bodies, especially Indian Medical Association-a body that represents a large number of private doctors, they dropped the plan. But In a later version of the bill, that is likely to be tabled in the parliament in the ongoing session, the government has left the decision of introducing the bridge course for AYUSH on states. Meanwhile, IMA has also opposed to the DCI idea too. A senior IMA member told that they believe that any move to allow anyone who has not done the MBBS course to practice as doctors would be preposterous and will mean permitting backdoor entry to fulfill an unaccomplished ambition as becoming an MBBS doctor is not easy in India. He also added that it is misleading to say that initial curriculum of BDS, MBBS or any other form of medicine is same as in the first few years all students of any branch of medicine are taught human physiology and anatomy. And those are bound to remain same for any stream.
As their proposal is under consideration, the DCI is hoping for a green signal from MCI, the medical education regulator of India.
Source: http://www.newindianexpress.com/nation/2018/jul/21/mci-to-assess-a-proposal-on-bridge-course-for-dentists-that-allows-them-to-double-up-as-general-doct-1846667.html
Image Credits: Times of India