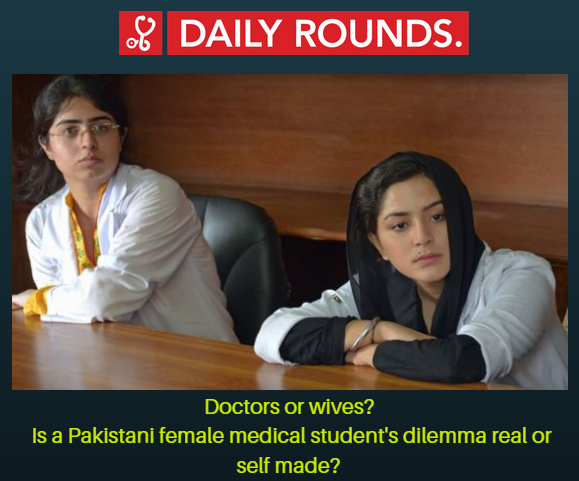 A BBC exclusive report titled "Are Pakistan's female medical students to be doctors or wives?" took a close look at the trend among female med school students at Pakistan's premier medical schools. The findings were quite interesting.
Trend #1: Female students outshine & outnumber their male counterparts
However, many don't end up practising as doctors and because of this there are calls to limit their numbers. A typical example of this is- in a class of 24 students, 21 are female and only 3 male. In a cultural setup where a woman doesn't want to be inspected by a man, this ratio seems very good. But equally scary is how much like an 'endangered species' men are in Pakistan's medical colleges. This was further confirmed by the government body that regulates the medical profession, the Pakistan Medical and Dental Council (PMDC), says more than 70% of medical students are women.
Competition to get into medical colleges is quite tough. According to the BBC report, at one college they were said to receive 10,000 applications for 100 available seats. In the more prestigious colleges, students must get 90% grades or more in order to be considered. A male ENT intern was asked why girls were outshining boys, to which he candidly replied, "Boys go out, hang out with their friends. Girls can't go out as much, so they stay at home and rote-learn." So maybe the success of Pakistan's female students isn't so much hard work as much as it is family and culture that forces them to stay at home. Government figures suggest most of these bright female undergraduate doctors don't practise and only 23% of registered doctors are female.
Trend #2: Catching a husband
The VC of the prestigious Shaheed Zulfiqar Ali Bhutto medical university in Islamabad, Dr Javed Akram, says that girls are more focused on excelling academically than boys. At the same time, he accepts that some female students are more interested to 'catch a husband' than on pursuing a career. "It's much easier for girls to get married once they are doctors and many girls don't really intend to work as professional doctors," he says. "I know of hundreds of hundreds of female students who have qualified as a doctor or a dentist but they have never touched a patient."
The trend that a medical degree will line up a choice of sutors for both men and women is quite true and has started making a MBBS degree a 'hot ticket' and qualification for marriage. BBC reporter Amber Shamsi who covered this story confirmed this claim by visiting a local marriage bureau. The owner of the bureau Mr. Ahmed said his clients are mostly mothers seeking 'doctor wives' for their sons. If a young female doctor is even a little good looking then match making becomes very easy!
Trend #3: A male-female student quota?
The Pakistan medical council tried to introduce a quota system based on research by a doctor. This would prevent a shortage in the number of doctors in the hospital. Dr. Faisal who headed the research that led to this policy being formatted clarified that the system wasn't a quota but an equal split of 50% for men and women to study medicine.
On the flip side, Human rights lawyer Shahzad Akbar strongly disagrees. "The wrong here is that women are being discriminated against here for being too smart." Mr Akbar has filed a petition in court challenging the decision to introduce the "quota". He calls it unconstitutional and says the government should encourage women to stay in the profession instead. "The answer is that they have to make the working environment more women-friendly rather than saying, no, you can't be a doctor because you end up leaving the profession."
Another suggestion is to charge students who don't register and practice after they finish med school, this way the money the government invested on subsidised education gets reimbursed to them.
Implications for the Healthcare System
A doctor wife may seem like a 'trophy' or a 'prestige thing' for a family but one can't deny the effect it has on the healthcare system of a poor country like Pakistan where there is an acute shortage of doctors, especially in rural areas where women always prefer to be examined only by female doctors. Additionally,
The Final Word
When asked if they'd choose between their careers or their families, two female students give Ms. Shamsi variants of the same answer "I'd try to convince them," says 20-year-old Eliya Khawar. "But if they aren't, I'd choose family." Her classmate Manza Maqsood concurs, "Family. In our culture, family always comes first." Everyone seems to agree on the diagnosis of the problem, but not on the cure. Maybe, it's time to introduce a quota for women with pushy families.
Original Story – BBC Asia
Image Credits – BBC Asia