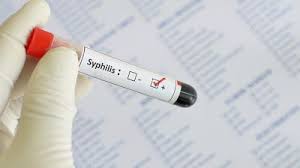 Not that long ago, many doctors and medical professionals believed that India was on the cusp of eliminating syphilis. In fact, the National Aids Control Organization(NACO), in 2011 announced that India was on the verge of eradicating the problem. This bold statement was made in the wake of bringing the incidence of the disease down from 8% of the population to under 1%.
But such assertions are turning out to be premature, as the bacterial infection is making a come-back in the subcontinent. Six years since the NACO announcement, doctors note that there's a rise in the number of those who test positive for syphilis and other sexually transmitted diseases.
Syphilis rises but HIV declines
As per data gathered by the Times of India from the Tamil Nadu State Aids Control Society(TANSACS), from 2014 to 2016 the number of people who tested positive for HIV has gone down from 16,708 to 11,395- a dip of 30%. The number of new cases detected has come down by half- it now stands at about 2,700.
The second most prevalent STD was found to be Herpes genetalis. It's marked by genital pain and sores in some people. In most people though, no symptoms surface. The incidence rate for this disease too has come down by almost 40% from 2014-2016. But what surprised the officials most was the rise in syphilis cases from about 1,300 in 2014 to 1,700 the next year.
According to Dr K Senthil Raj, TANSACS director, "This could be because of better awareness and surveillance." He added that many cases were found in Salem, Nammakkal and Chennai.
Researchers say that syphilis is on a gradual rise across India, along with other STDs including genital infection caused by human papillomavirus(HPV) .Herpes genetalis is also seen in certain places.
"And in some groups like men who have sex with men, the prevalence of syphilis is significantly high," says Dr R R Gangakhedkar, the director-in-charge of the National AIDS Research Institute. According to him, the prevalence of HIV has come down in the nation due to better intervention by Anti-Retroviral Therapy centres.
"While these centres cut the HIV transmission by 93%, a lot of other STDs go missed," he says.
With HIV, the transmission efficiency of HIV is low- between one in a hundred and one in a thousand. On the other hand, syphilis is seen in one in 30 people who have had contact with a carrier.
A silver lining to the cloud is that the people with STDs are seeking medical help at an early stage, thanks to better awareness. So, they get treated before complications arise.
Rise in STDs in the general population
Annually, India reports 30 million instances of STDs. Out of this, the government treats around 10 million.
Government facilities tend to focus on high-risk groups, like homosexuals, transgenders and female sex workers. But private labs mention that they have been witnessing a steady rise in people reporting STDs among the general population- particularly those in the 18 to 35 age group.
According to Dr Anita Suryanarayan, vice-president, operations(South India), Metropolis Healthcare Ltd., "We have seen a 20% rise of cases of HPV and Herpes. Some of the STDs are detected when the person presents with infertility-related problems."
She opined that though the government has multiple targeted interventions to promote safe sex, awareness is relatively low among young people from middle and upper class.