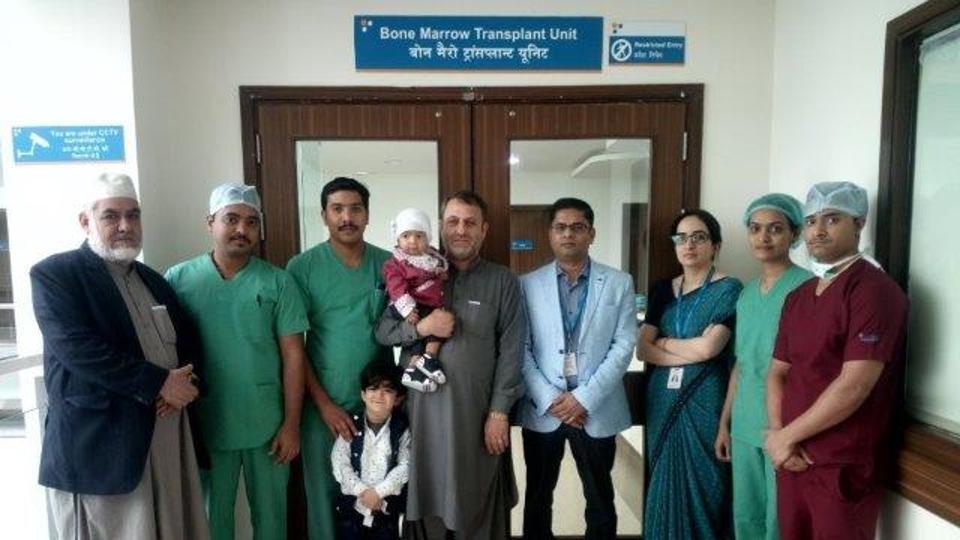 The world applauds Indian doctors yet again as doctors at a hospital in Noida successfully performed a difficult bone marrow transplant on an eight month old baby. The baby was suffering from severe combined immunodeficiency- a rare genetic disease. The surgery saved his life.
Mujib- the baby- is from Afghanistan. Two of his elder brothers had succumbed to the same disease.
A complicated case
Mujib was brought to the hospital by his parents in February. At that time he had high fever, pneumonia and diarrhea in addition to his conditions. Since patients with the genetic disease are born without a properly functioning immune system, they face a high risk of getting fatal infections. Such patients generally don't live beyond childhood. Mujib's elder brothers who were claimed by the disease couldn't be saved because of lack of necessary medical facilities in Afghanistan.
"After getting all the tests done at our hospital, the family found out that Mujib too is suffering from severe combined immunodeficiency that had affected their other sons. In his case, a bone marrow transplant was rare since only a few cases of successful haploindentical transplantation have been carried in the world," said Dr Pawan Kumar Singh, associate consultant, Hemato – Oncology and Bone Marrow Transplant Department, Jaypee Hospital.
"Mujib had one surviving brother, Arian, 4, who did not have the disease. Arian's blood tests confirmed normal lymphocyte counts so he could serve as a donor for his younger brother. But human leukocyte antigen (HLA) typing showed that Arian was only a 50% match for Mujib. In severe combined immunodeficiency, the patient's life can only be saved by a bone marrow transplant, but performing a half-matched transplant on an eight-month-old baby was itself a challenging task," said Dr Singh.
"In this case, the procedure continued for almost a month. In the first stage, chemotherapy conditioning and serum were given to the baby to prepare his body to receive the donor's bone marrow without the risk of rejection. This phase lasted for around 10 days. In the second stage, around 300 ml of bone marrow was taken from the donor in a 45-minute surgery and transplanted to the patient. It took around 20 days for Arian's marrow to start functioning in Mujib's body. During this time, the baby's condition was critical and he needed a lot of support in the form of antibiotics, blood products and nutrition," said Dr Esha Kaul, associate consultant, Hemato – Oncology and Bone Marrow Transplant Department, Jaypee Hospital.
Mujib is now back in Afghanistan. His family hopes that the baby and his brother would go one to have a healthy life.
"When we brought Mujib to Jaypee Hospital, he was really ill. But the doctors assured us that if the bone marrow transplant is conducted in time, he can lead a normal life. Arian, my second grandchild was our only hope for the transplant, but after the tests we found that his bone marrow was only a 50% match. Thanks to the expert team of doctors who performed this successful transplant, Mujib is out of danger and recovering," said Yousafi, his grandfather.
Image credits: hindustantimes.com