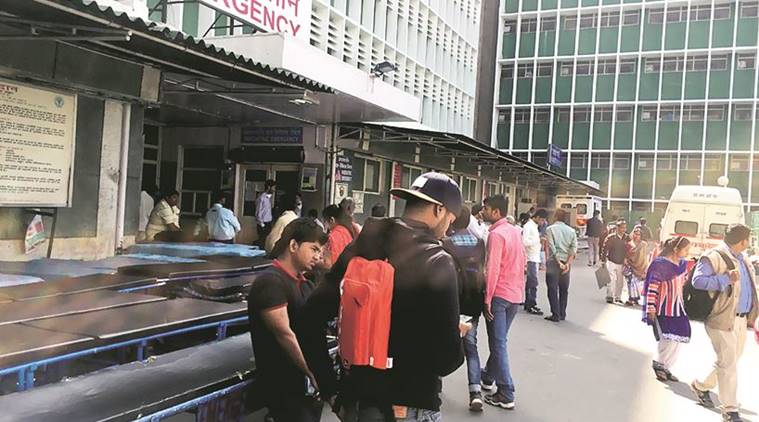 As assaults against doctors by patient's kin are mounting alarmingly, hospitals are taking more measures to prevent such conflicts from arising in the first place. While things like having a gate-pass system to gain access and positing armed guards are finding takers in the aftermath of the recent attacks in Maharashtra, they are said to be temporary measures.
In this context, hospitals are trying to come up with ever newer ways to prevent conflicts. The suggestions include restricting the doctors' working hours to appointing more number of ward boys and training teachers on ethics.
From bio-ethics to yoga and more
"We drafted a module on bio-ethics for the Medical Council of India. Training for teachers across the country has already started. But I believe such things take time," said Dr Avinash Supe, dean, KEM Hospital, Parel, Mumbai.
The number of outpatients that the hospital receives is around 7,000 people every day. The majority of them are seen by resident doctors. It's common enough for the patients in the gynaecology and obstetrics wards to complain of getting ill-treated by doctors and mid-wives during delivery.
Dr R N Bharmal, dean, BYL Nair Hospital, Mumbai said, "We offer yoga classes, but doctors do not get time to attend it. I have told all resident doctors after the strike to make time for these classes. We will arrange batches at 3 pm and 4 pm, when they are relatively free."
Squads would also be deputed to monitor the crowd in the premises. Those who loiter would be asked to leave. In the Nair Hospital, the lower floors are to be allotted to the out-patient department while higher floors would be for the patients who are admitted. This way, the flow of patients would be segregated.
Meanwhile, Dr Suleman Merchant, the dean at the Lokmanya Tilak Municipal General Hospital in Sion, Mumbai said that the norm has been set by which just two relatives would be allowed to enter with a patient. But, what with the inadequate number of ward boys to wheel patients around or collect test reports, routine could get obstructed.  "Currently, a ward boy serves multiple purposes and we have dedicated technicians for laboratory and X-ray. We are trying to get more posts sanctioned for jobs such as a technician for blood test collection, etc," said Merchant.
The shortage of ward boys means that either the junior resident doctors or the patients' relatives have to run around for reports.
Merchant claims that, as is the case at AIIMS Delhi, doctors would be given 12 hour shifts to work. Presently, doctors work for 24 to sometimes even 36 hours at a stretch. "They are overworked and this hampers communication with patients. I have instructed department heads to allow only a senior doctor to declare death and convey it to relatives," Merchant said.
In case of worsening medical parameters in a patient, the patient's family should be routinely updated, the doctors have been advised. "If death is announced suddenly without keeping them in the loop during treatment, relatives go into shock and blame doctors," Merchant said.
Better infrastructure, more security measures
Following the recent strike of doctors in Maharshtra that lasted days, the government has allocated Rs 33 crore to strengthen the infrastructure, install CCTV cameras and other security measures in government hospitals. Even just a day after the strike, they could see evident changes in the security measures, claim some doctors. "The JJ Hospital's sensitive wards such as labour, ICU, MICU and emergency unit have armed guards and police force posted," said Dr Swapnil Meshram, general secretary, Maharashtra Association of Resident Doctors.
The Directorate of Medical Education and Research(DMER) will begin three-month workshops in medical colleges from April 10. In the workshops, the communication experts will give talks to the resident doctors.
"We held such sessions in the past but got a poor response. Doctors will be trained on how to report death to a patient's relatives. It is not the doctor-patient relationship we are worried about, it is the doctor and patient's relatives' relationship we are concerned over," said Dr Pravin Shingare, director at DMER.
Image credits: indianexpress.com
Images may be indicative