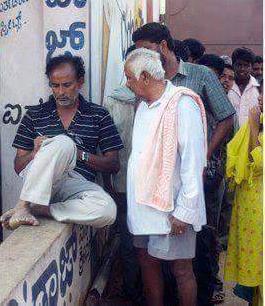 Dr Shankare Gowda is known as the 'Five rupees doctor'- an epithet which he ought to wear with pride given how well-earned it is. For the doctor who hails from Shivalli in Karnataka is someone who treats patients for just 5 rupees. And that's not the extent of the man's humanitarianism- he treats around 150 patients each day in his village completely free of cost.
The doctor, who is also an agriculturist has keen insights into the lives of the poor labourers who live in the region- not least of which is the fact that they need affordable healthcare. That's why, aside from treating many of them without a fee, he would also only prescribe them affordable medicines.
In fact, the doctor- who treats all types of skin ailments used to practise in Mandya- a town some 12 kilometers from his village. But he found that an overwhelming number of patients from his native village came down to consult with him. This prompted the doctor to return to the village and start practicing there.
"I wanted to give something back to the society, especially in rural areas. Many people in rural areas are not getting good treatment due to financial problems. The government should see to it that health care facilities reach all," Dr. Gowda said to The Times of India.
The doctor mentioned K Govinda, a former professor of Mysuru College Research and Institute as his inspiration. "He used to attend to patients even till 10 pm. You don't see such dedication among many doctors these days, "he said.
Image credits: plus.google.com