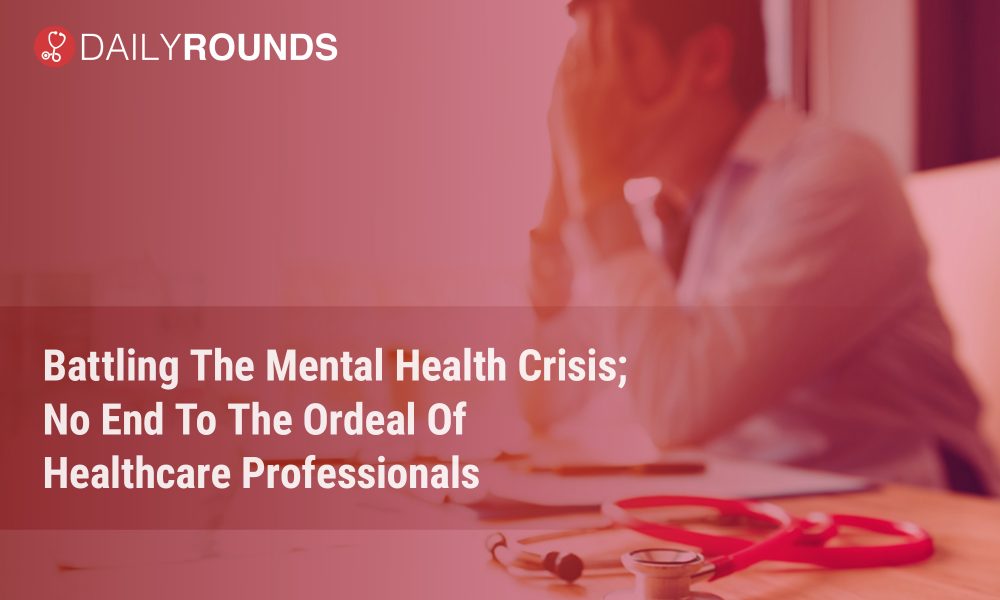 Doctors and Healthcare workers around the world are being hailed as heroes for their altruistic act during this unprecedented pandemic. But away from the headlines, many are taking on more personal battles for the sake of survival!
Healthcare workers have been trained to deal with whatever that comes through the hospital doors but the coronavirus pandemic is like nothing they have ever experienced. As the pandemic extends its fatality across borders, the warriors in white coats are doing their level best to combat the situation. However most of these frontline soldiers are facing burnouts, depression, PTSD, and other forms of psychological trauma.
Every day they are coming across different challenges either at the workplace or in the public. It will take years to fully understand the mental health toll of COVID-19 pandemic, but some early data already paints a bleak picture. A study published recently in the JAMA medical journal found that, among 1257 healthcare workers working with COVID-19 patients in China, 50.4% reported symptoms of depression, 44.6% showed symptoms of anxiety, 34% showed insomnia, and 71.5% reported distress.
As a senior Pulmonologist at the Govt. Medical College- Palakkad, a COVID district hospital in Kerala, Dr. Anvar K is used to dealing with high-octane situations and treating severely ill patients. But he says the COVID-19 outbreak is unlike anything he has ever seen before.
Over the past few months, Dr. Anvar has been feeling the heat of the situation. He has been away from his home and dear ones for the past three months. He sent his three-year-old daughter to his relative's place in order to ensure her safety and has never made a visit to his parents ever since the arrival of the pandemic as they are growing old and are vulnerable. After one week of regular duty, the doctor has to go in self-quarantine for the next two weeks in an alienated setup. All this adds up to the mental health crisis of this frontline warrior.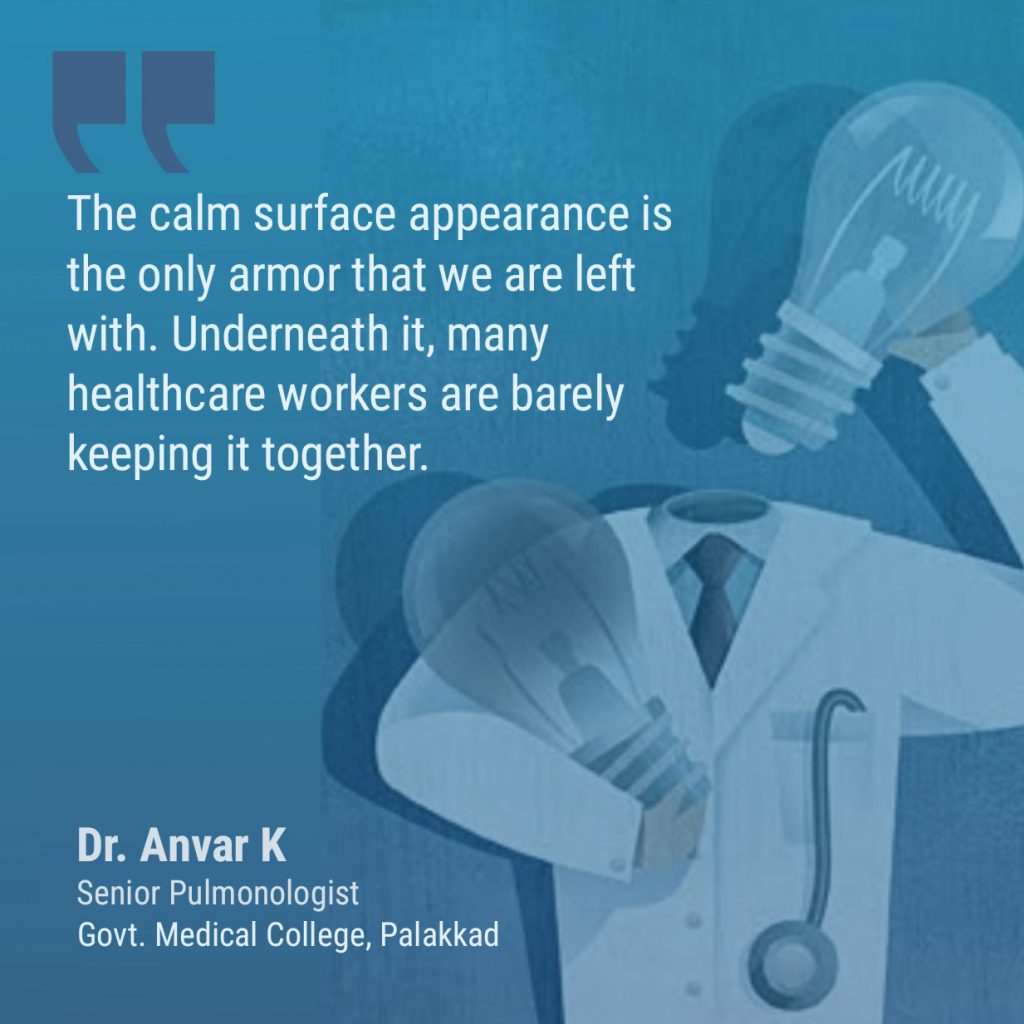 Irrespective of all mental health-related issues, we are supposed to do our duty in the best possible way. As doctors, we cant approach patients with a sad and distressed look on our faces. The calm surface appearance is the only armor that we are left with. Underneath it, many healthcare workers are barely keeping it together, says Dr. Anvar with a gentle smile that helps him hide all his inner feelings.
In hospitals around the world, doctors, nurses, and other healthcare workers like Dr. Anvar are engaged in the fight, not just with the coronavirus but with basic human instincts as well. Many factors contribute to the psychological distress of these doctors and healthcare workers, such as the following:
Emotional strain and physical exhaustion when caring for growing numbers of acutely ill patients of all ages who have the potential to deteriorate rapidly.
Shortages of personal protective equipment (PPE) that intensify fears of coronavirus exposure at work leading to serious illness
Concerns about infecting family members with coronavirus from workplace exposures, especially family members who are older, immunocompromised, chronically ill or young.
Shortages of ventilators and other crucial medical equipment in COVID-19 hot spots and institutions that are rapidly becoming overwhelmed by critically ill patients
Sensationalized news on the increasing number of casualties among healthcare professionals and the illness/death of co-workers certainly adds to the fear fallout.
Anxiety about assuming new or unfamiliar clinical roles and expanded workloads in caring for patients with COVID-19. Some might be even worried about job loss or redeployment. A recent report suggests that government doctors are facing a paycut of upto 50% in cities like Mumbai in the wake of falling revenues due to nationwide lockdown.
Limited access to mental health services for managing depression, anxiety, and psychological distress.
Apart from all this, the ill-mannered attitude of the majority of the general public towards healthcare professionals can certainly dampen their spirits. Atrocities against medicos who are taking care of the COVID patients is humiliating and indigestible. Attacks on doctors owing to fear and stigma by neighbours, locals and even family members are becoming a piece of daily news. Lighted diyas or showered flower petals are not going to help them out, instead what they want is moral support from the general public.
Rising to the challenge!
Healthcare professionals are quite aware of their vulnerability during this pandemic. Even when experiencing elevated levels of anxiety and personal risk, they continue to step up to the challenge.
To support healthcare workers, experts and institutions need to intervene to help protect their mental health, not just their physical well-being. The World Health Organization (WHO) has published a series of messages that can be used to support the mental and psychological well-being of different target groups during this outbreak. Similarly, the National Institute of Mental Health and Neuro Science (NIMHANS) has developed guidelines for effective mental health management in general medical and specialized mental healthcare settings in the times of the pandemic.
A regular and continuous mental health assistance for healthcare staff is imperative in the present scenario. All the while, the frontline warriors should also make up their minds and prepare themselves to get past these seriously tough circumstances. 
This unprecedented pandemic is a journey, we are uncertain of the distance that we have to cover. The terrain is tough and the clouds are dark! There could be times when we have to travel all alone, we may get stressed and the fear might breakout. But, we cannot just give up! The hopes of an entire nation rest on our shoulders, Let's pluck up the courage and move forward. There's light at the end of the tunnel!