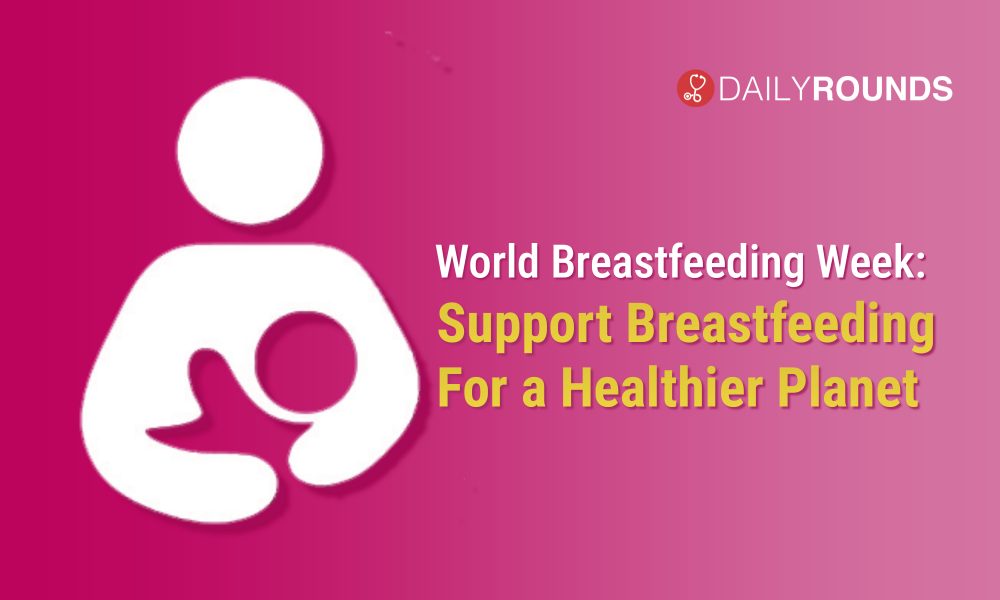 The whole human world is born from the womb of mothers, and if we can't make the motherly act of breastfeeding free from stigma in such a world, then it's an insult to our very existence as a species.
Every year the world celebrates Breastfeeding Week from August 1 to August 7. It is celebrated in an effort to encourage breastfeeding and to deliver health, nutritional, and emotional benefits to both mothers and children. The week commemorates the Innocenti Declaration signed in August 1990 by government policymakers, WHO, UNICEF, and other organisations to protect, promote, and support breastfeeding. The theme of World Breastfeeding Week (WBW) 2020 is "Support breastfeeding for a healthier planet".
As part of this, the UNICEF and WHO, in line with the policy actions advocated by the Global Breastfeeding Collective, are calling on governments to:
Invest to make skilled breastfeeding counselling available to every woman through increased financing for breastfeeding programmes and improved monitoring and implementation of policies, programmes and services.
Train health care workers, including midwives and nurses, to deliver skilled breastfeeding counselling to mothers and families.
Ensure that counselling is made available as part of routine health and nutrition services that are easily accessible.
Partner and collaborate with civil society and health professional associations, building strong collaborative systems for provision of appropriate counselling.
Protect health care workers from the influence of the baby food industry.
Breastfeeding provides every child with the best possible start in life. But still, many children around the world are denied access to maternal milk and there are many more factors that are stopping mothers from feeding their children with breast milk. According to WHO, increasing breastfeeding to near-universal levels could save more than 8,20,000 lives every year, the majority being children under six months.
The World Health Organisation & the UNICEF recommend:
Early initiation of breastfeeding within one hour of birth.
Exclusive breastfeeding for the first six months of life.
Introduction of nutritionally-adequate and safe complementary foods at six months, together with continued breastfeeding up to 2 years of age or beyond.
Apart from this, recommendations have been refined to also address the needs of infants born to HIV-infected mothers. Antiretroviral drugs now allow these children to exclusively breastfeed until they are 6 months old and continue breastfeeding until at least 12 months of age with a significantly reduced risk of HIV transmission.
The Benefits Of Breastfeeding
Studies from across the globe show that breastfeeding has major health benefits, for both the infant and the mother.
Provides Ideal nutrition for children:
Breast milk contains everything the baby needs for the first six months of life, in all the right proportions. Its composition even changes according to the baby's changing needs, especially during the first month of life.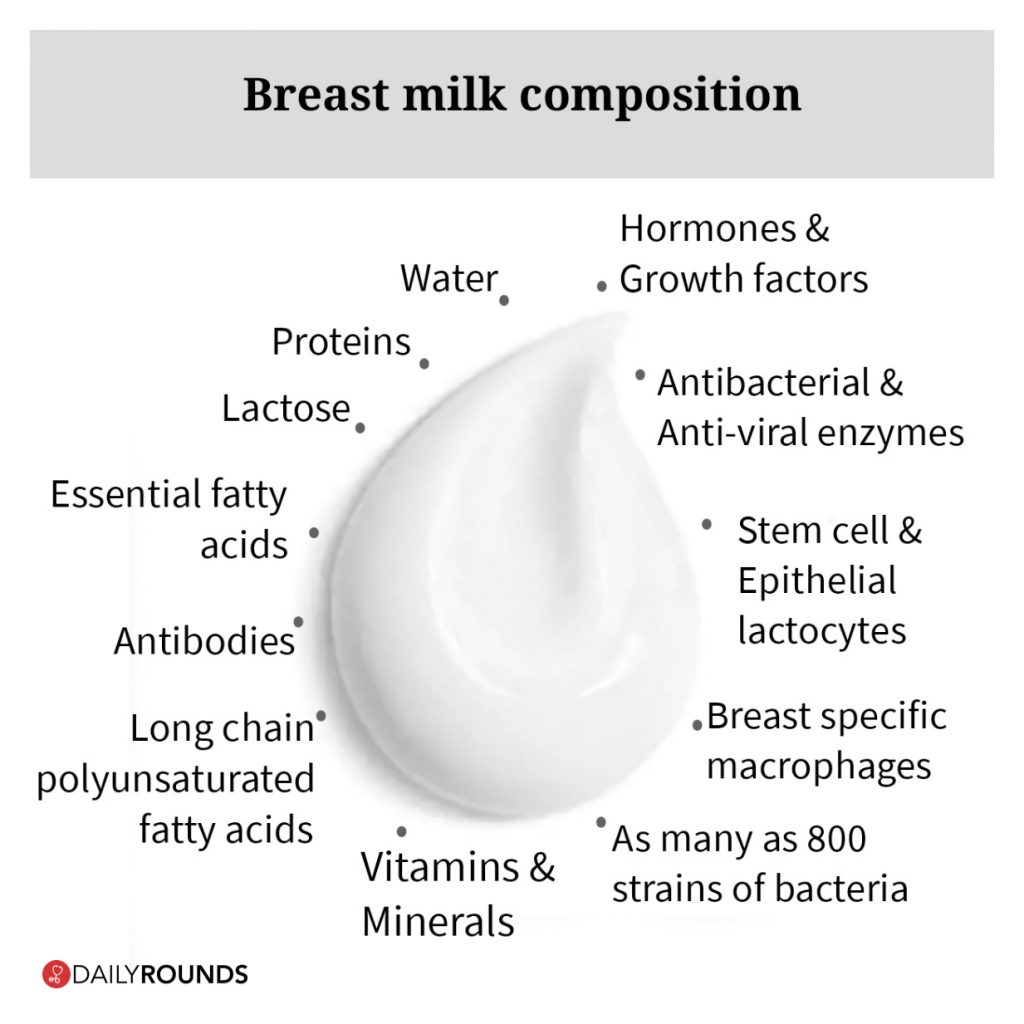 Colostrum, the first milk secreted at the time of parturition which is rich in protein and loaded with beneficial compounds, is the ideal first milk and helps the newborn's immature digestive tract develop. After the first few days, the breasts start producing larger amounts of milk as the baby's stomach grows.
Contains Antibodies:
Breast milk is loaded with antibodies that help the child fight off viruses and bacteria. This particularly applies to colostrum, which provides high amounts of immunoglobulin A (IgA), as well as several other antibodies. When the mother is exposed to viruses or bacteria, she starts producing antibodies which are then secreted into the breast milk and passed to the baby during feeding.
May Reduce Disease Risk:
Breastfeeding may reduce the risk of many illnesses and diseases in the infant which includes diseases such as middle ear infection, intestinal tissue damage, sudden infant death syndrome (SIDS), celiac disease, childhood leukaemia and many more.
Promotes Healthy Weight:
Breastfeeding promotes healthy weight gain and helps prevent childhood obesity. Studies show that obesity rates are 15–30% lower in breastfed babies, compared to formula-fed babies. Also, each month of breastfeeding reduces the child's risk of future obesity by 4%.
In addition to this, Breastfeeding seems to provide the mother with long-term protection against cancer and several diseases. The total time a woman spends breastfeeding is linked with a reduced risk of breast cancer, ovarian cancer, type-2 diabetes, and heart diseases. It is estimated that increased breastfeeding could avert almost 20,000 maternal deaths each year due to breast cancer.
The Risk Of Not Breastfeeding
Similar to benefits, the risk of not breastfeeding also applies to both infant and the mother.
When it comes to infants, not being breastfed is associated with an increased incidence of infectious morbidity, including otitis media, gastroenteritis, and pneumonia, as well as elevated risks of childhood obesity, type 1 and type 2 diabetes, leukemia, and sudden infant death syndrome (SIDS).
Among premature infants, not receiving breast milk is associated with an increased risk of necrotizing enterocolitis (NEC).
For mothers, failure to breastfeed is associated with an increased incidence of premenopausal breast cancer, ovarian cancer, retained gestational weight gain, type 2 diabetes, and the metabolic syndrome
COVID-19 & Breastfeeding
We do not know whether mothers with COVID-19 can transmit the virus via breast milk, but the limited data which is available suggests that this is not likely to be a source of transmission.
According to the interim guidance published by CDC, whether and how to start or continue breastfeeding should be determined by the mother in coordination with her family and healthcare providers. However, the guidance also suggests that a mother with confirmed COVID-19 should be counseled to take precautions to avoid spreading the virus to her infant, including hand washing and wearing a cloth face coverings.
Breastfeeding mothers who work in settings with a higher risk of potential exposure to COVID-19, such as healthcare personnel and first responders, may have additional concerns related to the expression of breast milk while at work. These mothers should follow the same recommendations outlined by the CDC given they may be at higher risk of infection with SARS-CoV-2. Ideally, employers should provide such breastfeeding employees with a private, non-bathroom space for milk expression.
How Is India Breastfeeding Its Infants?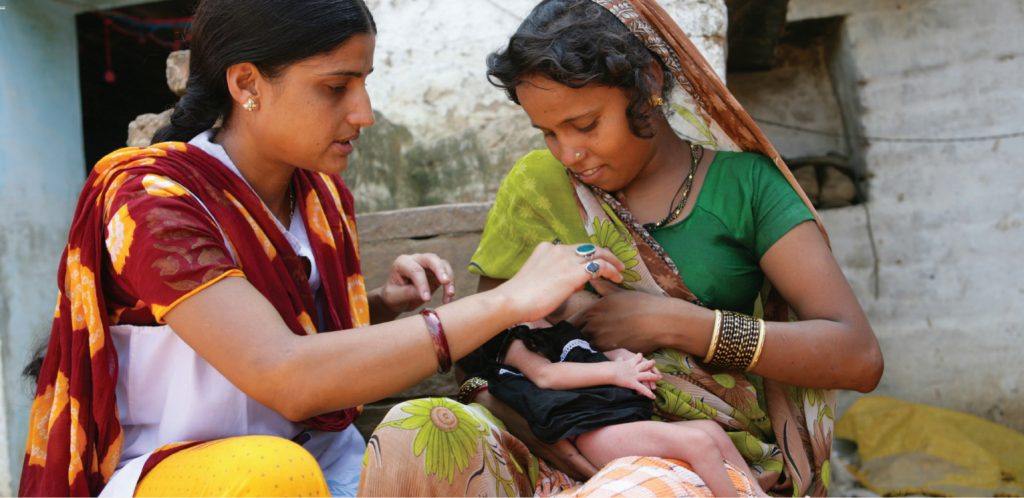 Despite numerous benefits of breastfeeding and decades of doctors' recommendations nearly half of infants are still being deprived of exclusive breastfeeding in India. As a result, India accounts for more than one-fifth of the world's neonatal deaths, where a child dies within 28 days after birth. In 2016, almost 6 lakh children died in the country within 28 days after birth. What's actually stopping India from breastfeeding?
There are several barriers that disrupt proper breastfeeding in the country, which includes:
Poor health of the lactating mother.
Lack of time to breastfeed, especially in the case of working mothers.
Dependence on the infant formula for ease.
Leaving breastfeeding midway due to insufficient milk production.
Inadequate inter-pregnancy intervals.
Lack of proper guidance.
Breastfeeding in public considered taboo.
According to the National Family Health Survey 2015-16, only 42.6% mothers in India initiate breastfeeding within one hour of birth. Further only 54.9% children in the country were exclusively breastfed during the first six months of life.
However, in order to improve the breastfeeding practices in the country, the Ministry of Health and Family Welfare has launched a national breastfeeding promotion programme named 'MAA' (Mothers' Absolute Affection) back in 2016. The programme involves a comprehensive set of activities on protection, promotion and support of breastfeeding and child feeding at community and facility levels. The chief components of this programme are community awareness generation, strengthening interpersonal communication through ASHA, Skilled support for breastfeeding at delivery points in public health facilities, and monitoring.
Similar efforts and initiatives have been planned by various state governments as well. The Tamil Nadu government has inaugurated over 300 breastfeeding rooms in public spots like the Chennai Mofussil Bus Terminus. These air-conditioned rooms can be used by eight mothers at a time. Similar projects which facilitate breastfeeding in public places have to be implemented largely all across the country.
The Patna Medical College and Hospital (PMCH) in Bihar has come up with a welcome initiative to promote breastfeeding. Since employees have a hard time breastfeeding during their job, the hospital has created a special room for this purpose. Not just that, the hospital is also working on implementing the six-month maternity leave rule.
Given the overwhelming evidence available on the impact of breastfeeding on reduction of infant mortality, it is imperative that efforts are intensified to improve optimal breastfeeding practices in the country. So India as a nation needs to put in a lot of effort to feed its infants with breast milk as per the recommendations, only then the country could give rise to healthy minds and healthy bodies among its millions of infants and their mothers. From breaking the stain and stigma, to introducing mother and child-friendly policies, the country has a long way to go in its efforts to breastfeed the millions of little ones. Let this Breastfeeding week be a spark for initiating that journey!
Follow and connect with us on Twitter | Facebook | Instagram