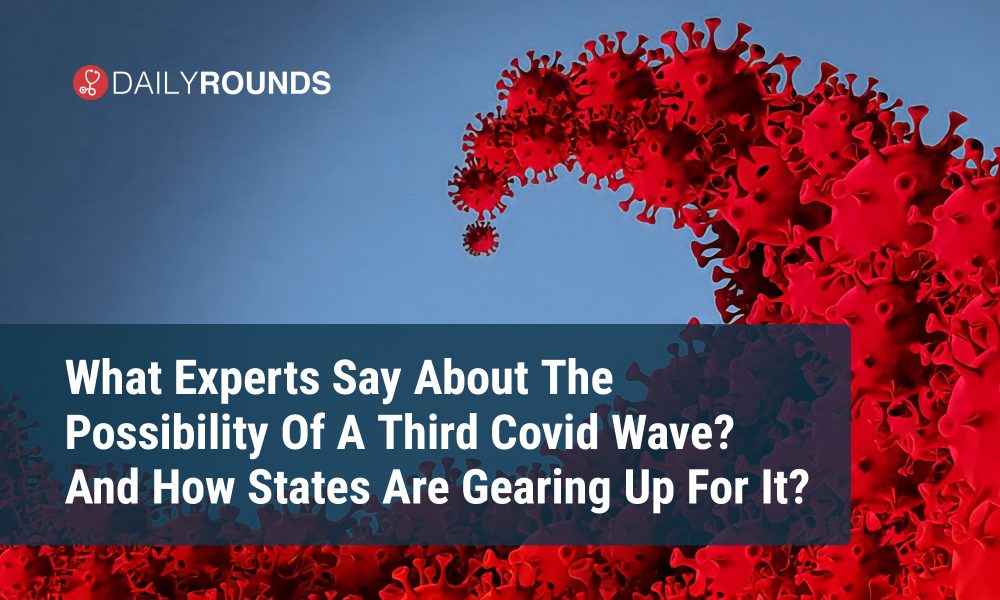 As India continues to grapple with the severity of the second wave of Covid-19, the spectre of a potential third wave has been haunting the country. Top scientists and experts have been raising alarm about the possibility of a third wave for the last few weeks. The warnings are strongly emphasised this time considering that the nation was caught off-guard by the second wave.
It started earlier this month with the Principal Scientific Advisor K Vijay Raghavan calling the third wave "inevitable" even though its timing could not be predicted. Vijay Raghavan added a caveat two days later, saying a third wave could be avoided through "strong measures", but several others have issued similar warnings in the last couple of weeks.
Similarly, according to the government-appointed National Covid-19 Supermodel Committee, which makes projections on the likely spread of the pandemic, India could witness a steep fall in the Covid-19 cases by 1 July but a third wave is likely to hit the country in the next six to eight months. "We will possibly see another wave, but I am hopeful that by that time because a large number of people will get vaccinated, the wave may not be as big as the current wave of Covid-19 and it will be easier to manage," AIIMS Director Dr. Randeep Guleria said recently.
Leaving no stone unturned
A third wave or not, the government has decided to be fully prepared in advance to prevent the unprecedented crisis seen during the second wave. The Supreme Court has recently asked the Centre to adopt a pan-India approach to prepare for the third wave of coronavirus. It also asked the government to create a buffer stock of oxygen to prevent panic among the public.
Following this, the Centre has told top pharmaceutical companies to begin preparations for the third Covid-19 wave and keep stock of key drugs ready in the next two to three months. Along with the Centre, several states across the country are also in full swing to tackle a possible third wave of Covid-19.
From ramping up paediatric beds to prioritising vaccination for parents of kids below 12 years and formulating children-specific protocol, states are concentrating hard on paediatric Covid care along with other measures like setting up oxygen plants and establishing more testing labs. The Karnataka government on Wednesday set up a 13-member committee of medical experts, headed by noted cardiac surgeon Devi Prasad Shetty, to prepare a plan to handle the possible third wave of COVID-19 pandemic.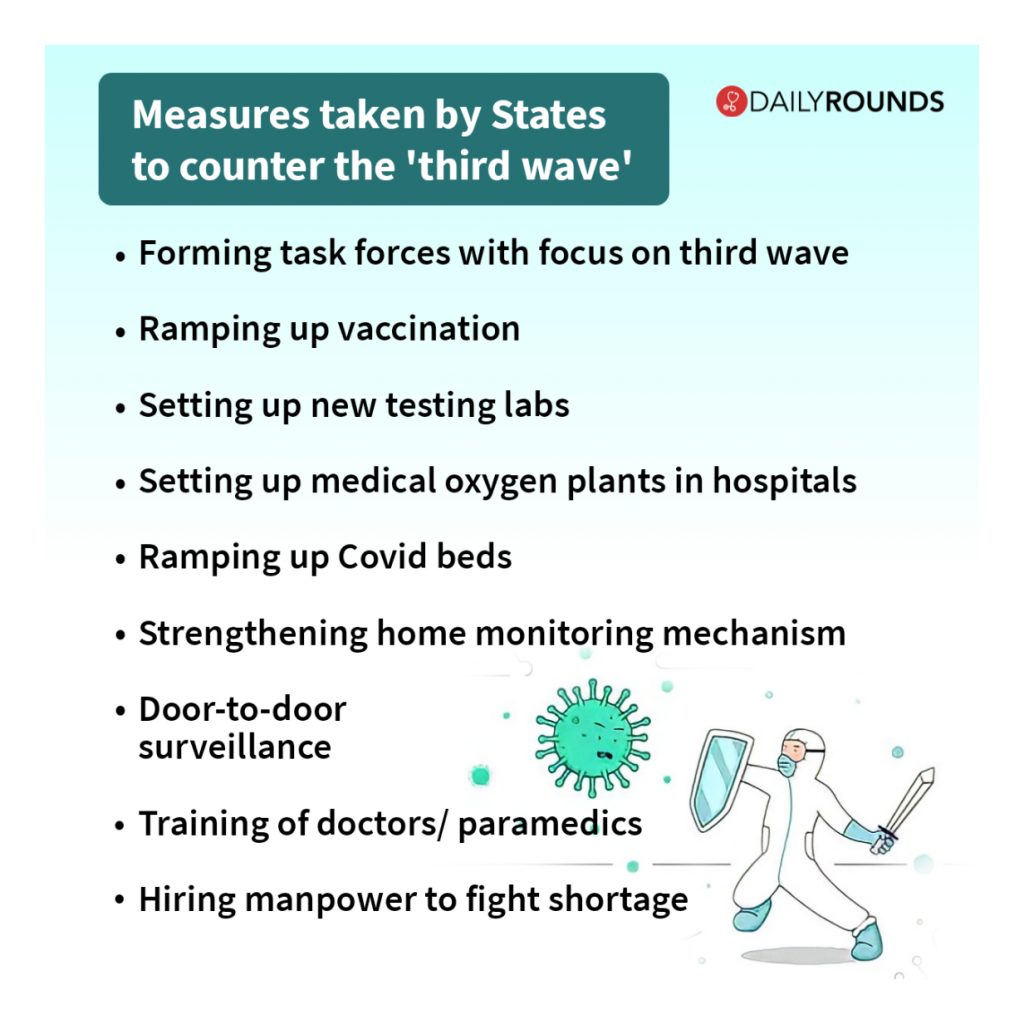 The Delhi government on Thursday constituted two committees to prepare an action plan for a likely third wave of Covid-19 cases, with specialised needs of children in mind, and another plan for augmenting the city's health infrastructure, including management of beds, oxygen, and critical drugs. The Delhi government has also imported 6,000 oxygen cylinders from China last week as part of their preparation for the third wave.
Training doctors is also a priority. While Maharashtra will train doctors to discern when to refer children to a hospital/higher facility, Punjab is all set to come up with training modules for doctors and paramedics. As we know Maharashtra, Karnataka, and Kerala were the worst affected states due to the Covid wave, and governments in these respective regions will be ramping up the availability of including paediatric intensive care units (PICU), neonatal intensive care units (NICU), and sick newborn care units (SNCU).
While a large part of efforts to counter the possible third wave is centred around children, states are also ramping up health infrastructure. West Bengal has given a one-time nod to state and private facilities to set up oxygen plants. While Uttar Pradesh has asked medical colleges to set up plants by June end, Maharashtra has chalked up a "Mission Oxygen Self-Reliance" scheme to meet the state's oxygen needs.
Impact of third wave on children
There are several concerns over a probable third wave of the Covid-19 pandemic hitting the children harder. However, the Centre on Monday said there is no indication that children will be severely or more affected in the third wave of COVID-19. Responding to a question on the possible impact of the third wave on children, AIIMS Director Randeep Guleria at a press conference said there is so far no evidence that there will be a severe infection in children or there will be more cases in them in the upcoming wave of COVID-19.
Similarly, the Indian Academy of Pediatrics (IAP) has said that though children remain susceptible to infection, it was "highly unlikely that the third wave will predominantly or exclusively affect children". It also said that there was no evidence to suggest that most children with Covid-19 infection will have severe disease in the third wave.
Explaining about Covid-19 infection among children, Niti Aayog (health) member Dr. VK Paul said that children are not immune from this infection and they can infect others but children do not generally suffer from severe infection. 'Health infrastructure should be ramped up to treat Covid-19 among children, but it is most important to not let them become a part of the transmission chain in the first place,' Dr. Paul added.
Vaccination is the key
Experts point out that vaccinations will be vital in preventing the severity of any future wave. Unlike the first wave, India now has three vaccines in use and has already inoculated close to 19 crore doses. The more we vaccinate, the better prepared we are!
In addition to this, to prepare ourselves for a potential third wave of Covid-19, we have to ensure that our public health system is capable of handling any surge in cases. Experts also point out that the availability of the healthcare workforce, medical oxygen, hospital beds, and drugs should be ensured. There should also be an aggressive containment measure in place.
Moreover, we have to ensure that people don't repeat the mistakes that they made after the first wave!
Follow and connect with us on Twitter | Facebook | Instagram

Tags
a third covid wave in india
,
children in third wave
,
covid 19 india
,
covid 19 third wave children
,
covid effect chldren
,
covid third wave
,
covid third wave children
,
covid third wave effect children
,
covid third wave month
,
covid third wave time
,
covid-19 third wave
,
covid19 third wave
,
covid19 third wave india
,
delhi third covid wave
,
goa third covid wave
,
india coronavirus third wave
,
india covid next wave
,
india covid third wave plans
,
india covid wave
,
indias third covid wave
,
karnataka third covid wave
,
kerala third covid wave
,
maharashtra third covid wave
,
measures to prevent third wave
,
punjab third covid wave
,
third wave covid in india
,
third wave effect children
,
third wave india
,
third wave of covid india
,
third wave of covid19 in india
,
third wave strategies
,
UPthird covid wave
,
west bengal third covid wave
,
will there be a third covid wave