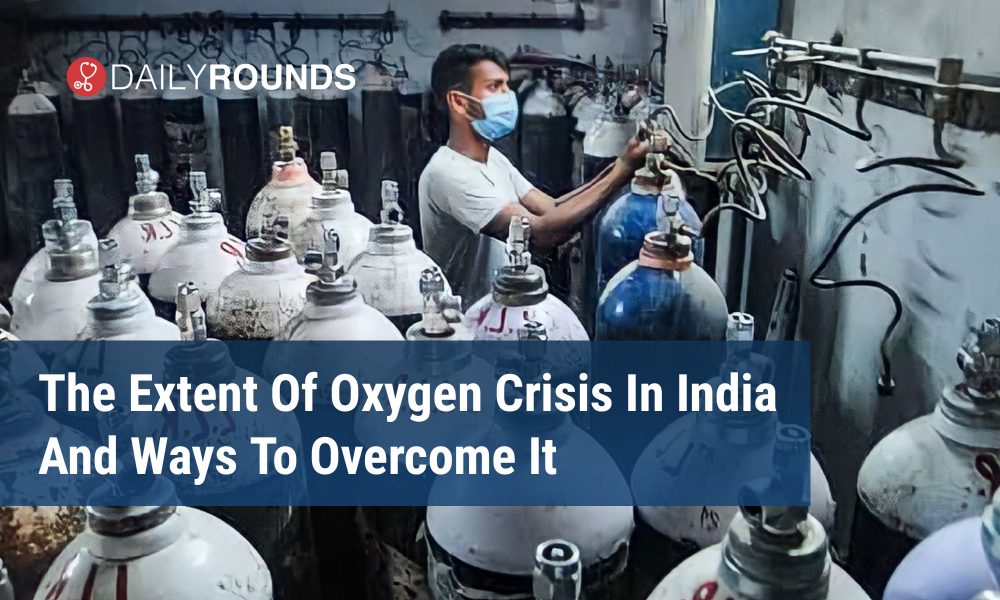 As India touches 20 million Covid-19 infections, a number of states over the last few weeks have reported shortages of medical oxygen for a growing pool of patients in need of oxygen support. Dozens of hospitals in a number of cities and towns have run short of the life-saving gas, sending relatives of patients scrambling for oxygen cylinders, sometimes in vain.
According to press reports and sources, 23 people died in one hospital overnight on Sunday in the southern state of Karnataka after the hospital ran out of oxygen, though the district administration denied that shortages had caused the deaths. Another 12 people died on Saturday in the capital, New Delhi, after a hospital ran out of oxygen, reports said. These hospitals are among several in the capital and across India to sound an alarm over a crippling oxygen shortage as they struggle to cope with patients pouring in, needing ventilators and ICU beds.
Why is medical oxygen vital in the fight against Covid-19?
As we know oxygen therapy is crucial for severe COVID-19 patients with hypoxemia. Some clinical studies show that up to a quarter of hospitalised COVID-19 patients require oxygen therapy and upwards to two-thirds of those in intensive care units. This is why it is imperative to fix oxygen supply systems in hospital settings as this is a disease that primarily affects the lungs.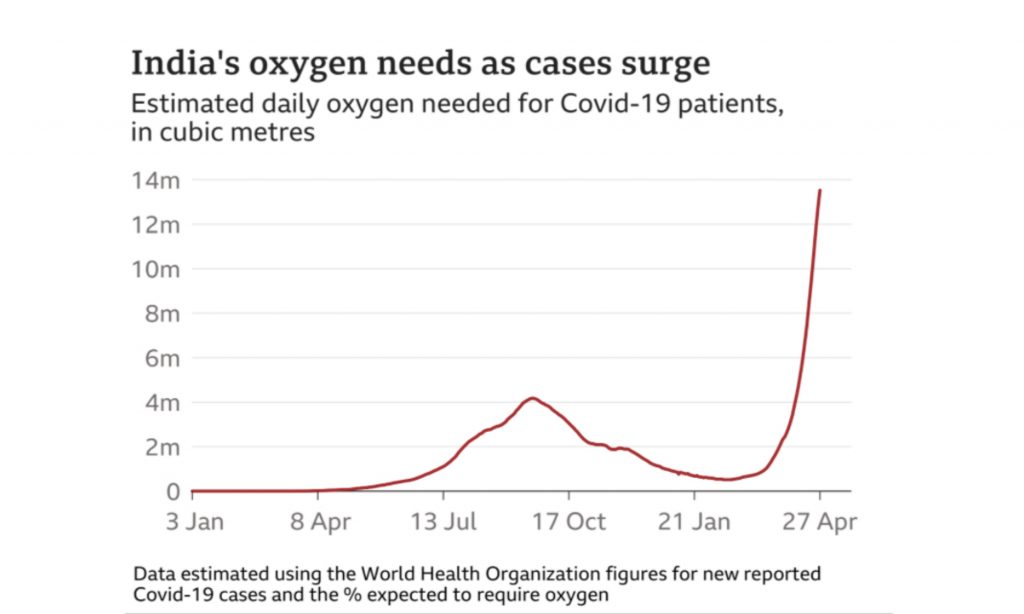 Amid the surging numbers, the National Clinical Covid-19 Registry has identified a key data point: 54.5 per cent, or more than one out of two people admitted in hospitals, need oxygen support during treatment this time. This is a 13.4 percentage point increase from last year's peak during September and November, according to data from 40 centres across the country.
Is India out of oxygen?
Experts say India is producing enough oxygen, at just over 7,000 tons a day. Most of this is for industrial use but can be diverted for medical purposes. The Centre has now directed industries to restrict the use of liquid oxygen, including existing stock, and divert it for medical purposes. This is expected to add around 1,500 tons to the daily supply. So, on paper, India can technically meet this demand and can even have a few metric tonnes to spare. However, in reality, this oxygen is not reaching patients and hospitals because India doesn't have enough tankers to supply it.
Inadequate transport and storage capacity
Manufacturers prepare liquid oxygen with 99.5% purity, which is stored in jumbo tankers, and transported to distributors in cryogenic tankers at a specified temperature. The problem is demand is high, but there are not enough cylinders and tankers to store and transport oxygen within the country.
Now when oxygen is being transported from one state to another, the travel time it takes from the manufacturer to a patient's bed has increased from 3-5 days to 6-8 days. The smaller a hospital or the more remote its location, the longer the time taken for the oxygen to reach there.
Following this, several countries are now stepping in to help and are sending oxygen tankers to India. However, the biggest bottlenecks at present are the shortage of cryogenic containers which are used to transport oxygen in liquid form.
The Centre's action plan
The Centre, over the past week, is looking for diverse ways to further augment the availability of medical oxygen within the country. One major plan among this is to identify the industries having spare nitrogen plants to explore the feasibility of converting them to produce oxygen. Fourteen such industries have been identified so far.
In addition to this, the government has said it will be releasing oxygen supplies from armed forces reserves and has approved plans for more than 500 oxygen generation plants across the country to boost supplies.
The Health Ministry in a recent statement said that while oxygen is mostly being produced in eastern India, it is needed more in the western part of the country. "Transportation by road can be very time consuming so the government is using the oxygen express and is also airlifting oxygen," it added.
With transportation proving a problem, the government said it is planning to build temporary Covid centres near such gas plants. In the coming days, 10,000 oxygen beds will come up near such plants, said a senior health ministry official. For now, the government, he said, is converting nitrogen tankers so they can carry oxygen. New oxygen tankers are also being imported.
However, the Supreme Court on Thursday while hearing the matter of the government's plan for oxygen allocation in the face of shortages faced by various states said that the Centre's existing formula based on the number of beds requires a complete revamp.
"The allocation of oxygen across India, till now based on the number of beds and ICU usage, needs a complete revamp that takes into account evolving needs like home quarantine and ambulance usage", the Supreme Court told the Centre. It also called for a complete audit of the system so as to give it a pan-India view that fixes accountability once stocks are released.
The ground reality
Despite the measures to boost supply, transport and storage, oxygen shortages are still affecting the badly hit regions. Reports have emerged of people dying even after being admitted due to low oxygen supplies.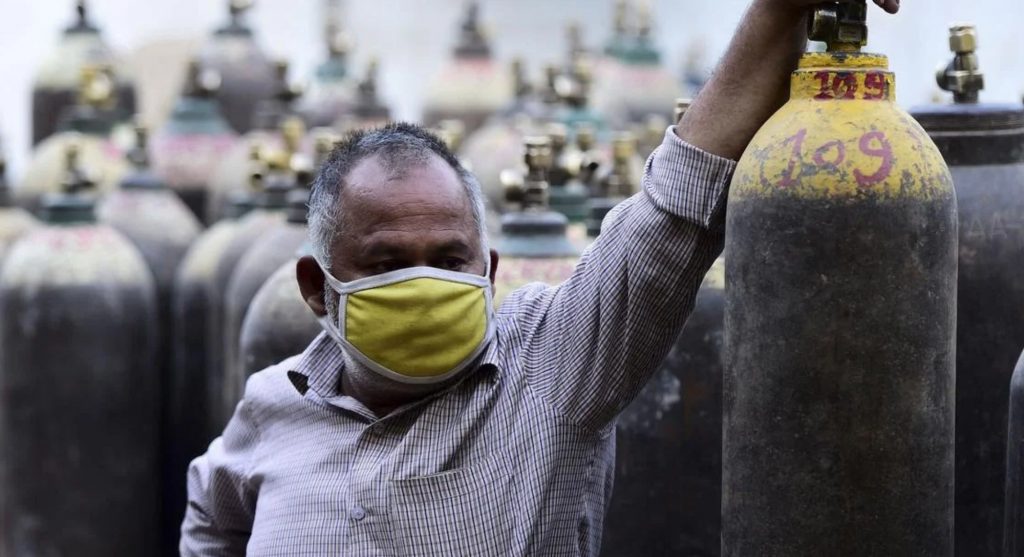 Social media platforms have been filled with posts by desperate families hunting for cylinders and refills. Meanwhile, there is a growing black market for cylinders and concentrators sold far above their usual retail prices.
The shortages have sparked outrage and frustration among the public and healthcare providers. The country certainly needs a lasting solution to the ongoing shortage of life-saving gas not just for the time being but for the future as well.
Tags
centre plan oxygen crisis
,
covid oxygen shortage india
,
india o2 shortage
,
india oxygen crisis solutions
,
india oxygen production
,
india oxygen shortage crisis
,
india oxygen solutions
,
india oxygen storage
,
india oxygen transport
,
o2 shortage
,
o2 shortage india
,
oxygen crisis
,
oxygen crisis centre
,
oxygen crisis in india
,
oxygen crisis india
,
oxygen crisis solutions
,
oxygen shortage
,
oxygen shortage delhi
,
oxygen shortage india
,
oxygen shortage maharashtra
,
oxygen solutions india
,
oxygen supply
,
oxygen treatment
,
plans to overcome oxygen crisis