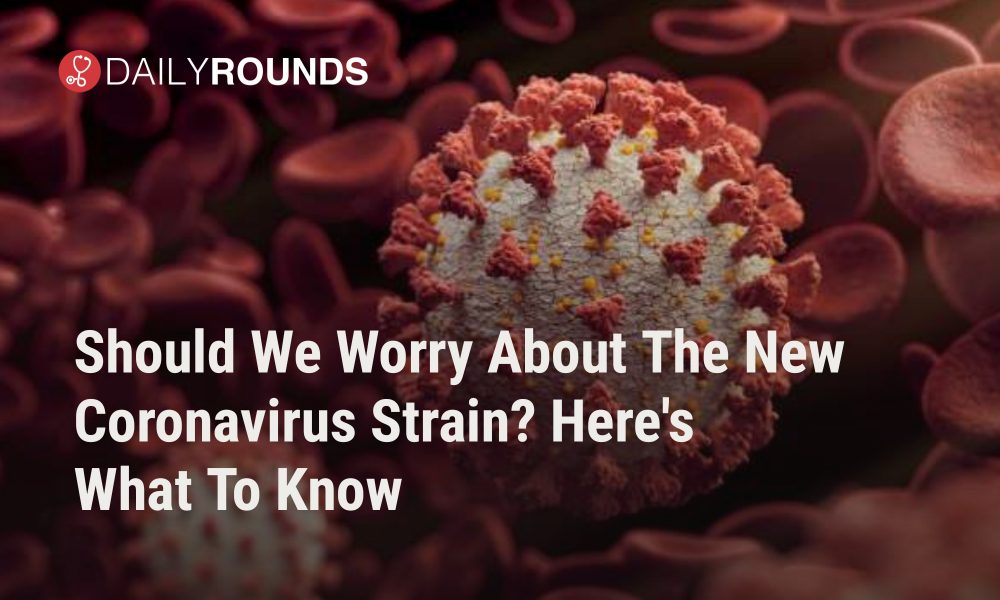 As Covid-19 vaccines start being rolled out in several countries, a new strain of the coronavirus discovered in Britain has yet again added fuel to the flames. The strain, which is said to be up to 70 per cent more transmissible than the original, has already forced several countries to shut their borders or ban travel with the UK and has sowed fears of further health crisis and economic disruptions.
The situation has given rise to several questions. What explains the panic? Will the new strain spread faster and cause more deaths? How serious is the situation? What does it mean for India? And the most important one: Will vaccines work against this new strain of the coronavirus? Let's look into all these aspects in detail.
The new variant, which UK scientists have named "VUI – 202012/01" is the result of multiple mutations in the spike protein of the novel coronavirus SARS-CoV-2, as well as mutations in other genomic regions of the RNA virus. Preliminary analysis suggests that it is more transmissible than previously circulating variants. COG-UK identified one of these mutations as "N501Y", in an area of the spike protein that binds to a key protein in the human cell, the ACE2 receptor. This was an indication that the alterations may, theoretically, result in the virus becoming more infectious.
According to the hypotheses presented by the UK consortium, an unusual genetic divergence of lineage B.1.1.7 (one of the mutations) may have resulted, at least in part, from virus evolution with a chronically-infected person. "Although such infections are rare, and onward transmission from them presumably even rarer, they are not improbable given the ongoing large number of new infections," the UK report said.
The new variant has rapidly become the dominant strain in cases of COVID-19 in parts of southern England and has been linked to an increase in hospitalisation rates, especially in London and in the adjacent county of Kent.
While it was first seen in Britain in September, by the week of December 9, 62% of COVID-19 cases in London were due to the new variant. That compared to 28% of cases three weeks earlier. Countries like Australia, Italy, and the Netherlands have also detected cases of the new strain.
Why is it concerning?
The major concerning factor is that the variant is significantly more transmissible than the original strain. It has 23 mutations in its genetic code — a relatively high number of changes — and some of these are affecting its ability to spread.
According to scientists, it is about 40%-70% more transmissible. The U.K. government on Saturday said that it could increase the reproduction "R" rate by 0.4. This means that the new strain is spreading faster in Britain, making the pandemic there yet harder to control and increasing the risk of spread to other countries.
"The new B.1.1.7 still appears to have all the human lethality that the original had, but with an increased ability to transmit," said Martin Hibberd, professor of emerging infectious disease at the London School of Hygiene & Tropical Medicine.
However, there is no evidence so far that suggests that the new variant will cause severe Covid-19 infections. As per scientists, mutations, or genetic changes, arise naturally in all viruses, including SARS-CoV-2, as they replicate and circulate among humans. However, an increase in transmission would be enough to cause problems for hospitals where more number of people will be coming for treatment.
How many variations of SARS-CoV-2 have we found?
Whenever a virus replicates and circulates in a human population, mutations occur naturally, at a rate of around one to two mutations per month in the global phylogeny. In fact, for SARS-CoV-2, COG-UK says that there are currently around 4,000 mutations in the spike protein. The variant D614G was earlier the dominant strain because it spread very easily. Another strain that originated in Spanish farmworkers, 20A. EU1, spread rapidly across Europe in summer.
Similarly, strains of the coronavirus have emerged in recent months in South Africa, Spain, Denmark, and other countries that have also raised concern.
Does the new variant affect testing?
One of the mutations in the new variant affects one of three genomic targets used by some PCR tests. This means that in those tests, that target area, or "channel", would come up negative. "This has affected the ability of some tests to detect the virus," said Robert Shorten, an expert in microbiology at the Association for Clinical Biochemistry & Laboratory Medicine.
Since PCR tests generally detect more than one gene target, however, a mutation in the spike protein only partly affects the test, reducing that risk of false-negative results.
Will it impact vaccine development and response?
According to scientists, there's no evidence that vaccines currently being deployed in the U.K. — made by Pfizer and BioNtech — or other COVID-19 shots in development will not protect against this variant. The virus has undergone several mutations since it first infected humans, which scientists say is neither unexpected nor a cause for panic.
Given the high level of efficacy of the Pfizer-BioNTech and Moderna vaccines, a reduction from the 95% we have seen so far to even 60% or 70% would still mean a very good level of protection. Also, vaccine trials underway by AstraZeneca and Novavax Inc. include large numbers of subjects in Britain and can directly answer this question in the next few weeks. The U.K. rollout of Pfizer-BioNTech's vaccine will also allow a similar analysis.
"It's unlikely that this will have anything more than a minor, if any, effect on the vaccine's effectiveness," said Adam Finn, a vaccine specialist and professor of pediatrics at Bristol University. Britain's chief scientific adviser Patrick Vallance also said COVID-19 vaccines appeared to be adequate in generating an immune response to the variant of the coronavirus.
However, there is an increasing body of evidence that other species of seasonal coronaviruses exhibit some ability to escape immunity over longer time periods. It is therefore conceivable that we may reach a point where we are required to update our COVID-19 vaccines, as we do for influenza, to reflect the variants in circulation at the time. It's too early to say if this will be the case now, but extensive genome sequencing, data sharing, and standardised reporting of variants will be vital to confirm these findings.
How do vaccine makers plan to adapt?
Moderna and Pfizer, makers of two authorised mRNA vaccines, have rushed to test their vaccines against the new variant. Pfizer's partner BioNTech has said a vaccine against the mutation can be made in six weeks. In India, vaccine makers have been silent on the mutation, but Zydus Cadila earlier said that if there is a mutation in the virus, its DNA vaccine can be changed and modified and the vaccine can be produced in three months.
How Is India Responding?
India too has joined over two dozen countries in banning inbound travel from the UK. The government also said that as a measure of abundant precaution, passengers arriving from the UK in all transit flights — those that have taken off or flights that are reaching India before 11:59 pm on December 22 — would be subject to mandatory RT-PCR test on arrival at the respective airports.
However, a recent report shows that as many as 138 air passengers arriving from the United Kingdom have entered Karnataka after flying in without COVID-19 negative certificates or being subjected to tests on arrival.
As there are no quick diagnostic tests to check for the new Covid strain, it is impossible to completely rule out the possibility of it already circulating in parts of the country. Experts have hence begun working on ways to test and sequence existing Covid positive samples to look for the new mutant strain.
However, Dr. VK Paul, member of government think-tank Niti Aayog, said on Tuesday that the new variant can be a "super spreader" with its higher transmissibility potential though the mutation has not been detected in India and is not seen to affect the severity of the disease or have a bearing on deaths.
The government balanced its message, saying the tendency of the new strain of SARS-COV2 to infect more people was a cause of concern and it was in conversation with experts in the UK where the mutant has been detected in significant numbers. 
What next?
According to experts, the way forward is to carry out molecular sequencing of the virus, as was done for the poliovirus, to get more information on its epidemiology and spread. It is also crucial to pursue smart testing and tracing to track the spread and contain the variant at its place of origin so that it does not reach vulnerable communities. 
However, some experts also feel the government needs to do retrospective contact tracing and identification apart from the suspension of flights. "We need to assess evidence from retrospective contact tracing. Detecting missed cases, their contacts, and related outbreaks are important," says Giridhar R Babu, member of the National Task Force for Covid-19 and epidemiologist at Public Health Foundation of India.
Yes, the game is not yet over. The opponent is changing form and seems like it is getting ready for yet another innings. We can't let this go from here. Let's stick to the game plan and follow the covid appropriate behaviour because we don't want ourselves to end up on the losing side.
Follow and connect with us on Twitter | Facebook | Instagram