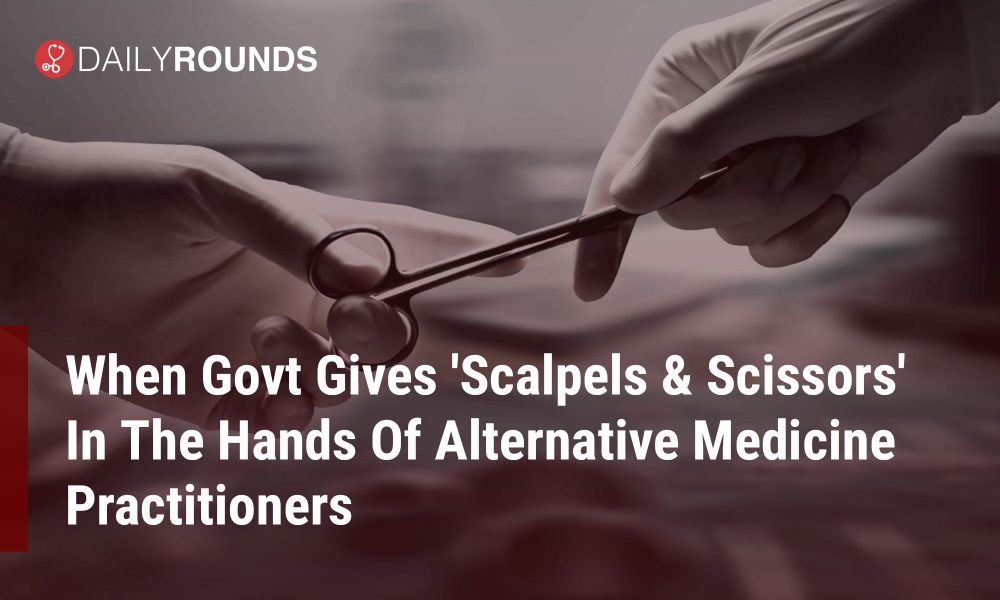 In a move that has raised the eyebrows of the medical community, the government has brought out a notification that will allow Ayurveda doctors to be trained and legally allowed to perform a variety of general surgical, ENT, ophthalmology, ortho, and dental procedures. The move, supposed to have widespread implications on the future of the healthcare system in the country, has drawn criticism and discussions from different corners. Let's look into it in detail.
The Central Council of Indian Medicine (CCIM) in its gazette notification allowed Ayurvedic PG passouts to receive formal training for such procedures. As per the new gazette notification, the training modules for surgical procedures will be added to the curriculum of Ayurvedic studies. The development has come after the CCIM amended the Indian Medicine Central Council (PG Ayurveda Education) Regulations, 2016, to include the regulation to allow the PG students of Ayurveda to practice general surgery.
During the period of study, post-graduate scholars of Shalya tantra (general surgery) and Shalakya tantra ( surgeries of the ear, nose, throat, head, and eye) will be practically trained to perform 58 specified surgical procedures independently. General surgical procedures will include amputation of gangrene, skin grafting, laparotomy, and many advanced gastrointestinal surgeries. Under Shalakya tantra they will be trained to do fairly advanced ophthalmic surgeries such as iris prolapse surgery, squint surgery, and even cataract surgeries of all kinds.
However, the notification does not open up the entire field of surgery to Ayurveda practitioners and specifies a set of surgical procedures. It outlines that not all post-graduates of Ayurveda can perform these procedures. Only those specialised in Shalya and Shalakya are allowed to perform these surgical procedures.
Amid the ongoing fuss over the move, the AYUSH ministry came up with a statement saying that Ayurveda doctors were allowed to perform surgeries since 2016. "Postgraduate courses in surgery, ENT, and ophthalmology have been there in Ayurved since 20-25 years and we have always had surgical OPDs… No one had looked into the legality of what has been happening for decades. So, after consultation with the ministry and Niti Aayog, it was decided to put it down in writing to make it clear that what is already being done is legal," explained Dr. Jayant Deopujari the president of Central Council of Indian Medicine (CCIM).
Back in June 2018, following a Central Information Commission order asking the Ayush ministry "to clarify upon the issue of entitlement and extent of a practitioner of India system of medicine to perform surgeries lawfully", the ministry said surgeries were a part of Ayurveda curriculum. However, the erstwhile medical education regulator, Medical Council of India (MCI) said they shouldn't be allowed to perform surgeries in hospitals for modern medicine.
"We have refused as under MCI rules, crosspathy (mixing different methods of medicine) isn't allowed. MCI's stand is quite clear on this; Ayurveda surgeons cannot be mainstreamed. Surgery and associated procedures are part of modern medical science; whatever these practitioners are taught as part of their curriculum, cannot be allowed to practice in allopathic hospitals," said Dr. Reena Nayyar, former secretary of the MCI, back then.
The Indian Medical Association has also been openly opposing such policy moves by the Centre, especially the plan to mix modern medicine with the traditional systems of Ayurveda, Yoga and Naturopathy, Unani, Siddha, and Homoeopathy (AYUSH), in coming years, as envisaged by the Centre. Dr. Rajan Sharma, President, IMA had earlier stated that an integrative system of medicine would create a "Khichdi medical system" and would produce hybrid doctors.
In a recent statement, IMA said that it will resist this 'retrograde step of mixing the systems' at all costs and demanded that the order be withdrawn. It said that 'corrupting modern medicine by mixing with other systems and poaching the disciplines of modern medicine through the back door' was 'foul play of the first order.' It also said that the CCIM should develop its own surgical disciplines from its own ancient texts and that it should not claim the surgical disciplines of modern medicine as its own. Such a deviant practice is unbecoming of a statutory body, IMA's statement further added.
We unequivocally condemn the uncivil ways of the Central Council of Indian Medicine to arrogate itself to vivisect modern medicine and empower its practitioners with undeserving areas of practice. The said council has come out with a gazette notification of a list of surgical procedures that can be performed by its practitioners. They have no right to the technical terms, techniques, and procedures of modern medicine. IMA draws the 'Lakshman Rekha' which they can cross at their peril.

IMA statement
IMA also questioned the sanctity of the NEET exam if the Centre had no qualms about 'devising lateral entry shortcuts" into the stream of modern medicine. Besides, the IMA also informed that it has asked its members and the medical fraternity not to teach disciplines of modern medicine to the students of other systems. "IMA will resist all efforts to mix systems. Let every system grow on its own strength and purity," it added.
"We don't have any disregard for other streams of medicine; in fact, we have great respect for ancient medicine. But just as how I am not competent to prescribe Ayurvedic medicines, can an Ayurveda practitioner perform surgeries?" asked Dr. Koushik Chaki, a founding member of the West Bengal Doctors' Forum. The Forum plans to write to the Prime Minister and the Health Minister against what it calls a "regressive step".
"For surgery, you need anaesthesia and antibiotics. Does Ayurveda have them? If Ayurveda develops its own anaesthesia and antibiotics, I am fine with it; if people choose to get operated upon by an Ayurveda practitioner, I am fine with that too. But you cannot accord legal status to what we call crosspathy. It is anti-people and anti-science," Dr. Koushik further added.
"General surgery is a part and parcel of modern medical science which cannot be mainstreamed with Ayurveda. Introducing training modules to the postgraduate curriculum of ayurvedic studies leading to titles such as MS (Ayurved) can potentially disrupt and jeopardise the basic standards of care and safety of patients," said Dr. P Raghu Ram, President of the Association of Surgeons of India.
The move from the Centre has certainly brought in several questions and concerns regarding the future of medical practice in the country. It has also ignited heated discussions across social media platforms. Twitter was flooded with memes from MBBS students who mocked the idea of surgical procedures being performed by both Ayurveda doctors and modern medicine practitioners. The humour is also supposedly derived from the fact that while Ayurveda practitioners have been authorised to perform surgical procedures, there is no news as of yet for MBBS candidates regarding their curriculum.
A major concern for the medical fraternity is that this move reveals the Centre's shift away from modern medicine. Other moves like annulling the Medical Council of India to form the National Medical Commission and introducing the Commission for Allied and Healthcare Professions Bill, 2020, which allows assorted paramedics to practice medicine independently- are a few of the decisions which have put modern medicine practitioners in deep concern regarding the future of healthcare in India.