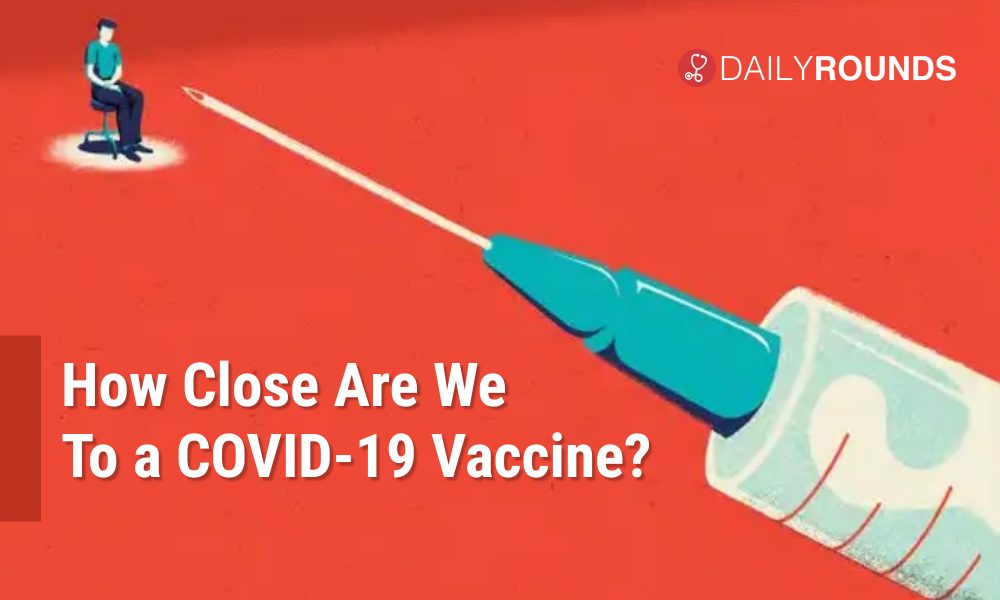 There's light at the end of the tunnel and it seems as if we are heading in the right direction and are inching closer towards that ray of light!
After months of fretting over whether a COVID-19 vaccine would even be possible, we now have almost five promising vaccine candidates. Moreover, the nation has initiated action plans to take the vaccine from warehouses to the upper shoulders of millions of people in the country whenever it becomes available. Yes! there's still a long way to go, but how far are we from a vaccine for the novel coronavirus now? Let's look into it
The promising candidates
The US elections are over and the results are out. But our search for a promising candidate, who could change the course of the world, still continues! After so much research, studies, and analysis, we now have almost five likely-looking candidates from different parts of the world. Let's look at what each of them has to offer
Pfizer-BioNTech Vaccine
| | |
| --- | --- |
| Vaccine type | mRNA vaccine |
| Country of origin | The United States, though BioNTech is a German company |
| Effectiveness | 95 per cent effective |
| Storage temperature | Minus 70 degrees Celsius (colder than winter in Antarctica). It can only be stored at 4 degrees Celsius for 24 hours |
| Side effects | No serious side effects have been reported |
| Doses required | Two, 28 days apart |
| Cost | Around $60 per person (roughly $27 per dose) |
| Dose production capability | 50 million doses by the end of 2020, and 1.3 billion doses globally by the end of 2021 |
The BNT162b2 vaccine developed by Pfizer is one among the front runners in the coronavirus vaccine race. Following the final results from the late-stage trials, Pfizer has recently applied for emergency use authorization of its mRNA-based vaccine candidate to the FDA. If granted, they will be able to use the vaccine in high-risk populations by the middle to end of December 2020.
However, the extremely low temperature of minus 70 degrees Celsius required for storing the vaccine poses a big challenge for its delivery in a developing nation like India, especially in its smaller towns and rural areas where maintaining such cold chain facilities would be very difficult. The lowest minimum temperature at which vaccines can be kept to maintain the cold chain in most areas in the country is minus 25 degrees Celsius.
In addition to this, the vaccine distribution will require deep-freeze warehouses, refrigerated vehicles, and specially designed inoculation points which in turn makes it highly expensive and difficult to deliver in a country like India. Following this, Union Health Minister Harsh Vardhan has said that India may not need Pfizer-BioNTech's COVID-19 vaccine as there are many other vaccine candidates being tested in India, including the indigenous Bharat Biotech candidate Covaxin, which is currently in the final stage of human trials.
Moderna Vaccine
| | |
| --- | --- |
| Vaccine type | mRNA vaccine |
| Country of origin | The United States |
| Effectiveness | 94.5 per cent effective |
| Storage temperature | Minus 20 degrees Celsius, but can be kept in regular refrigerated temperatures for up to 30 days |
| Side effects | No serious side effects have been reported, only some pain at injection site, fatigue and muscle pain |
| Doses required | Two |
| Cost | Around $70 per person (roughly $34 per dose) |
| Dose production capability | 20 million doses by the end of 2020, and 500 million to 1 billion doses next year |
The positive interim analysis from the Phase 3 clinical trials of the Moderna vaccine marked the second major breakthrough in the quest to end the pandemic. Moderna's strong efficacy rates make it one of the most favoured COVID-19 vaccines in contention right now. The US-based Biotech company, which is in phase III testing is rumoured to have ramped up production plans and seek emergency authorisation in the coming weeks.
Perhaps more remarkable is that Moderna designed its vaccine in just two days in January before some people had even heard of the coronavirus. That wouldn't have been possible without the technology Moderna has bet on since its founding: messenger RNA (mRNA) vaccines.
While first-hand access to the vaccine will rest in Moderna's home country, the USA, the company has made strategic partnerships with countries across the world as well. Latest reports suggest that Moderna Inc. is also in talks with the WHO-GAVI-backed vaccine alliance, COVAX, to supply doses to vulnerable, developing countries across the world.
Oxford-AstraZeneca Vaccine
| | |
| --- | --- |
| Vaccine type | Viral vectored vaccine that uses a harmless virus that typically infects chimpanzees |
| Country of origin | The United Kingdom |
| Effectiveness | An average efficacy of 70 per cent (two doses), with one dosage option 90 per cent effective (with one and a half doses) |
| Storage temperature | Normal fridge temperature |
| Side effects | No serious side effects have been reported, despite one trial participant falling ill in September |
| Doses required | One and a half, or two |
| Cost | Around $6-$7 per person |
| Dose production capability | Up to 200 million doses by the end of 2020 – around four times as many as Pfizer. Seven hundred million doses could be ready globally as soon as the end of the first quarter of 2021. |
The trial results of the Oxford-AstraZeneca vaccine candidate takes us another step closer to the time when we can use a shot to bring an end to the devastation caused by the pandemic.
However, the head of the US vaccine program known as Operation Warp Speed said that the dose showing the higher level of effectiveness was tested in a younger population and that the half-dose was given to some people because of an error in the quantity of vaccine put into some vials. None of this was disclosed in AstraZeneca's original statement.
Following this, the vaccine is headed for an additional global trial as the drugmaker tries to clear up uncertainty and confusion surrounding favorable results in its current study. The company wants the new test to confirm the 90% efficacy rate that the shot showed in a portion of an existing trial, Chief Executive Officer Pascal Soriot said. It's favoring that option rather than adding an arm to a separate study that's already underway in the U.S.
Despite the Oxford vaccine having lower overall effectiveness than the Pfizer or Moderna vaccines – at least at this interim stage – there are other success factors to consider. Safety is one, and the Oxford vaccine is so far reported to have a good safety record with no serious side-effects.
Another crucial factor is storage. The Oxford vaccine can be stored in a domestic fridge. The need for sustained freezing across the whole vaccine journey from the factory to the clinic at ultra-low temperatures – as seen with the Pfizer vaccine – may be a problem for many countries. The Oxford vaccine, based on a viral vector, is also cheaper. Unlike the other vaccine developers, AstraZeneca has committed to selling its vaccine at no profit.
The Serum Institute of India is among the major manufacturers of the vaccine globally. The good news for India is that the world's largest manufacturer of vaccines by volume will first focus on supplying AstraZeneca Plc's COVID-19 vaccine to Indians before distributing it to other countries.
Sputnik-V Vaccine
| | |
| --- | --- |
| Vaccine type | Adenoviral Vector-based vaccine |
| Country of origin | Russia |
| Effectiveness | 95 Percent, RDIF said in the statement they expected the vaccine to record an even higher effectiveness after the next analysis. |
| Storage temperature | 2-8 degrees Celsius (Between 35.6 – 46.4 degrees Fahrenheit) |
| Side effects | No unexpected adverse events were identified as part of the research. Though some of those vaccinated suffered short-term effects including fever, weakness, fatigue, and headache |
| Doses required | Two Dose |
| Cost | Available on international markets for less than $10 (8.40 euros) per dose |
The preliminary data announcement of Russia's Sputnik-V vaccine was the latest in a flurry of breakthroughs as most of its competitors showed efficacy rates of 90 percent and higher. Russia on Tuesday said its Sputnik V coronavirus vaccine was 95 percent effective and would be cheaper and easier to store than some alternatives, as the global race heats up to develop a jab.
Russia has applied to the World Health Organization for accelerated registration and pre-qualification of the vaccine. President Vladimir Putin last week said that Russia had manufacturing agreements in place with China and India and encouraged Brazil and South Africa to also mass-produce Russian-developed vaccines. 
The vaccine will be priced under $20 per person for the two doses in global markets, including India, and may be available here by February. The vaccine is yet to undergo trials in India and will be manufactured by domestic companies. Hyderabad-based drug maker- Dr Reddy's and RDIF have entered into a partnership to conduct clinical trials and its distribution in India.
However, some experts have in the past expressed concern over Russia's vaccine, fearing that its development could be rushed.
Covaxin- The Indigenous Vaccine
The inactivated vaccine candidate of India developed by Bharat Biotech in collaboration with ICMR and the National Institute of Virology has not yet completed its Phase 3 trials. Even then, there's plenty of expectations on this indigenous vaccine candidate.
The vaccine received DCGI approval for Phase I & II Human Clinical Trials and the trials commenced across India from July 2020. After successful completion of the interim analysis from the Phase 1 & 2 clinical trials of the vaccine, the manufacturer received DCGI approval for Phase 3 clinical trials in 26,000 participants in over 25 centres across India, which is currently ongoing.
A top official of Bharat Biotech said on Sunday that its COVID-19 vaccine is expected to be 60% efficacious, and certainly more than 50%, according to a news report. The announcement has understandably caused a flutter in the country – both for the efficacy figure and because the company has also said the vaccine will be rolled out around June 2021 for distribution, after securing all the necessary approvals.
However, these figures should be taken with more than a pinch of salt for a few reasons. First, phase 3 clinical trials for the vaccine candidate began only earlier this month and are yet to conclude. (Union health minister Harsh Vardhan said on Sunday that they will wrap up in "a month or two") Second, Bharat Biotech has not shared any results from the vaccine candidate's phase 1 and 2 trials, nor the pre-clinical trials, nor has it divulged the phase 3 trial's design.
However, the vaccine is certainly up there as the top contender in India's vaccine priority list and the nation is looking forward to seeing some positive results in the final phase of its ongoing clinical trials.
The Next BIG Step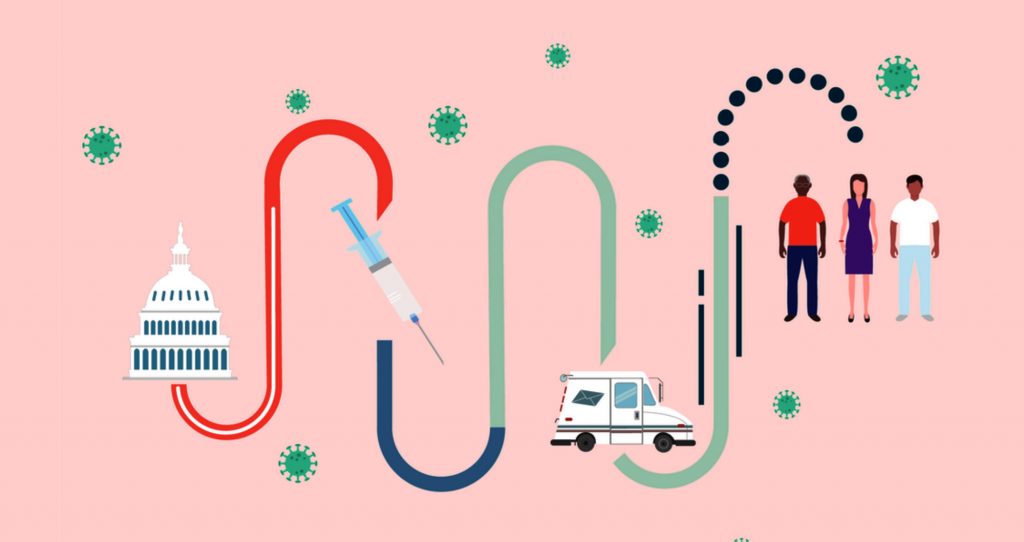 The scientific community around the world has set a new standard for vaccine development, now it's time for the international community to set a new standard for its easy access. The urgency with which vaccines have been developed must be matched by the same urgency to distribute them fairly.
In India, the National Expert Group on Vaccine Administration for covid-19 (NEGVAC) in consultation with state governments and all relevant stakeholders has prepared and presented a detailed blueprint of vaccine storage, distribution, and administration.
The expert group in consultation with the states is also working actively on vaccine prioritization and its distribution. Prime Minister Narendra Modi has been saying that the government will ensure that the covid-19 vaccine, whenever available, reaches each and every Indian as soon as possible.
The government has already said that a database of healthcare and frontline workers, augmentation of cold chains, and procurement of syringes, needles, etc. are in advanced stages of preparation for administering the covid-19 vaccine at the first available opportunity.  Further, States have been asked to accelerate the process of identifying frontline healthcare workers including doctors, MBBS students, nurses, and ASHA workers, etc., so that the exercise gets completed soon.
The vaccine, once available, would be distributed under a special COVID-19 inoculation programme, using the processes, technology, and network of the existing Universal Immunisation Programme (UIP). The entire process of vaccine distribution in the country would run parallel to the UIP.
One thing is for sure, the race for a COVID-19 vaccine is edging towards the finishing line, but we still have to wait a little longer to know how far off a winner is. Until then, let's keep the fingers crossed.
Follow and connect with us on Twitter | Facebook | Instagram

Tags
coronavirus vaccine
,
coronavirus vaccine india
,
Covaxin
,
covid vaccine
,
covid vaccine updates
,
covid-19
,
covid19 vaccine
,
covid19 vaccine india
,
india covid19 vaccine
,
moderna vaccine
,
oxford astrazeneca vaccine
,
pfizer vaccine
,
sputnik v vaccine
,
Vaccine results
,
vaccine results india
,
vaccine updates
,
vaccine updates global
,
vaccine updates india
,
vaccineupdates