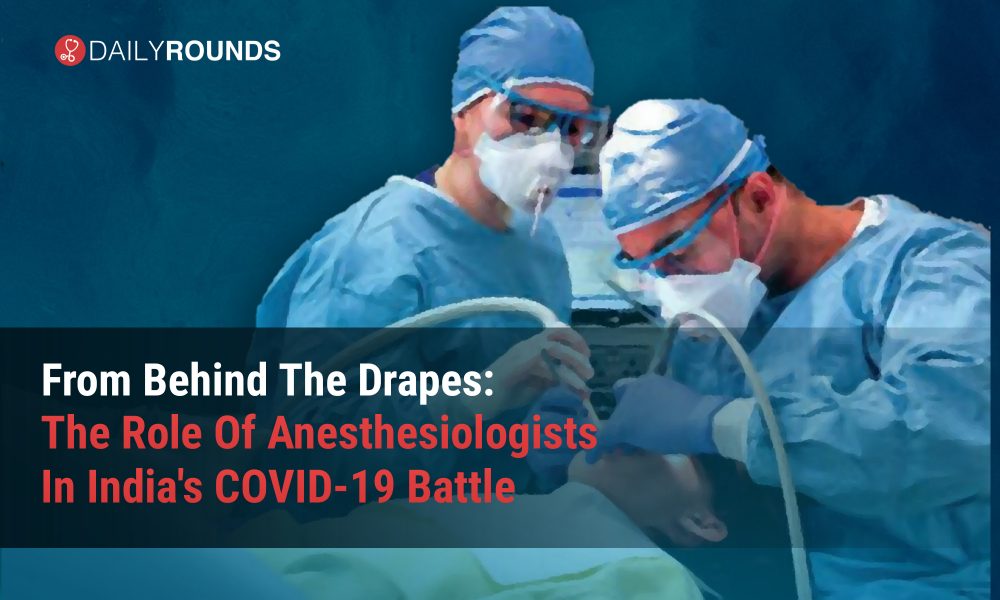 "What does an anesthesiologist do?"
If you had asked this question six months back you would have received an obvious answer: "They put people to sleep before surgeries" but the pandemic has added one more phrase to it: "They also ensure that they wake up well."
During the Covid-19 pandemic, one specialty of modern medicine that has emerged into the limelight is anesthesiology. Previously, anesthetists used to be people behind the curtains. But in Covid-19 times, they are emerging as doctors working in ICUs, isolation wards and sharing the burden of physicians.
Anesthesiologists have been called to the frontlines of this COVID-19 war for a vital and dangerous job. From intubating ventilator tubes into Covid patients to treating the most critical cases admitted to intensive care units (ICUs), these lesser-known doctors have accepted this challenging assignment with a shortage of equipment and at the risk of their own health.
At a time when the entire world is practising social distancing, the anesthesiologists are dealing with infected patients in close proximity, hardly a metre away! Overburdened due to a surge in the number of critically ill patients, they are facing an increased risk of infection to themselves and their families. It is especially important to note that anesthesiologists are at maximum risk of acquiring infection themselves as they provide airway management and respiratory care to patients with COVID-19.
When a COVID-19 patient can no longer survive breathing on their own, the anesthesiologist is called on to intubate them. This is what makes them crucial in this fight. It takes some guts and dedication to insert an endotracheal tube through the mouth and then into the airway of a patient infected with a highly contagious disease. No wonder that the anesthesiologists are called "physicians with the nerves of steel."
But the challenges faced by an anesthesiologist doesn't end with this. Like all other frontline healthcare workers, they also have to manage the toll of the mental health crisis. "We are seeing many patients without comorbidities who are getting worse suddenly and succumbing to the disease. That is mentally draining for clinicians" says Dr. Sayan Nath, a senior anesthesiology resident at AIIMS, Delhi.
Erratic work schedule, night shifts, and long hours in the intensive care unit is a norm for anesthesiologists these days. This has resulted in chronic fatigue, loss of appetite, sleep deprivation, mood swings, and many other mental and physical health problems among this medical community.
At times, anesthesiologists act as real lifesavers. Their role is critical among patients who are on the verge of losing their life. By providing timely CPR these healers can revive almost dead patients. What more can you expect from a hero?
But do the anesthesiologists get rewarded for their heroic efforts? Well, they do, but not in India! In developed countries, anesthesiologists are paid as much as surgeons, or sometimes even higher. But in India, the pay is often one-third of a surgeon's fees. The average salary of an anesthesiologist is less than 15 lakh per annum in India, on the other hand, the median earning of an anesthesiologist in the US is 10 times more than the Indian average.
Each year, over 4,500 students complete post-graduation in anesthesia in India- with 650 students pursuing diploma, 2800 Doctor of Medicine, and 1,100 Diplomate of the National Board in Anesthesia. Even then, the estimates from the Indian Society of Anesthesiologists (ISA) shows that the country is short of 1.5 lakh anesthesiologists, with only about 55,000 anesthetics working in the country. Even amidst this resource crunch, the anesthesiologists are doing their duty in the best possible way by handling the bulk of the critically ill COVID-19 patients along with other specialists.
Anesthesiologists have a vast skill set that makes them valuable in emergency intubation, cardiopulmonary resuscitation, and intensive care management. However, the most valuable procedures they perform has made them the most vulnerable to the virus attack. According to the Indian Society of Anesthesiologists, a total of five anesthetics have lost their lives in the battle against COVID-19 so far. When anesthesiologists are trying their level best to safeguard the lives of critically ill patients, who is there to help them survive these toughest of times?
The question remains unheard even amidst a pandemic!
Follow and connect with us on Twitter | Facebook | Instagram