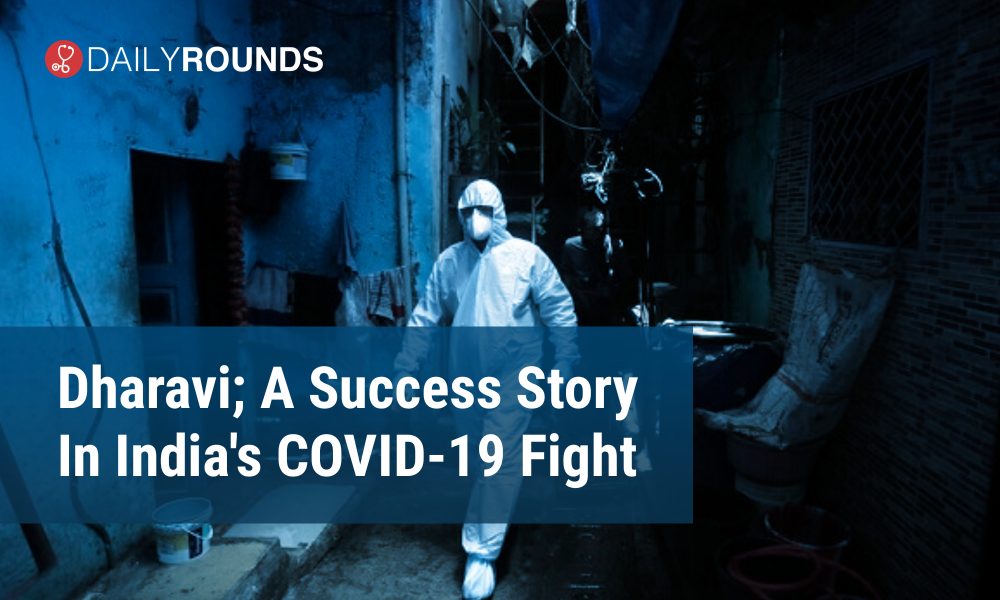 When the first COVID-19 case was detected in Dharavi back on April 1, panic ensued in every nook and corner of Asia's largest slum. Spread over an area of 2.4 square kilometres and comprising of rooms often no bigger than 10 feet by 10 feet, Dharavi is one of the most densely populated areas in the world, with over 3.6 lakh people per square kilometre.
With eight to ten people sharing a single room and over 80 percent of people using communal toilets, everyone feared that Dharavi would become the ideal breeding ground for the deadly coronavirus. But to everyone's surprise, three months on from the first case, Dharavi has emerged as a success story in India's COVID-19 fight.
The slum which recorded 491 cases in April, and 1216 cases with over 56 deaths in May, has only recorded 274 cases and six deaths by the third week of June, thanks to the mass testing, combined efforts, and ardent strategy of containment. Today, Dharavi has only 86 active cases, as 2057 patients had already been recovered and discharged from COVID-19 facilities. The region has not reported even a single COVID-19 death since the last month. How was the crisis managed so effectively in an area where maintaining physical and social distancing is literally impossible?
Ever since the first COVID-19 case in Dharavi, a 56-year-old garment shop owner who died on the same day, the city officials zeroed in on five zones that they deemed high risk due to initial infection and patients' histories. The authorities deployed as many as 2450 health workers to oversee the response in the slum – about 30 of whom eventually tested positive for COVID-19.
Meanwhile, most of the private clinics in Mumbai were shut down due to a shortage of protective gear and a lack of adequate facilities. But in Dharavi, these ground-level healthcare providers had a major role to play. The authorities teamed up with private doctors in the locality, who are the main healthcare providers in the area having a long term relationship with their patients, including migrant workers and shopkeepers.
Instead of people reporting it, we started chasing the virus

Kiran Dighavkar, BMC Assistant Commissioner
Dighavkar and his team from the BMC were quick to convert a sports club in the vicinity to a 300-bed quarantine facility, set up a health camp at Baliga Nagar, distribute essential supplies among slum dwellers, and acquire a private hospital with 51 beds exclusively for asymptomatic cases.
In the second week of April, concerned officials and private doctors jointly screened over 47,500 people in the high-risk zones of the area. Of those who reported symptoms, 20% were found to have contracted COVID-19 and were immediately shifted to quarantine centres. Amidst the relentless heat and humidity of Mumbai, doctors and healthcare workers in their personal protective equipment spend hours on the narrow lanes of Dharavi, knocking on doors and testing everyone in and around.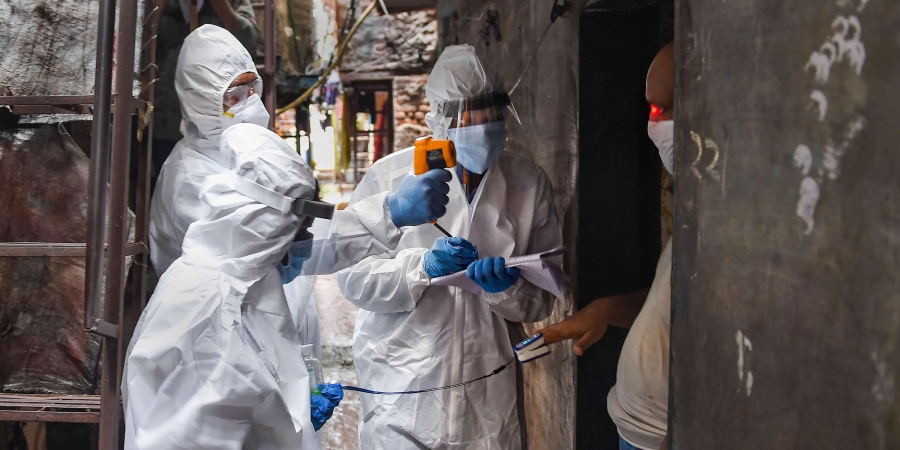 The battle was tough, so was the battlefield. Imagine working outdoors in close proximity with suspected patients in the heat of April, that too, in a congested geographic setting. Yes, it might sound bizarre and far-fetched, but this is what the healthcare workers deployed in Dharavi has been doing on a day to day basis for the past few weeks.
Apart from screening people, the healthcare workers also played a significant role in educating the slum dwellers about the pandemic. Instructions regarding safety measures were given to the people, and social ostracism which bloomed in the meantime were suppressed with timely interventions. Workers on duty said that it took some time to convince the people in Dharavi to come forward, as they feared repercussions, but once they noticed there was nothing to fear, the public responded very well to the situation.
Around the last week of April, the door-to-door screening was stopped, and the authorities asked the private doctors in the locality to reopen their clinics. The panic over the contagious disease had subsided by then, and people were beginning to feel more comfortable in visiting doctors in case they developed any symptoms. Thus the private practitioners kept a note of all their visitors and acted accordingly when someone showed symptoms. Patients showing flu-like symptoms were given COVID-19 tests on the spot, and if tested positive, they were moved to makeshift quarantine facilities at places like schools, marriage halls, and sports complexes.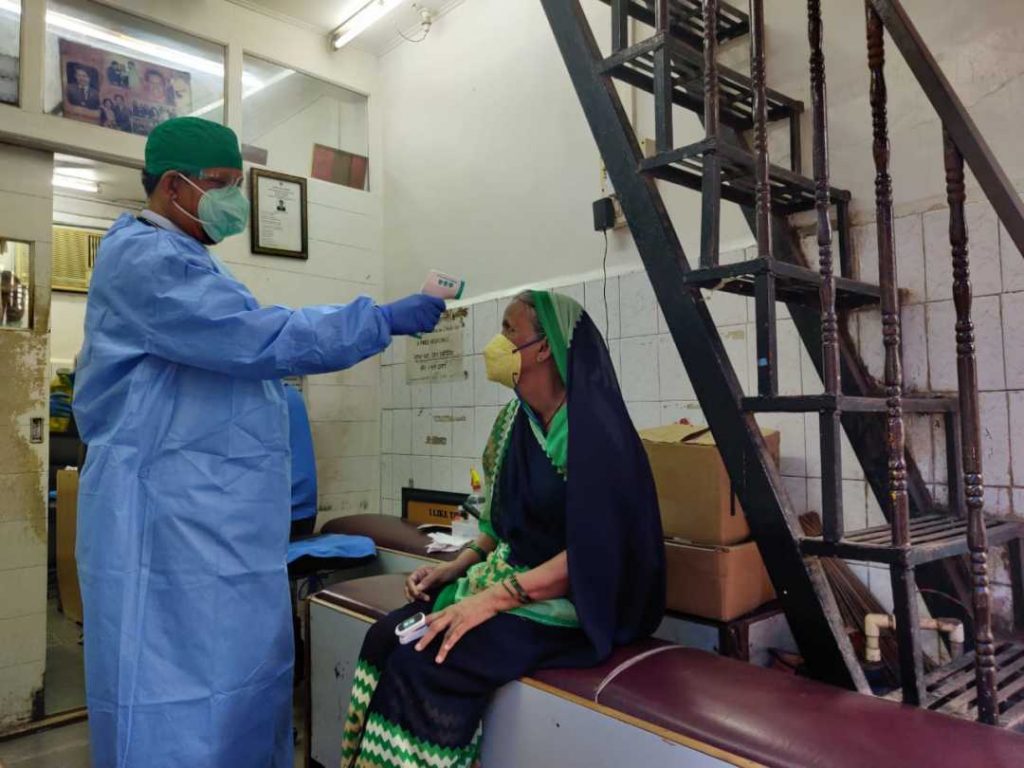 In the absence of testing kits, the doctors decided to use oximeters to check the oxygen level among the ones being tested. "Normally oxygen levels should be around 98-100%. If it is less than this, then there is a high intuition of infection and the patient will be further investigated," says Dr. Shivkumar Utture, a general surgeon, practising in the area. "With oximeters, we were able to weed out the possible cases of asymptomatic carriers as well" he further added.
Recently, the World Health Organization came forward to praise the efforts taken to contain the spread of COVID-19 in Dharavi, underscoring the need for community engagement along with national unity and global solidarity to turn the pandemic around. Addressing a virtual press conference, WHO Director-General Tedros Adhanom Ghebreyesus said there were many examples from around the world that have shown that even if the outbreak is very intense, it can still be brought back under control. "Some of these examples are Italy, Spain and South Korea, and even Dharavi- a densely packed area in the mega-city of Mumbai," said Ghebreyesus.
With ground-level efforts, community engagement, and a solid strategy, the largest slum in Asia has lessons for the entire world to look at. Dharavi teaches us that it's not all about vaccine development and healthcare technologies at this point in time, we need more concrete actions and strategies at the grass-root level to curb the spread of the virus attack especially in a densely populated country like India. If Dharavi, with all its limitations, can contain the spread of coronavirus, why can't the rest of the world do it?
It always seems impossible until it's done.

Follow and connect with us on Twitter | Facebook | Instagram