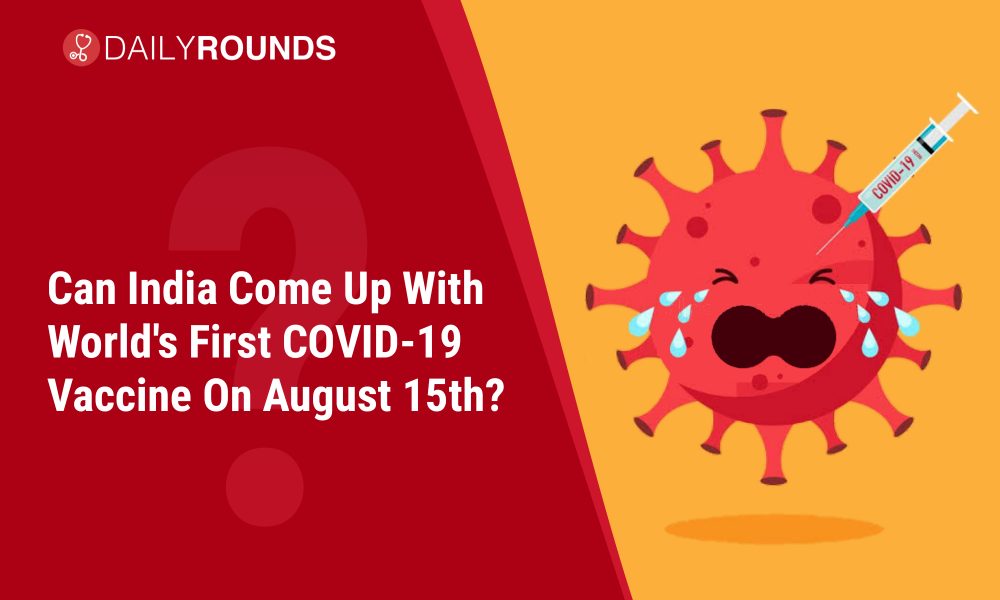 With coronavirus pandemic raging unabated the entire world is waiting with bated breath for an effective COVID-19 vaccine. Much like the rest of the world, India too is actively involved in finding the right drug combination to subdue the lethal virus attack.
It was recently that the country came up with its first indigenous COVID-19 vaccine candidate, named 'Covaxin'. The Drug Controller General of India's (DCGI) approval to conduct human trials of Covaxin — developed jointly by Bharat Biotech, National Institute of Virology and the Indian Council of Medical Research (ICMR) ⁠— has sparked a glimmer of hope but then a circular last week turned that hope into fear of hasty approach.
The apex medical research body in the country told the trial centres that it wanted to launch the vaccine by August 15, 2020. However, since the target was nowhere close to reality the ICMR faced much flak from experts and the medical community. Even though there is an unquestioned urgent need, vaccine development for use in humans requires scientifically executed clinical trials in a phased manner.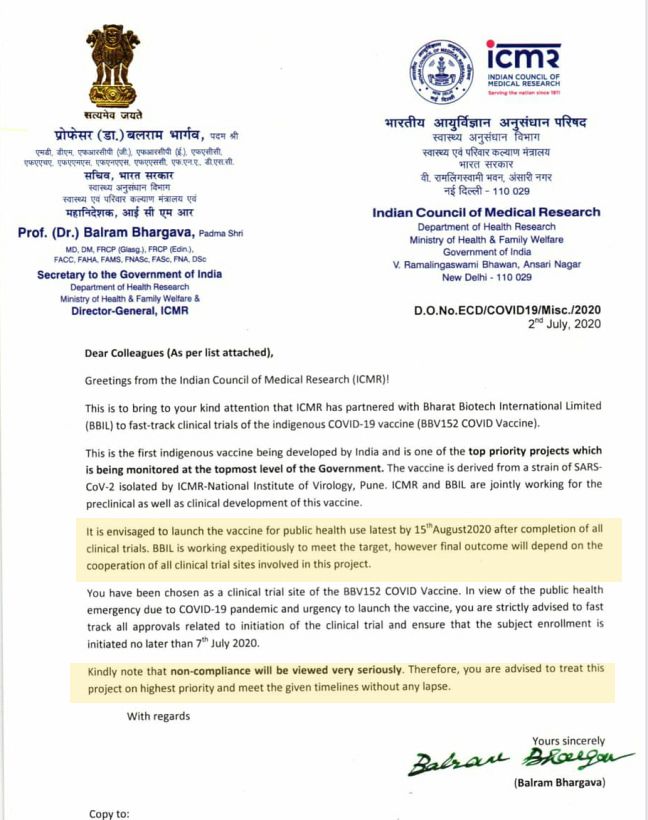 What makes the letter more alarming is the clear threat to all 12 investigators. The letter warns: "Kindly note that non-compliance will be viewed very seriously. Therefore, you are advised to treat this project on highest priority and meet the given timelines without any lapse."
With over 20,000 dead and nearly 2.5 lakh active cases, the nation is in desperate need of a COVID-19 vaccine. But does that mean we can simply make it happen by 15 August? The answer is a big NO! It seems as if the ICMR plan to launch India's fully indigenous corona vaccine on August 15 is just wishful thinking. Because to bring out a vaccine in such a hurry would be highly unscientific and it could even cost lives instead of saving any.
Meanwhile, the Indian Academy of Sciences (IASc), a Bengaluru-based body of scientists, has said that the ICMR target to launch a coronavirus vaccine by mid of August is completely "unfeasible" and "unrealistic." While administrative approvals can be expedited, the scientific processes of experimentation and data collection have a natural time span that cannot be hastened without compromising standards of scientific rigour", the IASc said in a statement.
Experts have also cautioned against rushing the process for developing a COVID-19 vaccine and stressed that it is not in accordance with the globally accepted norms to fast-track vaccine development for diseases of pandemic potential. The trials for a vaccine involves various stages such as evaluation of safety (Phase 1 trial), efficacy and side effects at different dose levels (Phase 2 trial), and confirmation of safety and efficacy in thousands of healthy people (Phase 3 trial) before it's released for public use.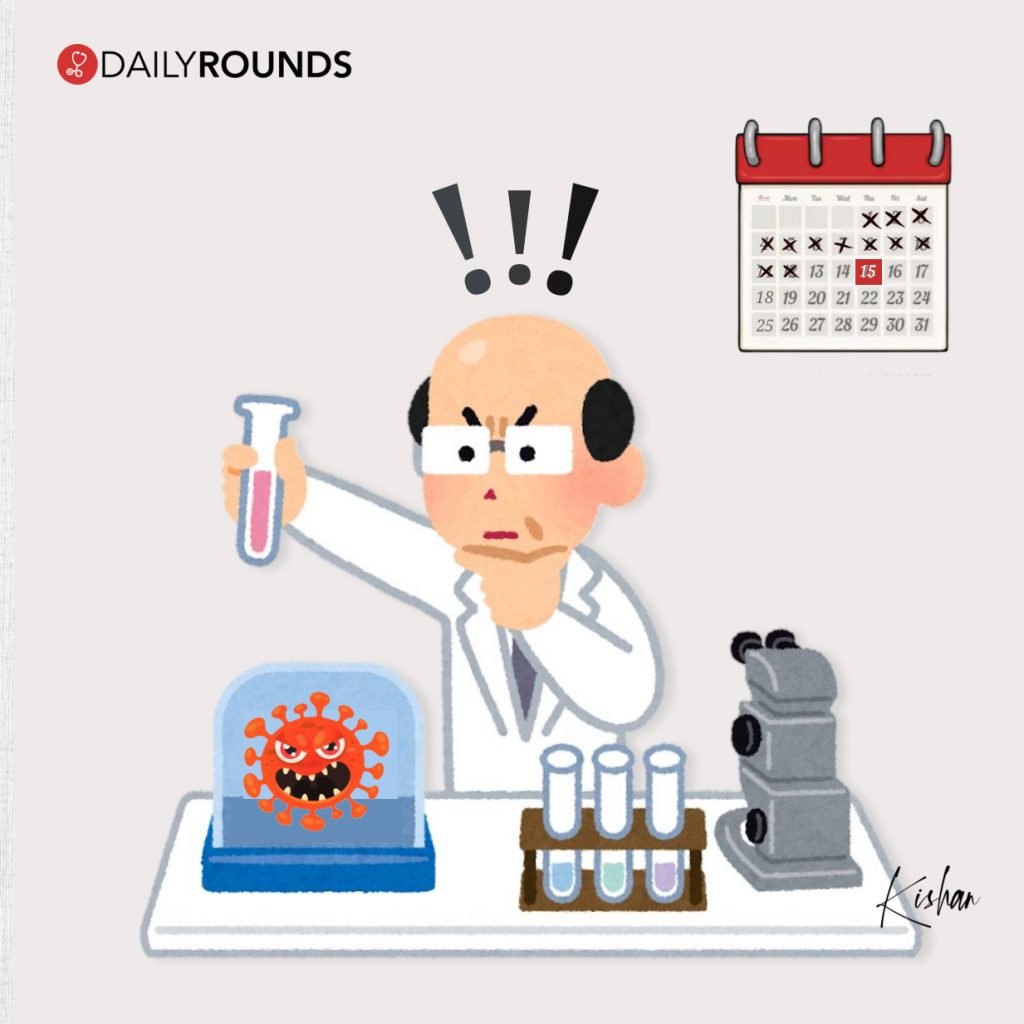 In short, nobody has any chance of having a vaccine, tried, tested, and ready by August, not even September, or even October. It was only in the last week of June that the country first heard of this potential indigenous vaccine. The vaccine has shown promising results in animal trials and now has permission for phase 1 and 2 human trials. However, even the pre-clinical trial data for Covaxin has not been shared by Bharat Biotech or ICMR to date.
The global scientific community will laugh at us. Who will trust us?

Dr. Shaheed Jameel | Virologist
"The global scientific community will laugh at us. Who will trust us?" asks renowned virologist Dr. Shaheed Jameel in response to the ICMR move. However, ICMR, on Sunday said that it has not set any deadline for the vaccine. The idea is to conduct clinical trials as quickly as possible, given the urgency and uncertainty of the global pandemic, it further added.
In fact, this urgency is what causes trouble! Why is ICMR in such a big rush? You might end up finding an answer by yourself from the following lines taken out from the ICMR letter: "Covaxin is the first indigenous vaccine being developed by India and is one of the top priority projects which is being monitored at the topmost level of the government"
It is true that for finding an effective COVID-19 vaccine, researches have been fast-tracked world over. Nations, scientists, medical experts, and companies are collaborating as never before. At present, there are over 140 vaccine candidates in various stages of research and trials. But to get our hands on a COVID-19 vaccine we will have to wait at least till the beginning of next year.
Follow and connect with us on Twitter | Facebook | Instagram