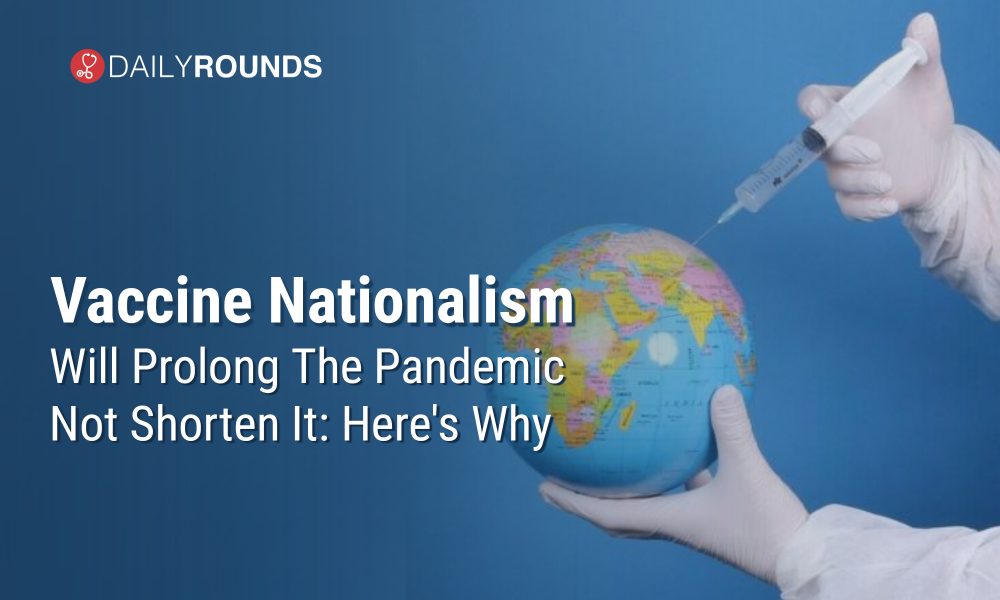 The Covid-19 pandemic has taught us several lessons. One among them is that you can't fight a deadly virus all alone. If one of us is unsafe, all of us are. This is why the phrase 'vaccine nationalism' becomes a matter of serious concern even when the development of the vaccines are in progress.
Within days of COVID-19 being declared an international public health emergency on January 30, multiple groups of scientists began working on a vaccine. At the same time, governments began working on back-room deals to lock in their access to these vaccines ahead of anyone else.
Clearly, the world of science was planning to eliminate the virus together — with researchers, doctors, and epidemiologists exchanging their findings across the globe — but politics wasn't. That's when the phrase 'vaccine nationalism' started popping up in the news and now it has become more popular, much to the despair of humanity.
What is vaccine nationalism?
Vaccine nationalism is when governments sign agreements with pharmaceutical manufacturers to supply their own populations with vaccines ahead of them becoming available for other countries. Though we expect governments to make these arrangements to protect their citizens, the downside is it creates supply problems that leave poorer countries without access to life-saving vaccines.
The US, the UK, France, Canada, and Russia have already entered into multi-million-dollar agreements with vaccine producers even before the final trial phase is over. In total, wealthy countries have already signed deals to secure 3.7 billion doses from western drug-makers, according to a report from September.
Why is it a concern?
The actual concern over this arises from the fact that these advance agreements are likely to make the vaccine inaccessible to large parts of the world that do not have the money to bet on candidates whose success is not guaranteed. After all, there is limited capacity to produce a vaccine. The wait for a vaccine for lower-middle-income countries could get prolonged because whatever is produced in the first few months or years would have to be sent to the richer countries to fulfil the contractual obligations.
Also, not all candidate vaccines are likely to succeed. The ones that do would be in great demand, especially from the countries that have entered into advance agreements that have clauses to enable increased supplies for more money. It would thus drive up the prices of the vaccine, making it potentially unaffordable for a large number of countries. Interestingly, even though vaccine nationalism runs against global public health principles, there are no provisions in international laws that prevent pre-purchase agreements.
Is 'Vaccine Nationalism' a New Concept?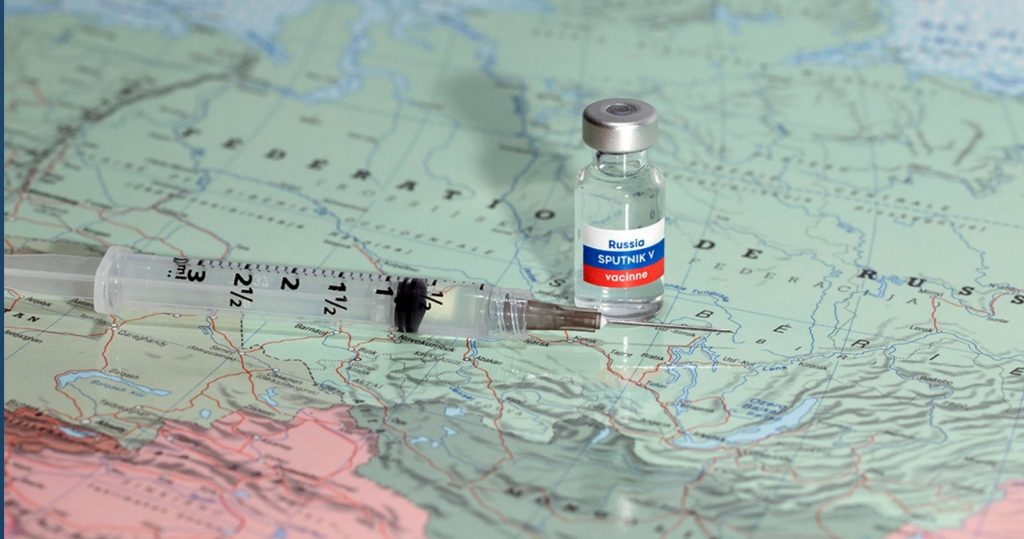 Vaccine nationalism is not a completely new concept. The present race to hoard Covid-19 vaccines harks back to a similar situation that happened in 2009 during the H1N1 flu pandemic. Australia, the first country to come up with a vaccine, blocked exports while some of the wealthiest countries entered into pre-purchase agreements with several pharmaceutical companies. The US alone obtained the right to buy 600,000 doses. As a result, several countries in Africa had no access to these vaccines for months.
The case with polio is almost similar. India's war against polio lasted nearly 66 years until the country was declared polio-free in 2014. The very first polio vaccine was demonstrated in 1950, but it wasn't until 1964 that the vaccines became available in India. Similarly, anti-retroviral drugs for the treatment of HIV patients were unavailable in Africa, the worst affected region, for several years after being developed in the 1990s.
However, scientists and experts have been asserting that such a strategy might not work out very well even for the countries that are able to stock up on the vaccines. If some parts of the world continue to reel under the epidemic because of a lack of access to the vaccine, it would keep the virus in circulation for much longer than it would otherwise have been. That would mean that other countries too would remain at risk.
The Way Forward
Ideally, as much as 70 per cent of the world population — that's about 5.6 billion people — needs to be vaccinated to achieve herd immunity, that is when enough people are immune to the disease for the virus to run out of new hosts.
Well, Is there a way to achieve this? "Yes," says the World Health Organization (WHO) as it comes up with a counter-mechanism to ensure that the successful vaccines are made equally accessible to all, at an affordable price. WHO has already warned against vaccine nationalism with its chief Tedros Adhanom Ghebreyesus saying that joining the WHO's fair access mechanism called COVAX Global Vaccines Facility would be the 'fastest way to end the pandemic'.
COVAX is supposed to do for the world what the richer countries are doing at an individual level —invest money into the leading candidate vaccines to accelerate their development, production, and effective distribution. It seeks to achieve this by ensuring that all participating countries are provided supplies to cover at least 20% of their populations, at a uniform price. Then as more vaccine doses become available, they would be distributed to countries in proportion to their population size and the extent of the problem they face.
COVAX is certainly a step in the right direction. The initiative effectively creates the world's largest advance market commitment for vaccines, outstripping any deals countries make independently. Low-income countries that have signed up to the plan will also gain access to safe and affordable vaccines they might otherwise be prevented from accessing for years. But on the other hand, the COVAX system has quite a few problems too – for one, no one knows which country may get the most effective vaccine.
Apart from this, the COVAX does not prevent countries from signing their own independent deals with manufacturers, as the UK, Canada, and Australia have done. This could place additional strain on what are expected to be already limited supplies. Experts are also concerned about the US decision to reject the COVAX initiative outright. Many still believe that without a major country like the US, Covax may not have the financing and political muscle to assure global equity.
The next problem is the commitment for 2 billion doses by the end of 2021 is far too small, given most of the vaccines currently in Phase 3 clinical trials require up to two or three doses to confer immunity. When divided among all the countries that have signed up to COVAX, it means each country will receive a very small supply. As a result, this could encourage governments to seek out additional independent deals to meet the demands of their populations.
Apart from WHO, several other organizations have also come up with the goal of equitable vaccine distribution. The Bill & Melinda Gates Foundation is one among them. It places a significant role in making sure that even the people from low income countries will have access to vaccines, when it's available.
The Role Of India
India is known by the name 'pharmacy of the world' as it is home to a large number of drug companies that are major manufacturers of vaccines distributed worldwide, particularly those for low-income countries, supplying more than 60% of vaccines supplied to the developing world. Without India, there won't be enough vaccines to save the world, said Peter Piot, director of the London School of Hygiene and Tropical Medicine, during an online vaccine symposium organized by the Indian government in July.
Several Indian vaccine makers already have agreements to manufacture coronavirus immunizations that are being developed by international drug companies or are working on their own vaccines. As per the government, these manufacturers can export some of their supplies as long as a proportion remains in the country.
The Serum Institute of India in Pune, has an agreement to manufacture one billion doses of a coronavirus vaccine being developed by scientists at the University of Oxford and AstraZeneca if it is approved for use. If the vaccine works, the Serum Institute and the Indian government have committed to reserve half the company's stock of it for India, and to supply half to low-income nations through GAVI, a funder of immunizations for low-income nations, says Adar Poonawalla, Serum's chief executive.
Meanwhile, scientists have applauded the Indian government for allowing the country's pharmaceutical companies to export some of their vaccine stocks to other nations. The decision to share supplies certainly contrasts with the stance of nations such as the US and the UK, which have pre-ordered hundreds of millions of doses of coronavirus vaccines under development, enough to supply their respective populations many times over.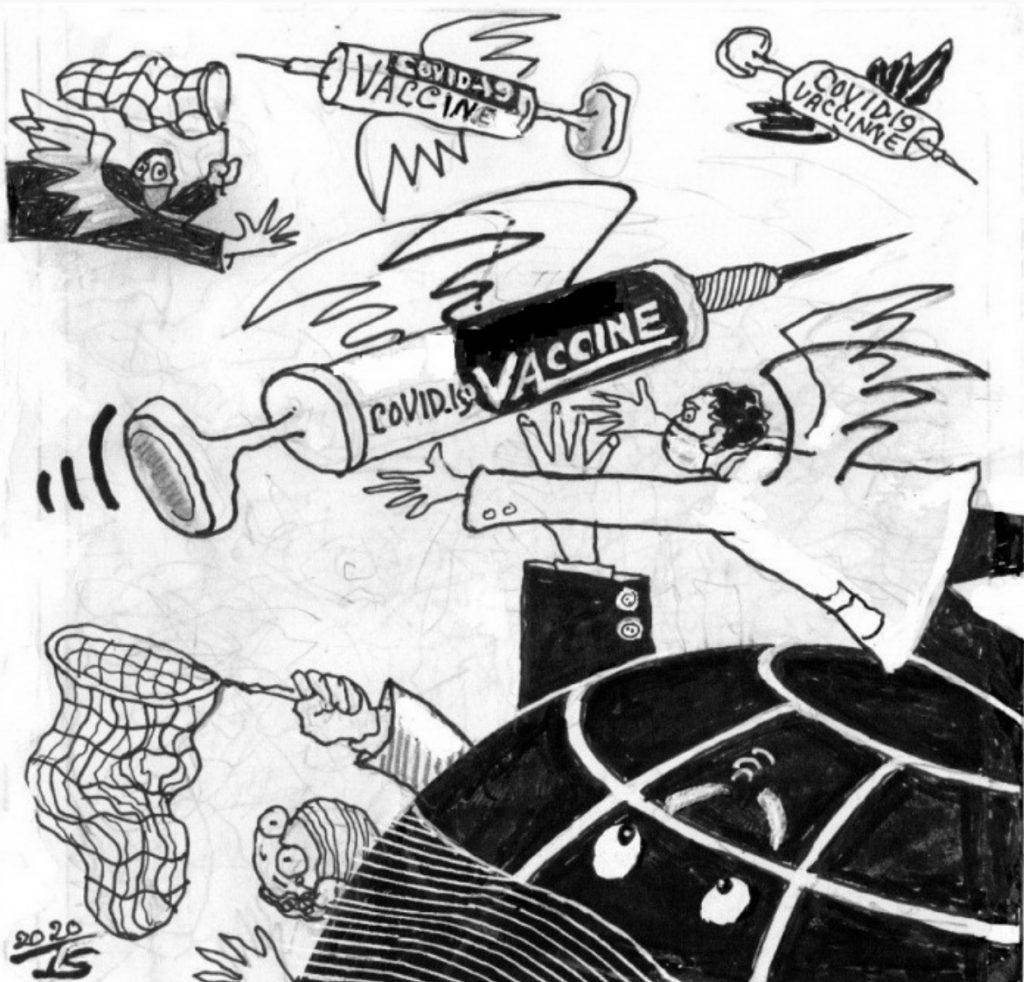 The Covid-19 vaccine gives countries the opportunity to come out of their silos, and work together towards emerging out of a global crisis. And India can play a key part. As scholar Rory Hornerwrote, "India has the potential to play a key role in overcoming vaccine nationalism because it is the major supplier of medicines to the global south.
The best strategy to end the pandemic is to vaccinate as many people as possible over a short span of time — so that the virus runs out of new victims. We don't yet know if immunity from any Covid-19 vaccine will be lifelong. We do not know if immunity will last even a year.
According to a recent report, the world will not be able to produce one billion doses of vaccine before 2022. The world's largest vaccine manufacturer — Pune-based Serum Institute of India (SII) — also said that it will be 2024 before the world can produce enough vaccines for everyone.
So, even if a citizen from the US or any other high-income countries has been vaccinated by next year, we do not know if they will remain immune till 2024, by which time they are likely to come in contact with someone who has not yet received the shot. Until and unless all countries are able to achieve herd immunity, vaccination doesn't guarantee a safe seat for anyone, anywhere!
Follow and connect with us on Twitter | Facebook | Instagram