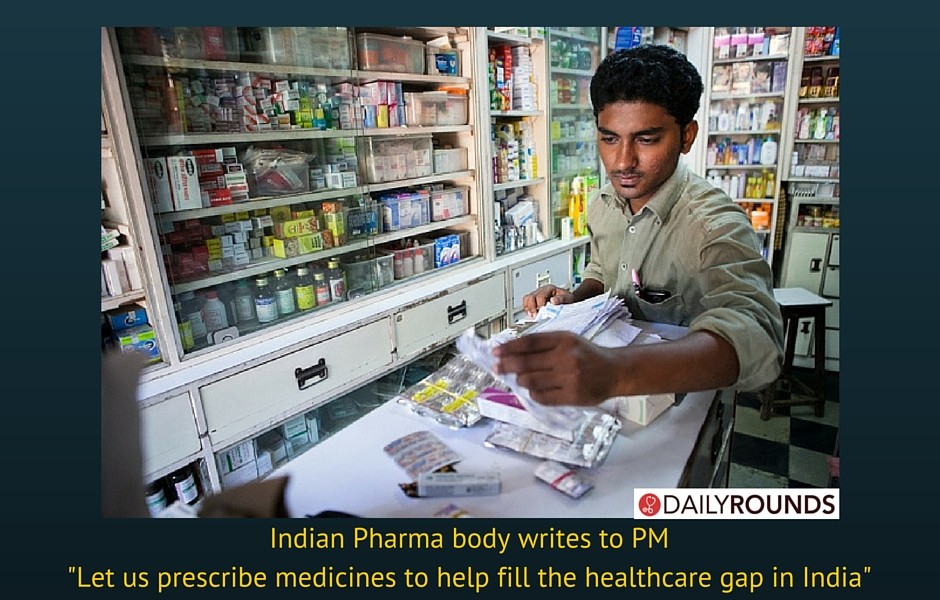 Looks like after Physiotherapists, Pharmacists also want to play Doctor without any qualifications !
The Indian Pharmacist Association (IPA) has asked Prime Minister Narendra Modi to consider allowing pharmacists to prescribe medicines saying they can thereby help fill in where MBBS doctors are missing, gaps in the implementation of various health schemes and programmes in the country.
IPA is a national-level association of pharmacy professionals and also a member of Global Health Workforce Alliance- WHO.
In his letter, Abhay Kumar, the national president of IPA, said that the concept and philosophy of modern medicine here has changed with time but has remained stagnant as to the role played by the pharmacist in India.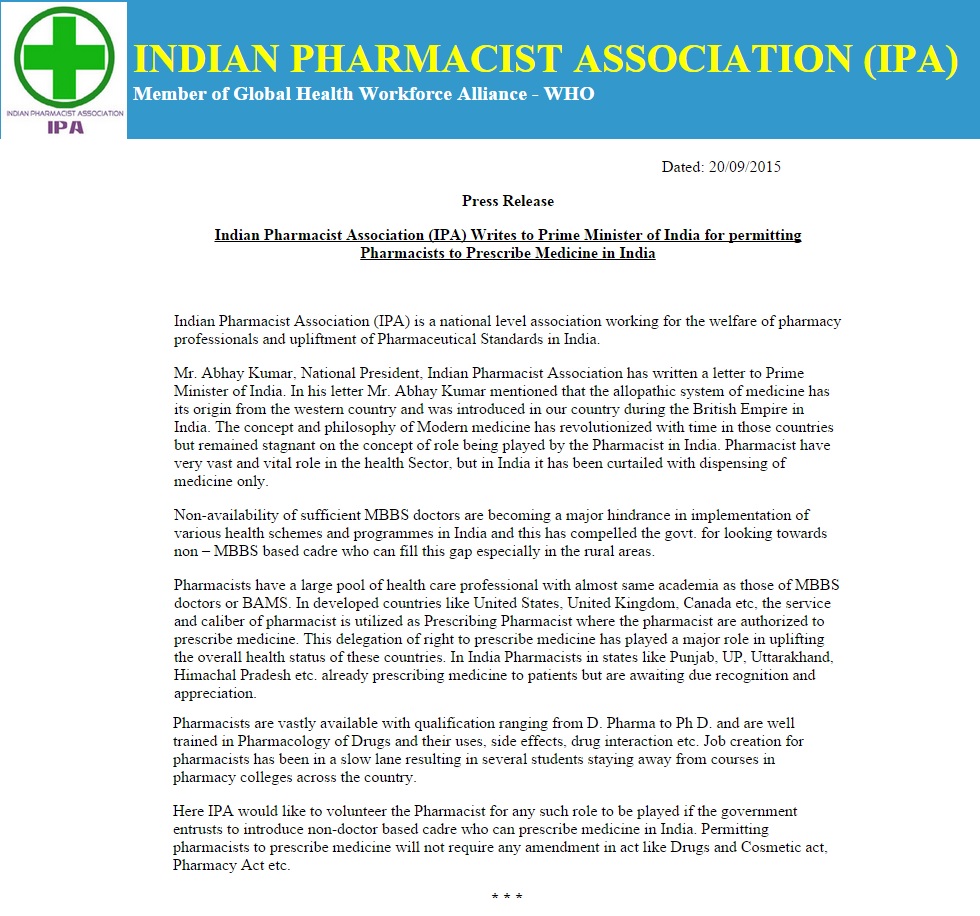 We are qualified
The continued role of pharmacists in India to just dispense medicine is now irking the association; they have now requested that pharmacists be allowed to prescribe medicines as they have the equipped qualifications. "Non-availability of sufficient MBBS doctors is becoming a major hindrance in the implementation of various health schemes and programmes and this has compelled the government to look towards non MBBS-based cadre who can fill this gap, especially in the rural areas," he said. Mr.
Abhay Kumar says, "Pharmacists have vast and vital role in the health sector, but in India it has been curtailed with dispensing of medicine only. Pharmacists are vastly available with qualification ranging from D.Pharma to Ph.D and are well trained in pharmacology of drugs and their uses, side effects, drug interaction etc." Another reason being cited is that pharmacists have a slow job creation cycle and this is resulting in students staying away from pharmacy colleges across the country.
We can contribute
The IPA letter also states examples of countries like the U.S, Canada and U.K where a pharmacists service is extended and regarded as a Prescribing Pharmacist. Pharmacists have a large pool of health care professional it says with almost same academia as those of MBBS doctors or BAMS. This delegation of right to prescribe medicine has played a major role in uplifting the overall health status of these countries. In India Pharmacists in states like Punjab, UP, Uttarakhand, Himachal Pradesh etc. already prescribing medicine to patients but are awaiting due recognition and appreciation.
There is no doubt that this is an utterly ridiculous request from the Pharmacists. There is no doubt that there will overprescription of drugs especially antibiotics and analgesics. Hopefully our PM would be smart enough to dismiss this at the first look itself. Infact what we need is a strong law PREVENTING pharmacists from prescribing non – OTC drugs, which is a common practice in India.

Enjoyed reading this news story? For MORE medical discussions,image cases, MCQs and cases download the DAILY ROUNDS app for FREE! at App Store or Play Store

Original Post – Economic Times